Politics
The one Democrat poised to clash with Elizabeth Warren in Wednesday's debate
"We plan to have a discussion about that."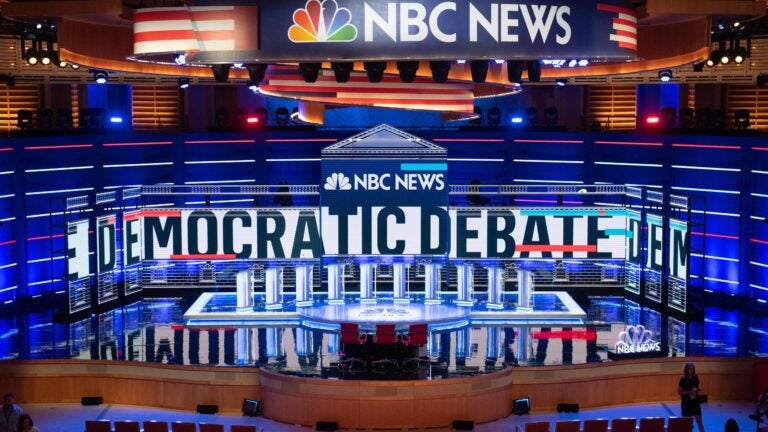 For better or worse, Sen. Elizabeth Warren will both figuratively and literally be center-stage for the first Democratic presidential primary debate Wednesday night.
With the crowded field split into two debates, big names like former Vice President Joe Biden and Sen. Bernie Sanders won't be on the stage until Thursday. But the Massachusetts senator will hardly be alone.
The first debate features 10 candidates. And due to Warren's leading (and rising) position in the polls among her fellow debaters Wednesday, as well as her conversation-driving stream of policy rolls, it seems likely that she could be a prime target for criticism among those looking to make the most of the nationally televised event.
The most likely candidate is someone roughly four out of 10 voters say they've never heard of: John Delaney.
The former Maryland congressman has gained little traction in the 2020 race, despite having been running longer than any other fellow Democrat. And in recent weeks, he's been unafraid to explicitly contrast his more moderate platform against the ideas of progressive candidates, like Warren and Sen. Bernie Sanders.
Of course, only one of Warren and Sanders will be on the debate stage Wednesday with Delaney.
The 56-year-old entrepreneur has already called out Warren for her decision not to participate in Fox News town halls, tweeting last month that "Democratic candidates have to campaign everywhere and talk to all voters."
If you're not using your town hall, I will. Democratic candidates have to campaign everywhere and talk to all voters. https://t.co/jH5ZwYRtEg

— John Delaney (@JohnDelaney) May 14, 2019
Delaney has also said he is a "big fan" of Amazon, which is among the tech giants that Warren wants to break up. Delaney says the government has been "woefully deficient in actually regulating" big tech companies, but hasn't gone as far as calling for them to be broken up.
He has also been a vocal critic of proposals like the Green New Deal and Medicare-for-All, both of which Warren supports.
Delaney says the country needs to take "aggressive action" to combat climate change, but calls the Green New Deal resolution "as realistic as Trump saying that Mexico is going to pay for the wall." On health care, he has clashed with progressives over single-payer health care proposals, like Sanders's Medicare-for-All legislation. Delaney's health care plan — dubbed BetterCare — includes a public health insurance option that would absorb Medicaid and compete with the private insurance industry.
Delaney will hardly be alone Wednesday night advocating for less ambitious proposals than Warren.
Minnesota Sen. Amy Klobuchar, who is also in the first debate, has positioned herself as a relatively moderate candidate in the Democratic primary race.
Klobuchar has called for expanding Medicaid and Medicare, but doesn't support Medicare-for-All. Like Delaney, she favors a public option as a more tenable near-term solution. And despite making tech regulation a key policy platform, the former prosecutor has taken a more tentative approach toward potentially breaking them up.
Still, Delaney is the sole candidate in the debate Wednesday who has made a habit out of calling out more left-leaning candidates by name (Colorado Sen. Michael Bennet and former Gov. John Hickenlooper have both directly clashed with Sanders; all three debate Thursday).
After the debate lineups were announced, Delaney released a statement touting his BetterCare plan as "superior" and "smarter" than the Medicare-for-All legislation proposed by Sanders and cosponsored by Warren and New Jersey Sen. Cory Booker, a fellow 2020 candidate who will be on stage Wednesday.
In the same statement, he singled out Warren for praise for "talking about new ideas."
"The American people want universal health care, but they don't want an approach that forces half the country to switch their plans or that under invests in quality," Delaney said. "I am also pleased to be sharing the debate stage with many strong candidates, particularly Senator Warren who, like me, is talking about new ideas.  I look forward to a debate on issues and solutions, not personality and politics."
However, that doesn't mean he plans to praise Warren's ideas. Delaney campaign manager John Davis told Bloomberg this week that his candidate plans to draw a clear distinction Wednesday night between himself and those offering "false promises."
"Warren and Booker have both signed on to Senator Sanders' Medicare For All bill which would make private insurance illegal," Davis said. "We plan to have a discussion about that."