Politics
Seth Moulton let loose on Elizabeth Warren during the Democratic debate — while watching from an Airbnb couch
The Massachusetts congressman went to Miami seeking attention. This might do it.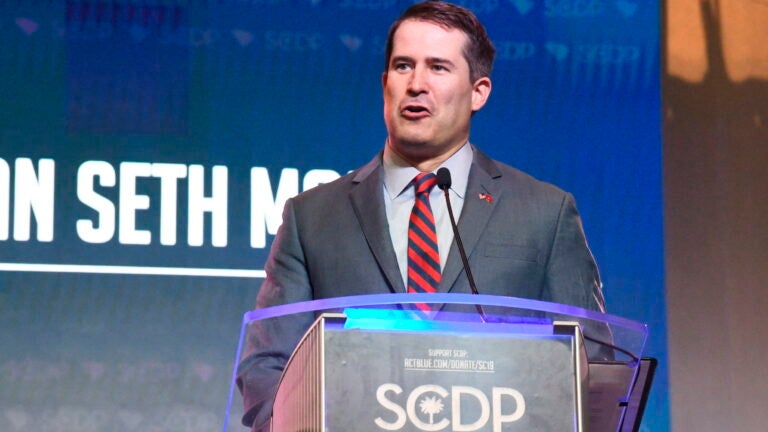 Sen. Elizabeth Warren's rivals on stage during the first Democratic primary debate may have declined to directly criticize the Massachusetts senator.
She was, however, subjected to a series of broadsides from a 2020 candidate — and fellow Bay Stater, no less — Wednesday night in Miami. That said, Rep. Seth Moulton was a bit out of earshot.
Moulton, who did not meet the polling or donation thresholds for the first debate after launching his presidential campaign in April, traveled to Miami this week to do a series of media appearances in the hopes of raising his national profile. The third-term Massachusetts congressman watched the first debate Wednesday night at a high-rise Airbnb a mile-and-a-half away from the debate stage with US News & World Report reporter David Catanese — and did not hold back about his opinion of Warren.
I watched the first #DemocraticDebate2020 with @sethmoulton https://t.co/lFl6dOrzNX pic.twitter.com/SURDUtSlcy

— David Catanese (@davecatanese) June 27, 2019
"It's easy for me to say because I'm not there," Moulton told Catanese. "I get that."
That didn't stop him.
From health care to education, the 40-year-old Salem Democrat made his most direct criticisms to date of Warren's policy proposals, arguing that it would be "a lot harder for someone on the far left of our party to beat Donald Trump."
Moulton claimed you could "literally end poverty in America for five or six years" for the price of Warren's plan to make public colleges tuition-free and cancel up to $50,000 in student debt.
"Half of America goes to college and it's not the bottom half," he said.
On health care, Moulton blasted Warren's support for "Medicare-for-All," citing his own negative experiences with single-payer health care as a Marine veteran.
"Having surgery and getting sent home with the wrong medicine. She doesn't have any idea what's that like. Well that's great, you studied it?" Moulton told Catanese, his voice reportedly "dripping" with sarcasm.
"Thank you Professor Warren, but here's what it's like," he said.
Moulton says he supports a public option for health care and tuition-free community college (as well as robust tuition aid for those who participate in some form of public service).
He also mocked Warren's call for political "courage" during the debate.
He also went after Warren's plan to break up giant tech platforms like Facebook, Google, Amazon, and Apple.
"She's completely ignored what's going on in China. If we just break up all the American tech companies, China's going to eat our lunch," Moulton said, echoing one of the arguments made by the leaders of big tech companies.
Warren's campaign didn't immediately respond Thursday to requests for comments.
Whether Moulton will actually get to levy any of these criticisms to Warren in person is unclear; he told Catanese he didn't know if he would make the second Democratic debate next month. Also, his personal relationship with Warren (who endorsed Moulton's opponent when he first ran for Congress in 2014) appears to be complicated.
According to Catanese, the senator RSVP'd to Moulton's wedding in 2017, only to cancel at the last minute.
"She sent a very lovely card," Matt Corridoni, Moulton's spokesman, said.