Politics
Ayanna Pressley responds to Nancy Pelosi's comments about her border funding vote
"This is a representative democracy. I took a vote that is consistent and in keeping with the district that I represent."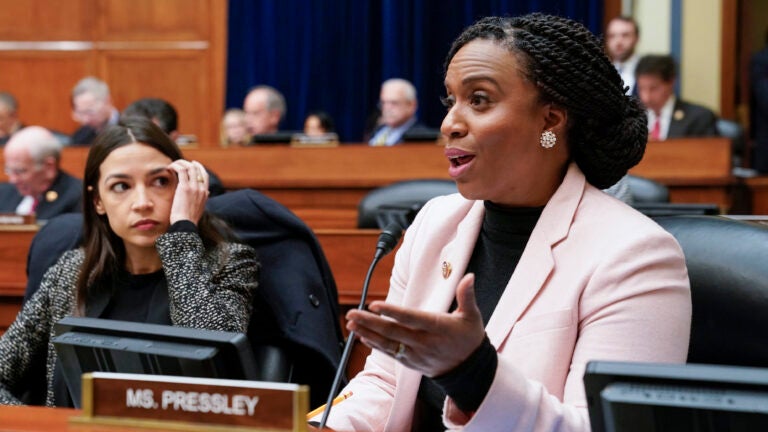 Rep. Ayanna Pressley says she's focused on representing her district, no matter the opinion of House Speaker Nancy Pelosi.
In an interview Monday night on WGBH, the Massachusetts congressman was asked what she thought about recent comments by Pelosi, a fellow Democrat, who seemed to minimize the influence of her progressive "squad" after the four freshman Democrats — Pressley, New York Rep. Alexandria Ocasio-Cortez, Minnesota Rep. Ilhan Omar, and Michigan Rep. Rashida Tlaib  — broke party ranks to vote against a House border aid bill last month.
Asked about the group's defection, Pelosi told The New York Times in an interview published over the weekend that the four congresswoman had effectively sidelined themselves. While more modest than some House members wanted, the bill would provide $4.5 billion in additional funding to shelter and feed migrants detained by border patrol. It passed 230-195 on mostly party lines in the House; Pressley, Ocasio-Cortez, Omar, and Tlaib were the only Democrats who voted no.
"All these people have their public whatever and their Twitter world," Pelosi told the Times. "But they didn't have any following. They're four people and that's how many votes they got."
However, Pressley rebuked that notion Monday.
"This is an issue of consequence to the country and [the 7th Congressional District], specifically, which is 40 percent immigrant," she said in an interview on WGBH's "Greater Boston" alongside fellow Massachusetts Rep. Joe Kennedy III following their tour last week of the dismal conditions inside migrant detention centers in Texas.
Pressley explained last month that she voted against the House border bill because she ultimately could not in "good conscience" support additional funding for the Immigration and Customs Enforcement and Customs and Border Protection agencies, citing reports of their deportation raids and lack of accountability. After visiting families being held in detention facilities, Pressley said she was "not being dramatic to talk about the real and palpable fear" that immigrants and asylum-seekers from Guatemala, El Salvador, and Honduras are feeling.
"These are communities represented in the Massachusetts 7th [Congressional District], and they have seen up close and personal the abuses of these agencies," Pressley said. "This is a representative democracy. I took a vote that is consistent and in keeping with the district that I represent."
Pressley wouldn't say if her vote would have been the same if it was the deciding vote. The Boston Democrat has said that she worked to make sure the aid package included medical care and essential toiletries for detained migrants, as well as government accountability measures.
"I am never the type — because I have legislated and I have governed for a long time — to just throw up my hands and walk away," she said Monday. "I sat at the table and worked to improve that House bill to get in protections that were not there around health standards, and to offer some metrics of transparency and accountability."
Pressley said she doesn't believe Pelosi's comments, nor the general infighting, "advances the cause, or helps our party, or strengthens us going into 2020."
Ocasio-Cortez, Omar, and Tlaib have each publicly pushed back against Pelosi's characterization of their influence.
"That public 'whatever' is called public sentiment," Ocasio-Cortez tweeted Saturday. "And wielding the power to shift it is how we actually achieve meaningful change in this country."
"You know they're just salty about WHO is wielding the power to shift 'public sentiment' these days, sis," Omar added Sunday.
Patetico!

You know they're just salty about WHO is wielding the power to shift "public sentiment" these days, sis.

Sorry not sorry. https://t.co/GYiiP1YJT1

— Ilhan Omar (@IlhanMN) July 7, 2019
Tlaib said that women of color "like me and Ayanna, Ilhan and Alexandria" were simply reflecting the diversity of the United States, a diversity that has been "missing in the halls of Congress."
"More people like us, people of color have been missing in the chamber because most of us – and Ayanna Pressley says it more beautifully, people that are closest to the pain need to be at the table making these decisions,' the Michigan congresswoman said in an appearance Sunday on ABC's "This Week."
"Guess what, we know what it feels like to be dehumanized," she said. "We know what it feels like to be brown and black in this country. And I'll tell you right now, we're not going to stand by and sit idly by and allow brown and dark-skinned children to be ripped away from their parents to be dehumanized."
For her part, Pelosi is standing by her original comments, if also looking to contextualize them.
"All I said was a statement of fact: the four of them opposed the bill," the California Democrat said during a press conference Monday. "We were protecting the children. Overwhelmingly, our caucus voted to protect the children — our blue dogs, our moderates, and all the rest voted to protect the children. They did not. And they did not have a further following. So that was what I was saying. They have a following in the public, but I'm just talking about in the Congress."
Kennedy, a Pelosi ally, was also asked during his interview Monday with Pressley if he agreed with the speaker's comments.
"I think her comments, that's a question for Speaker Pelosi," the 4th District congressman replied.
Kennedy reiterated that "100 percent" of Democrats believe the immigration system needs to be "immediately" overhauled and that there should be "a good-faith debate about how best to do that." While he supported the House's original border aid bill, Kennedy voted against a bipartisan, Senate-negotiated version that the House subsequently passed with Republican support.
"We need to fix the system and I think voices like Congresswoman Pressley's and others are extremely valuable to that debate," he said.
Kennedy listed three reforms he wanted to see: increased inspections of migrant detention facilities, a more robust effort to address the root causes that Central American migrants are fleeing their home countries, and more immigration law judges to adjudicate and help process asylum claims.
"Folks that set foot on American soil and claim asylum is a 100 percent legal thing to do," Kennedy said. "They haven't broken a single law. And that needs to get made very clear to this president and this administration."