Politics
Here's why Matt O'Malley says it's time to make Election Day a holiday in Boston
"We as a city should treat the act of voting as a civic duty worthy of celebration."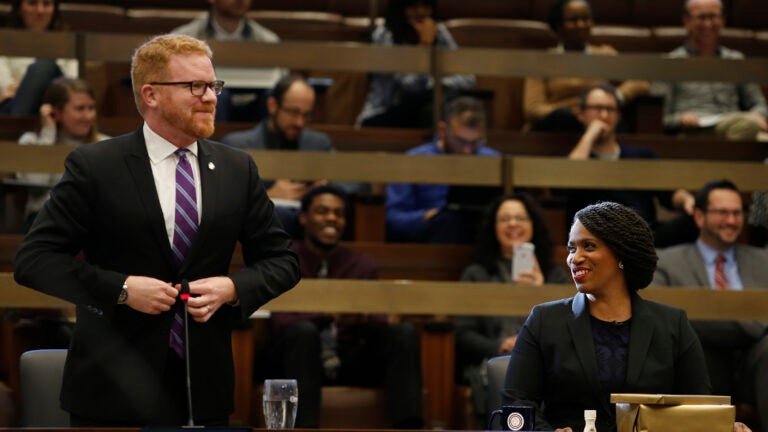 Since 1845, the Tuesday after the first Monday in November has a held special designation in the United States: it's the day voters go to the ballot box for federal elections, and many local ones, too.
Back in the 19th century, Tuesday was prime time for casting votes. A Monday election would have required folks to travel on the Sunday Sabbath — yes, a world with horses and buggies moved at a different pace then — and Wednesday would have interfered with market day, when many farmers would miss out on a chance to sell their crop.
But in 2019, the status-quo Election Day is not necessarily a solution anymore, according to Boston City Councilor Matt O'Malley.
With consistently dismal municipal election turnout, O'Malley is offering a new idea to get more people to the polls: make Election Day a Boston holiday.
The switch could guarantee voters have the chance to do their civic duty, especially for employees who depend on being paid hourly to cover the bills and are hesitant to take unpaid time off to cast their ballots, he said at a council meeting Wednesday.
"If we want to give disadvantaged people throughout our city a strong voice in our electoral process, this is a fine place to start," O'Malley said.
What is the proposal?
In the past 10 years, roughly one quarter of voters have, on average, turned out for city elections, according to O'Malley.
Boston records show, for example, that in the last election in 2017, 27.8 percent of registered voters submitted their ballots in some form.
But that's a relatively high number.
Comparatively, in other years when the mayor's seat isn't up for grabs, turnout is considerably lower. In 2011, 18.1 percent of voters participated, and, in 2015, a mere 13.6 percent of voters showed up.
O'Malley's request — filed Wednesday — for a hearing on creating a holiday cites that 27 of the 36 developed nations who are members of the Organization for Economic Cooperation and Development have weekend elections. Boston's turnout is in stark comparison to countries where Election Day is either on a weekend or is designated time off from work, he said.
Here in the U.S., just over a dozen states have an Election Day holiday in some form, O'Malley said.
Under Massachusetts law, employers in the manufacturing, retail, and mechanical industries must provide time for workers to be able to vote, but only through a request by the employee made in advance. It's not required that employees are paid while they vote.
O'Malley's request says the law "places the responsibility to request time off on the voter and can restrict access for low-income voters."
Bringing a voting holiday to Boston could changes the city's voting culture, O'Malley said.
"We as a city should treat the act of voting as a civic duty worthy of celebration," he said.
In @BOSCityCouncil today, I'm introducing a hearing order to establish an Election Day holiday. By making it easier for more to people vote: we'll increase voter participation, strengthen citizens' connection to government, & honor Boston's history in winning the right to vote. pic.twitter.com/oRFTAEvLdF

— Matt O'Malley (@MattOMalley) July 10, 2019
Logistically, O'Malley's request envisions two possible scenarios: either the city could create a new paid day off for city workers, or it could shift an existing holiday like Columbus Day or Presidents Day to keep the amount of paid time off the same. (He points to Sandusky, Ohio, which swapped Columbus Day for a voting holiday under a similar policy earlier this year.)
While the city only has the ability to provide time off to its employees and public school staff, the hope is that officials could potentially set an example for private employers to follow.
Councilor Lydia Edwards said the influence could extend beyond Boston, too.
"Not only is this going to impact Boston, but I think there is a ripple effect of the largest city in the Commonwealth taking a day off to vote," Edwards said.
"Throughout the day, our population expands to, I think, over a million people who are coming here to work or be tourists," she added. "So at the end of the day, when Boston leads this way, it actually helps the entire Commonwealth I think get excited about voting."
Can it work?
Whether creating a holiday or granting time off are viable ways to boost participation at the polls in the U.S. is not exactly clear, however.
Eitan Hersh, an associate professor of political science at Tufts University, said although he thinks the idea is worthy to talk about, election participation is often driven more by voter behavior — whether voters feel connected to the political system and are motivated, for instance — than accessibility alone.
Hersh, who specializes in elections and voting rights, advises the city should make a push to make a voting holiday that promotes a sense of civic duty, that has a culture of participation attached to it, similar to how Americans feel on, say, the Fourth of July.
"If all that it's doing is giving people time off from work … it's not going to do anything," he told Boston.com. "It's only going to do something if it's an actual civic holiday focused on civic engagement."
Rachael Cobb, chair of Suffolk University's Government department, said that, statistically speaking, she sees the change, while a good step to take, as more symbolic than game changing since the "hurdles to voting are so vast and sometimes so deep."
Making sure people know there's an election is often one of the biggest challenges, she said. City officials could perhaps see greater strides in improving turnout by rearranging municipal elections to coincide with state and national races, but that's a tough sell to make, Cobb said.
"In all of this, (the proposal) helps some people: people who are employed (by the city)," Cobb said in an interview. "It doesn't help all people and it's not equally dispersed among the population."
In a 2012 report, the federal Government Accountability Office said it's uncertain what kind of impact that moving Election Day to a weekend would have on turnout.
Other studies about the estimated impact of policies like early voting have on election participation vary.
"You can study data any way to come up and sort of form it to show whether or not it helps," O'Malley told Boston.com. "The fact of the matter is there are hourly salaried people who will lose money by taking time off to vote. The hours of 7 a.m. to 8 p.m. — that does not work for some folks, particularly folks who work outside of the community, which many if not most people do."
On Wednesday, a majority of the council signed on in support of the proposal, which was assigned to a committee for a public hearing.
O'Malley said he thinks the impact of a holiday would eventually take years to see fully, if put in place. He also knows a city election likely won't draw the turnout of a presidential election — with or without a designated day off.
"But, there is more that we can be doing," he said.