Politics
This 30-year-old Massachusetts mayor is challenging New England's longest-serving congressman
"It's no accident we have the disparities that we have in the district."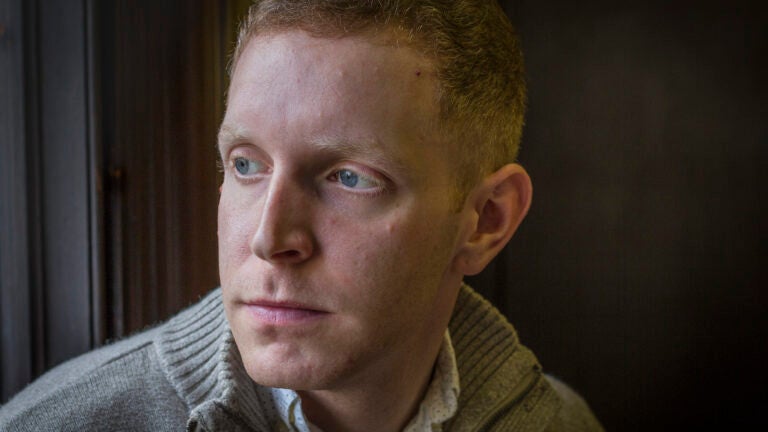 Holyoke Mayor Alex Morse was nearly four weeks from being born when Rep. Richard Neal first arrived in Washington, D.C. Now, he's embarking on a bid to unseat the powerful Massachusetts congressman.
On Monday, after months of anticipation, Morse officially announced a primary campaign against Neal, a fellow Democrat who has been in Congress since 1989 and, more recently, has been the subject of criticism from progressives.
"There's an urgency in this moment in our country, and that urgency is not matched by our current representative in Congress," Morse said in a video announcing his candidacy for Neal's 1st District seat.
A 30-year-old Holyoke native, Morse was first elected in 2011 at the age of 22 after defeating an incumbent Democratic mayor three times his age. Morse became the 40,000-person city's youngest and first openly gay mayor. It was the Brown University graduate's first job out of college.
His next potential job could be hard to come by.
Neal has represented Western Massachusetts in Congress for more than 30 years and is the "dean" of New England's delegation in the House. The 70-year-old Springfield native has been the 1st District's congressman since 2013, after the Bay State's districts were redrawn. This past January, Neal became the chairman of the influential House Ways and Means Committee. As such, he led the request and subsequent lawsuit for President Donald Trump's tax returns — though only after months of pressure and criticism from left-leaning groups.
As a more moderate Democrat, Neal's new leadership position has, at times, put him at odds with more progressive members of the party over issues like tax reform and expanding access to health care.
Neal has also raised more than $1.4 million this year — which is among the most of any House Democrat — and has nearly $4 million to spend in his campaign account, according to the most recent federal filings. His fundraising prowess and acceptance of corporate donations have also drawn the ire of progressives — though Neal has defended his tactics, which he says helped Democrats regain the majority in the House.
Still, in contrast, Morse announced Monday that he won't take "a single dollar" from corporate PACs and suggested that Neal wasn't focusing enough on addressing the struggles of his own district.
"It's no accident we have the disparities that we have in the district," he said in his announcement video. "There's no transparency. It sends a message that wealthy donors and corporate PACs and corporations are far more important than the interests and needs and struggles of the people we interact with each and every day."
Holyoke is one of the poorest communities in Massachusetts, according to household income data collected by the census. However, Morse's campaign website says he has since "spearheaded" an "economic rebirth" in the former textile and paper manufacturing hub, by utilizing existing infrastructure and investing in new industries, from renewable energy projects to a culinary arts program. In his announcement video, Morse also plugged the improvement in graduation and dropout rates in the local school district during his time as Holyoke mayor.
"I think our story on a smaller scale provides a road map for which we can look at the challenges in other places," he said.
Holyoke's population is more than 50 percent Hispanic, the vast majority of which are Puerto Rican; Morse's campaign website notes that he "opened the city's arms in welcome to hundreds" of families from the U.S. island territory who were displaced by Hurricane Maria.
Morse, who was the state's first mayor to endorse legalizing recreational marijuana in 2016, has also pitched Holyoke — and its abandoned mills — as a center for a cannabis industry. He has said legal marijuana is not only an economic opportunity, but also a chance to redress the disproportionate impact that drug arrests have had on minority populations.
In a region that continues to struggle with the opioid epidemic, Morse established and defended Holyoke's needle exchange program. His campaign website says Morse's commitment to addressing the issue is "spurred not only by the public costs, but by his family experience with his brother's heroin addiction and seeing first hand the emotional, financial, and generational toll that this disease has on all the people it touches."
Morse's campaign comes amid a recent wave of younger, more progressive candidates challenging incumbent Democrats — both nationally and in Massachusetts. Sen. Ed Markey, who has been in Congress since 1976, is also facing a 2020 primary race, against labor lawyer Shannon Liss-Riordan. Primary challenges are also being mounted against several local House members, including Reps. Joe Kennedy III, Stephen Lynch, and Seth Moulton, the latter of which is running for president.
Former Rep. Mike Capuano, who lost his 7th District seat to Rep. Ayanna Pressley in a primary contest last year, recently told the Boston Herald that the state's incumbent Democrats "best be aware and on top of their game" in the current political climate.
"The country is upset," Capuano said. "There's always some incumbents who are going to suffer."
Neal also faced a 2018 primary challenger: Springfield lawyer and political newcomer Tahirah Amatul-Wadud. However, with the aid of significant name recognition and fundraising advantages, the longtime congressman won with more than 70 percent of the vote.