Politics
'The perfect way to honor him': 'Conrad's Law' would criminalize suicide coercion in Massachusetts. Here's what to know about the bill.
"If this law is successful in saving one life, then all of this work will be clearly worth it."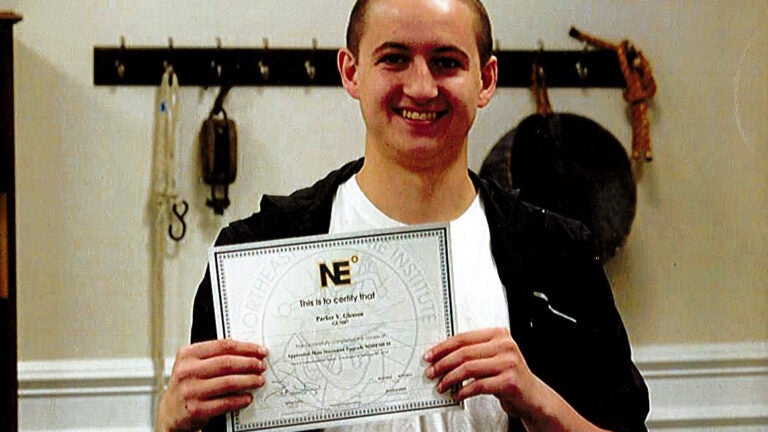 State lawmakers unveiled a bill Wednesday that would criminalize suicide coercion in Massachusetts with jail time up to five years — a charge they hope will save lives as the teenage suicide rate climbs.
The bill, called "Conrad's Law," also marks a Beacon Hill response to the 2014 death of Conrad Roy III, the 18-year-old from Mattapoisett who killed himself after being pressured by 17-year-old Michelle Carter.
Carter, of Plainville, encouraged Roy, who struggled with mental illness, to end his life over text messages. Now 22, she began serving a 15-month sentence earlier this year after she was found guilty of involuntary manslaughter during a highly publicized trial in 2017.
"I see on a daily basis how influential young people can be on each other's mental health," state Sen. Barry Finegold, the bill's lead Senate sponsor and a father of teenagers himself, told reporters at a press conference. "This is especially true now that our children are moving through life with their cellphones basically attached to their bodies. There is no way to come home from school, close your doors, and shut out the bullying like there used to be."
Finegold, an Andover Democrat who filed the bill with state Rep. Natalie Higgins, said the narrowly-tailored legislation would send a strong message against teen suicide while also steering prosecutors away from invoking manslaughter charges in any future cases. Both said that doing so could create a "slippery slope" for crimes based on speech.
"'Conrad's Law' has nothing to do with seeking justice for my son," Roy's mother, Lynn, said. "This law has everything to do with preventing this from happening again to others who are struggling with mental illness and suicidal ideation. If this law is successful in saving one life, then all of this work will be clearly worth it."
Here's what to know about the bill:
What the proposed law would cover
"Conrad's Law" would allow prosecutors to charge defendants who encourage, coerce, or manipulate another person into committing or attempting suicide, despite knowing that the victim previously thought about, considered, or tried to commit suicide, according to the bill.
The statute would carry up to a five-year prison sentence. It would also apply to cases where a person "intentionally provides the physical means, or knowledge of such means (to commit suicide), to the other person" or "participates in a physical act" that causes, helps, or encourages a person to take their own life or attempt to end their life, a draft of the law says.
To be liable, a person would have to have "substantial control or undue influence over the victim or must have manipulated the victim's behavior through fraud or deceit," according to lawmakers.
"It really is about how the person went about it," Finegold said. "I think just straight on bullying is not something that would get this charge. But if you are someone who is passionately coercing someone, saying they should take this act, then they could be charged."
The proposal, however, would not apply to incidents of physician-assisted suicide, although the practice is not currently legal in Massachusetts.
Higgins said the law focuses primarily on instances of coercion.
"We used very targeted language," the Leominster Democrat said.
Teens are dealing with 'so much trauma'
Suicide rates are rising across the country, especially for teenagers, lawmakers say.
"Our teens are dealing with so much trauma when they're heading into school," said Higgins, who was previously a teen counselor working with trauma survivors. "And we expect that when our kids are struggling and they're contemplating suicide, that those close to them are going to get them the help they need. … In Conrad Roy's case, he didn't get that help."
Suicide was the second leading cause of death for people between the ages of 10 and 34 in 2017, according to the Centers for Disease Control and Prevention.
Statistics from the state Department of Public Health show the number of suicides in Massachusetts increased among people 24 years old and younger between 2014 and 2016 — the last year data was available — from 73 to 93 people.
Finegold cited the suicide of 16-year-old Anna Aslanian, of Lowell, who took her own life in October after being bullied for years by classmates, as evidence lawmakers must do more.
"We want to teach our young people that we all need to be more responsible about how we treat those coping with mental health challenges," he said.
'The perfect way to honor him'
Roy died after filling his pickup truck with carbon monoxide in a Fairhaven parking lot the night of July 13, 2014.
Text messages between Carter and Roy show the two conversed leading up to his death, as Carter gave her then-boyfriend specifics on how he could follow through on his plans, while Roy expressed hesitation.
Records show Carter and Roy spoke on the phone twice, each time for about 45 minutes, as he was dying. Carter later texted a friend, writing, "His death is my fault."
"He got out of the car because [it] was working and he got scared and I f[—]en told him to get back in," she wrote.
Juvenile Court Judge Lawrence Moniz found Carter's words constituted "wanton and reckless conduct" and that she had a responsibility to call for help when she knew Roy was dying, but failed to do so.
The case fueled legal debate and raised questions over whether Carter could be convicted of involuntary manslaughter based on her words.
The Bay State is among only 10 states that lack a law that outright prohibits suicide coercion, according to Finegold.
"There is no law in Massachusetts making it a crime to encourage someone, or even to persuade someone, to commit suicide," Matthew Segal, legal director of the ACLU of Massachusetts, said in a statement after the ruling in 2017. "Yet Ms. Carter has now been convicted of manslaughter, based on the prosecution's theory that, as a 17-year-old girl, she literally killed Mr. Roy with her words. This conviction exceeds the limits of our criminal laws and violates free speech protections guaranteed by the Massachusetts and U.S. Constitutions."
In February, the Massachusetts Supreme Judicial Court unanimously upheld Moniz's ruling, despite the appeal from Carter's attorneys. Earlier this month, her legal team filed a petition for the case to be considered by the U.S. Supreme Court.
Finegold told reporters Wednesday that a manslaughter charge is typically invoked against "someone who fires a gun, someone that purposely goes ahead and drives a car and rams it into someone."
"Conrad's Law" would seek to end ambiguity in state law by putting a specific charge relating to suicide on the books, he said.
Northeastern University law professor Daniel Medwed worked with the Roy family and lawmakers to craft the bill, according to Finegold.
"I truly believe this is the perfect way to honor (Roy) while also making it very clear that this is not only morally wrong to coerce an individual to kill himself but, in the near future, will be wrong under (the) law," Lynn Roy said.
In a statement, Bristol County District Attorney Thomas Quinn III, whose office prosecuted Carter's case, called the bill "critical," and said he would testify in support of it once the proposal heads to a committee hearing.
"While the charge of involuntary manslaughter has been shown to fit in the most egregious of cases, it is important for Massachusetts to join with 40 [other] states across the country who have already passed suicide by coercion laws for those cases that do not rise to the level of manslaughter," Quinn said.
Joined by Conrad Roy's father, sisters, and relatives, Lynn Roy said her son continues to live on in the people who knew him.
"Before my son passed, I was excited about so much," Lynn Roy said, when asked what it meant to them that the law would bear Conrad's name. "I've never said I've been friggin' excited about anything until last week when I was told that I was going to be here, and, yes, I'm friggin' excited. My heart was so full, and I'm so proud of my son."