Politics
Ayanna Pressley is signing on to Cory Booker's idea to reduce the wealth gap: Baby bonds
"For too many of my constituents, that inequity begins before birth."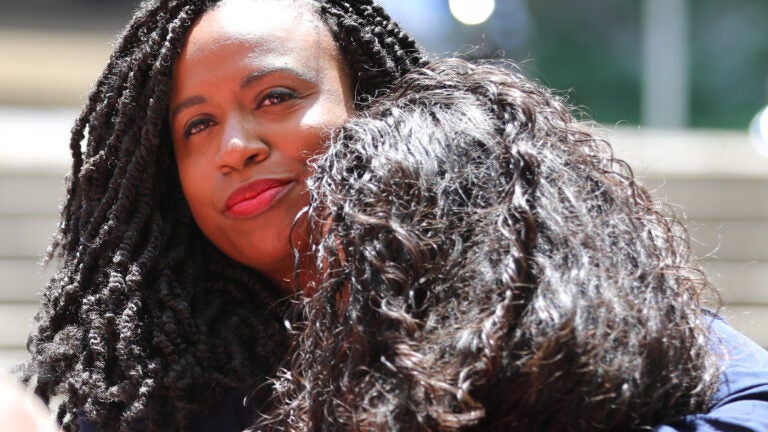 Rep. Ayanna Pressley is signing on to the hallmark policy proposal of Sen. Cory Booker's presidential campaign: "Baby bonds."
Booker, who is one of two dozen Democratic candidates vying for the party's 2020 nomination, wants to address generational poverty — and the racial wealth gap — by giving every child born in the United States a savings account with $1,000, to which the federal government would contribute annually depending on family income. Children in lower-income families would receive larger payments.
The "opportunity accounts," colloquially known as baby bonds, would be available when the child turns 18 for certain qualified expenses, such as buying a home or paying for education. Booker's office estimates the accounts — through yearly payments and interest rates — would accrue $46,215 for an 18-year-old growing up below the poverty line. Even children in families earning more than two or three times the poverty line would get thousands of dollars under the program.
The New Jersey senator first introduced the idea in the Senate last October. But now, as he reintroduces the bill, Pressley is joining to introduce companion legislation in the House.
"In order to fulfill the true promise of the American dream, we must take bold steps to address the systemic inequities that have long denied low-income families and communities of color a fair chance at upward mobility," the Massachusetts congresswoman said in a statement Friday.
In a statement, Booker noted that wealth inequality has grown dramatically over the past half-century. In 1963, families in the top 10 percent had six times the wealth of families in the middle; by 2016, their share had risen to 12 times as much.
"Wealth inequality is at its highest point in decades—and because household wealth shapes opportunity, extreme wealth inequality in America is undermining equal opportunity," Booker said. "We know this growing gap has been driven in part by federal policies and a federal tax code that subsidizes asset building for some Americans but fails to extend and expand that opportunity for all Americans. This bill would start to level the playing field."
Pressley has repeatedly noted that her Boston-area district is "one of the most diverse and unequal districts in the country." Particularly in Boston, there is a staggering racial wealth gap. According to a 2015 report by the Federal Reserve Bank of Boston, the median net worth of white households in the city was $247,500. The median net worth for black families was $8.
"For too many of my constituents, that inequity begins before birth," Pressley said Friday.
A Columbia University study found that the baby bonds bill — officially called the The American Opportunity Accounts Act – would increase the median net worth for both white and black young adults by tens of thousands of dollars, while also significantly reducing the racial wealth gap. According to the study, the baby bonds program would increase the median wealth of young white Americans from $46,000 to $79,159, while lifting the median wealth of African-Americans from $2,900 to $57,845.
"This is a universal race conscious program that will benefit all children with families in the lowest bracket," Pressley told Yahoo Finance, which first reported her sponsorship of the bill Friday. "So the program will inevitably have a positive disparate racial impact that will impact black and brown adults. Because they are disproportionately the most disadvantaged."
However, even on the left, the baby bonds idea has yet to pick up much momentum. While the concept has been floated in academic circles (perhaps most prominently by Ohio State professor Darrick Hamilton), Booker's bill had no other sponsors when it was introduced last fall. And some progressive think tanks and writers say it wouldn't reduce the racial wealth gap as much as estimated and isn't as effective as direct government investment to provide the things that baby bonds are intended to pay for, like college, as a public good (the concern being that baby bonds could have an inflationary effect on the price of homes and higher education).
"If the goal is to get people to go to college, spending money on making their college free seems a lot better than giving them this upfront check that they can go use on tuition — which, if anything, might just lead schools to raise prices," Vox.com writer and co-founder Matt Yglesias said during a podcast last October.
Booker and Pressley contend that the baby bonds bill is just one plank in what they say should be a broader effort to tackle racial injustice and wealth inequality. Both Democrats support legislation to study reparations for African-Americans to address the lasting effects of slavery and decades of discrimination driven by government policy — as well as criminal justice and education form. They also teamed up in May to introduce legislation to reduce maternal mortality in the United States, where the risk of pregnancy-related deaths is three to four times higher for black mothers than white mothers.
"I see this as enhancement and companion legislation," Pressley told Yahoo, referring to the baby bonds bill. "The reality is that these are systemically embedded and entrenched inequities. There is not going to be a one stop solution."