Politics
A handful of House members just endorsed Elizabeth Warren — including 2 more from Massachusetts
"She will fight harder than anyone else I know to give every American the opportunity to build a future."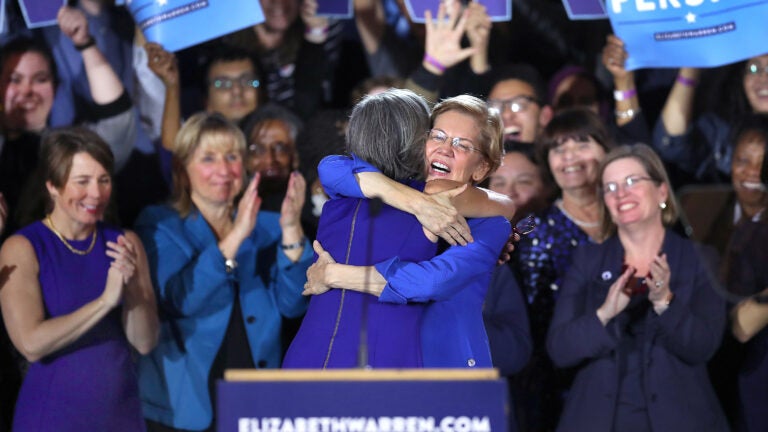 Hours before she takes the stage for the second Democratic presidential primary debate, Sen. Elizabeth Warren is rolling out a new slate of endorsements Tuesday morning — including two from members of the Massachusetts delegation and Democratic leadership.
Rep. Katherine Clark, the state's 5th District representative and vice chair of the Democratic Caucus, said in a statement Tuesday that she had "worked closely" with Warren for years and had "seen her passion, her leadership, and her commitment to make sure our country works for everyone."
"She's shaping the Democratic party with her plans to root out corruption, address the student debt crisis and sky high child care costs, and tackle climate change head-on," Clark said. "I'm proud to endorse Elizabeth for president because she will fight harder than anyone else I know to give every American the opportunity to build a future."
As vice chair, the Melrose congresswoman is the sixth-highest ranking Democrat in the House and and the party's second-highest ranking women, behind House Speaker Nancy Pelosi.
We need a leader who will fight to give every family a fair shot at success. That's why I'm endorsing @ewarren for President! pic.twitter.com/6dXNzx3R4u

— Katherine Clark (@KatherineClark) July 30, 2019
Also joining Clark in endorsing Warren for president Tuesday was Massachusetts Rep. Jim McGovern, the state's 2nd District representative. The Worcester native and chairman of the House Rules Committee said he believes Warren "will restore compassion and decency to our politics."
"I believe in her agenda to implement big, structural change in this country," McGovern said. "I believe she can take on Donald Trump. And I know she will be a great President."
Nearly half of the Massachusetts congressional delegation has now endorsed Warren's presidential campaign. Rep. Joe Kennedy III and Lori Trahan endorsed the Massachusetts senator back in February, as did her fellow Bay State Sen. Ed Markey, who will be at the Detroit debate Tuesday night to support Warren. In recent weeks, all five Democrats have also joined Warren in calling for the impeachment of President Donald Trump.
Reps. Richard Neal, Ayanna Pressley, and Bill Keating have yet to back any of the Democrats running in the 2020 presidential race. Rep. Stephen Lynch is backing former vice president Joe Biden. And Rep. Seth Moulton has embarked a presidential primary campaign of his own, though he once again failed to qualify for the second round of debates this week.
Warren's new supporters Tuesday didn't only come from within her home state. The senator also unveiled endorsements from Arizona Rep. Raúl Grijalva, New Mexico Rep. Deb Haaland, and Michigan Rep. Andy Levin, who represents a district in the Detroit suburbs less than 10 miles away from the site of Tuesday's debate.
In statements Tuesday, they vouched for Warren's progressive populist bona fides and transformative ideas, and looked to extinguish questions about her perceived electability.
Grijalva — the former chair of the left-leaning Congressional Progressive Caucus and 2016 supporter of Sen. Bernie Sanders's presidential campaign — called Warren a "formidable champion of progressive values."
"She is a bold, persistent, visionary leader who cares about working families – and because of this, she's won my endorsement," he said.
Haaland, who was one of the first two Native American women elected to Congress last year, has been a defender of Warren's decision to take a DNA test last year to prove distant Native American ancestry. In addition, their work together on legislation to address unsafe military housing, the opioid crisis, and universal child care, the congresswoman vouched for Warren as "a great friend to me and a great partner for Indian Country."
"She has made it a priority to address some of the most challenging issues facing working families, including an economy that works for everyone, student loan debt, and the crisis of missing and murdered Indigenous women," Haaland said.
Levin, for his part, said he had been following Warren since his second year at Harvard Law School, when she was a visiting professor at the university.
"She came from modest roots and soared to the highest academic heights," said the Michigan congressman. "She never forgot where she came from, and never intended to get into politics, but she couldn't stand the way poor and working people were being taken advantage of, so she became an authentic and fierce fighter for working families."
He praised her presidential campaign's steady stream of "remarkably clear, smart and brave policy plans" and said he believed Warren could "resoundingly defeat" Trump in 2020 and lead a "transformative government."