Politics
Donald Trump says the Dayton shooter was a 'fan' of Elizabeth Warren. Her campaign says that's a distraction.
"There is a direct line between the president's rhetoric and the stated motivations of the El Paso shooter."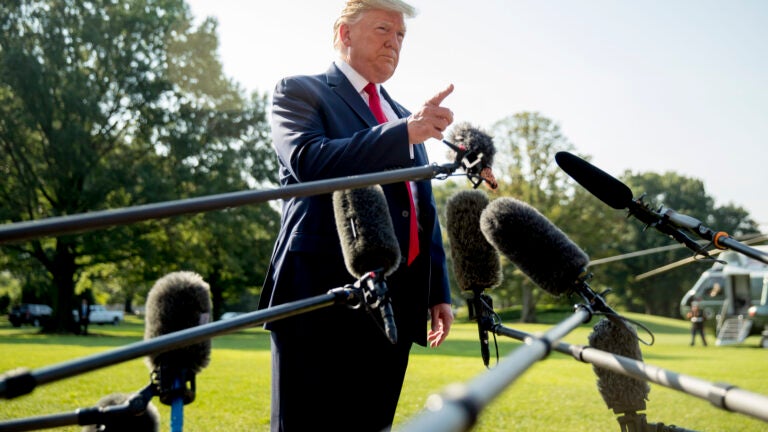 In the wake of the deadly mass shootings in El Paso, Texas, and Dayton, Ohio, last weekend, Sen. Elizabeth Warren said President Donald Trump should be called out "for advancing racism and white supremacy," which allegedly fueled one of the attacks.
Police say that Patrick Crusius, who is charged with killing 22 people in El Paso, was the author of a racist, anti-immigrant "manifesto" that was posted online shortly before the shooting and warned of a "Hispanic invasion," echoing rhetoric expressed by Trump and other Republican elected officials. The El Paso shooting was the latest in a series of high-profile attacks motivated by white nationalism, which have claimed more than 175 lives this decade.
However, the political ideology of the Dayton shooter appears to be of a different strain — and Trump says it's not getting enough coverage.
"He was a fan of Bernie Sanders and Elizabeth Warren," the president told reporters Wednesday morning outside the White House. "Nothing to do with Trump. But nobody ever mentions that."
President Trump on Dayton shooter: "He was a fan of Bernie Sanders and Elizabeth Warren, nothing to do with Trump. Nobody ever mentions that." https://t.co/HHghAb803k pic.twitter.com/WZEQ5nE7Xx

— CBS News (@CBSNews) August 7, 2019
While the motivations behind the Dayton attack remain unclear, the shooter, Conor Betts, did express support on social media for fringe left-wing ideas.
However, compared to the El Paso shooter's white nationalist manifesto, the 24-year-old's public support for two 2020 candidates for the Democratic presidential nomination — Sanders and Warren — amounts to a few tweets.
Officials say that Betts — who was killed by police in the midst of his shooting spree, which killed nine people — demonstrated a disturbing interest in violence, as well as support for extreme ideas that sometimes aligned with leftist politics. From a now-suspended Twitter account, Betts often praised Satan, while blasting fascists, police, and Republicans. A few times, he supportively mentioned socialism and Sanders — and said in June that he'd "happily vote for" Warren.
"I think Warren has a decent shot, as well," he said in another tweet, discussing the general election chances of Sanders and Warren, according to the website Heavy.com.
Those two tweets appear to be the only time that Betts mentioned Warren. Still, that support has been repeatedly highlighted by conservative media outlets following the shooting, perhaps most prominently by White House adviser Kellyanne Conway, who also complained about the lack of coverage Tuesday during a Fox News appearance.
"There's scant attention being paid to this," she said.
Kellyanne Conway says she's "hopping mad" b/c she sees little coverage of Dayton shooter being "supportive of Warren, Sanders."

The difference, of course, is that Trump pushed dehumanizing conspiracy theories that motivated El Paso shooter. Warren/Sanders have done no such thing pic.twitter.com/eU8R0gmbw2

— Aaron Rupar (@atrupar) August 6, 2019
In response to Trump and Conway's comments, Warren's presidential campaign unequivocally condemned the violence. Kristen Orthman, a spokeswoman for the Massachusetts senator's campaign, drew a distinction between the alleged motivations of the two recent shooters and called the comments from the White House an attempted distraction.
"Leaders have a responsibility to speak out and to not incite violence," Orthman said in a statement. "But let's be clear — there is a direct line between the president's rhetoric and the stated motivations of the El Paso shooter. This is an attempt to distract from the fact that Trump's rhetoric is inciting violence as extremist-related murders have spiked 35 percent from 2017 to 2018."
According to an Anti-Defamation League report, the 50 extremist-related murders last year were the most in a year in the United States since 1995; white supremacists and right-wing extremists were responsible for all but one of the killings, the report said. Warren has called white nationalism a "domestic terrorism threat" and says Trump has "encouraged" and "embraced" members of the movement.
"White nationalists embrace him, and the Republicans enable him," she tweeted Sunday; on Wednesday, Warren said she stood in solidarity with those who protested the Republican president's "racist rhetoric and inaction on gun violence."
According to Trump, the critics who say his rhetoric has emboldened white nationalists are "trying to make political points," noting that some of his harshest critics, like Warren, former Texas Rep. Beto O'Rourke, and Ohio Rep. Tim Ryan, are running for president. Trump said he was concerned about "the rise of any group of hate," whether it was white supremacists or anti-fascists. He also said that he didn't think his rhetoric was a factor.
"It brings people together," Trump said.
Like other members of the Republican Party, the president worked to shift the focus from the country's loose gun laws to mental health.
"I don't blame Elizabeth Warren, and I don't blame Bernie Sanders in the case of Ohio," he said Wednesday. "And I don't blame anybody. I blame — these are sick people. These are people that are really mentally ill, mentally disturbed. It's a mental problem."
Like most of the Democrats running for president, Warren supports tighter gun laws, such as universal background checks and an assault weapons ban, to address gun violence, which evidence suggests is tied to the availability of firearms in the United States.
Trump said Wednesday he was in favor of the background check bill that passed in the Democrat-controlled House of Representatives earlier this year, but said there is "no political appetite" for a ban on assault weapons or high-capacity magazines.