Politics
Cumberland Farms is pushing a ballot question to lift limits on alcohol sales in Massachusetts
Opponents say the "predatory" proposal does more than that.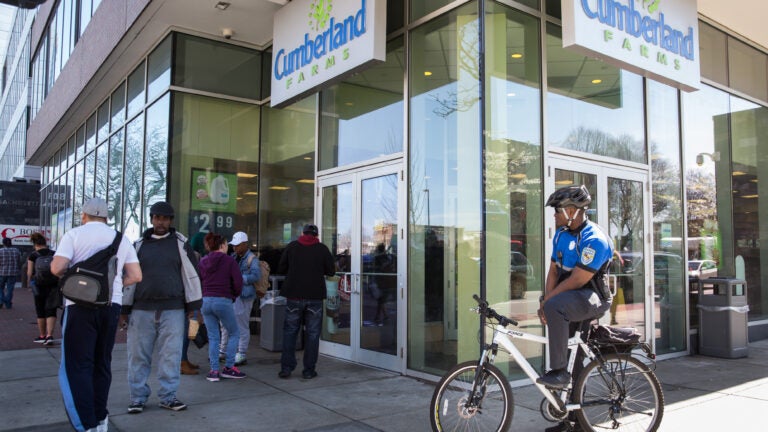 Cumberland Farms is currently allowed to sell beer and wine at a small fraction of their 206 stores in Massachusetts. They want it to be possible at all of them, and they think voters do, too.
The Westborough-based convenience store chain filed a proposed 2020 ballot question this week that would eventually lift the state's cap on the number of liquor licenses that can be owned by a single retailer. It would also create a new type of beer and wine license for food stores, which would have no statewide cap and be subject only to local approval.
"If you can order wine to your door, why not convenience stores?" Matt Durand, the company's head of public policy, told Boston.com in an interview Friday.
According to Durand, just seven of the state's Cumberland Farms currently sell alcohol. Next year, they'll be allowed to go up to nine. Durand says consumer expectations have changed over the last decade, and he thinks stores like Cumberland Farms are being held back by "archaic laws." Allowing the chain to sell beer and wine at all of their stores is a "fair" objective, he said.
Durand also knows they're setting up for a potentially bruising fight.
This wouldn't be the first time chain stores have asked voters to erase limits on who can sell alcohol in Massachusetts. A similar effort was defeated in 2006, after a battle between supermarkets and local package stores that cost a then-record-breaking $11.5 million. In 2011, under the threat of another expensive campaign, the two sides struck a deal to incrementally raise the license limit from three to nine by 2020.
The petition filed by Cumberland Farms this week is still a long way from the ballot. It has be certified by Attorney General Maura Healey's office, garner more than 80,000 signatures, and be presented to the Legislature before voters have a chance to weigh in. The proposed ballot question would lift the limit on so-called Section 15 liquor licenses a single retailer could hold to 12 in 2021, 15 in 2022, 18 in 2023, and then eliminate the statewide cap in 2024.
However, Durand says they'd be willing to compromise.
"I don't think anybody wants another knockdown, drag-out fight like there was in 2006," he said, adding, however, that there was strong support within the company, which was recently acquired by a British gas station giant, "to take it to the end, if necessary."
Rob Mellion, the executive director of the Massachusetts Package Stores Association, is hoping to stop the ballot question before it even gets to the start.
"It's an interesting way to ask people to come to the table with you," he said of the potential for compromise, calling the proposed initiative "predatory."
Mellion says the effort by Cumberland Farms would "bust part" the 2011 agreement. Even though convenience stores were not involved in that deal, Cumberland Farms' proposal would allow corporate chains, including supermarkets, to sell alcohol at an unlimited number of locations across the state. Mellion says small, family-owned shops are already under pressure from big retailers, as well as competitors in New Hampshire; 159 licenses were transferred last year, and already 92 have been sold through July, he said.
"We're fighting for a fair market place where family-owned companies can coexist," Mellion said.
Furthermore, he says there's "a lot going on" in the proposed initiative that unwary voters may not notice. Without a statewide cap, the new class of license for "food stores" would give the likes of Cumberland Farms a head start, according Mellion. While the the initiative would create stricter age verification standards, it would also allow stores to accept the use of out-of-state IDs (which Massachusetts currently does not allow, for better or worse) for alcohol purchases.
For those reasons, the Package Stores Association is filing a challenge with the Attorney General's office against Cumberland Farms' initiative, arguing that it includes more than one question.
Durand says the tactics employed by package stores amount to "scare tactics" by an industry that is trying to protect its grip on the liquor market. Mellion says he's simply trying to beat back the wave of corporatization in which a bunch of big stores sell the same products and unique products disappear.
"What we're fighting for is to keep it local," he said.