Politics
Ayanna Pressley says 'the Squad' is 'not a monolith'
"We don't land in the same place on every vote. We are each our own people."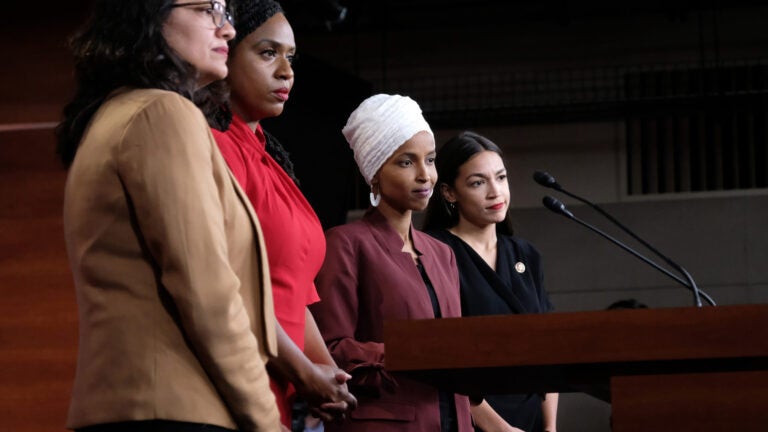 Rep. Ayanna Pressley often gets grouped together with three fellow progressive freshman congresswomen of color. But that was never the plan.
According to the Massachusetts Democrat, the nickname "the Squad" —now popularly used to refer to her, New York Rep. Alexandria Ocasio-Cortez, Minnesota Rep. Ilhan Omar, and Michigan Rep. Rashida Tlaib — originated almost out of happenstance. Having come together for a joint interview during the House's freshman orientation last November, the four newly elected lawmakers were asked to take a photo together.
Ocasio-Cortez casually picked the caption, referring to the popular hashtag "#squadgoals," according to Pressley.
"And it went viral," she recalled during an interview Wednesday on the popular New York-based radio show "The Breakfast Club."
"I know there are some folks who like to fashion us as some sort of like, 'We move as a unit. We're joined at the hip. We're like some insurgent gang, virus of socialism and radicalism.' But why did it go viral? Because it was resonant," Pressley continued. "It was deeply resonant because we just visually represented progress."
The four lawmakers each represented firsts in Congress: Pressley was the first woman of color elected from Massachusetts; Ocasio-Cortez was the youngest woman ever elected to Congress; and Omar and Tlaib became the first Muslim women in Congress. In the last year, they also have each developed national followings and recently weathered personal attacks from President Donald Trump — and sometimes even jabs from fellow Democrats.
Pressley says she has forged a special "kinship" and "bond" with her fellow "Squad" members. And while the four progressive Democrats have many shared values, Pressley said the grouping isn't always fair.
"We are not a monolith," she said Wednesday. "We don't land in the same place on every vote. We are each our own people."
During the interview, Pressley was asked repeatedly about a recent Politico article asserting that she had gone "rogue" from the "Squad."
The article led with an anecdote about how Pressley broke with Ocasio-Cortez, Omar, and Tlaib last month to vote in favor of a resolution (which the House passed overwhelmingly) condemning the boycott movement against Israel known as "BDS" over the country's treatment of the Palestinian territories. Pressley noted Wednesday that she supports Israel critics' right to boycott and opposes a proposal to criminalize the BDS movement, but said there was "centuries of violence and trauma on both sides." Pressley said she even lobbied Democratic leadership to not bring the House resolution — which she called a "messaging bill that "does nothing" — to the floor.
"To be clear, I am pro-Palestinian and I am pro-Israeli," she said. "I am really sick and tired of our buying into this idea that we have to make these binary choices."
Pressley said that she would continue to call out the "abuses" of the Israeli government and, on Thursday, issued a statement suggesting that the United States "should reevaluate" its relationship with Israel after Prime Minister Benjamin Netanyahu moved to deny Omar and Tlaib from entering the country after pressure from Trump.
However, the larger focus of the Politico article was how Pressley — to a degree, unlike her fellow "Squad" members — built her political career working inside the Democratic establishment, beginning as an aide for Massachusetts Rep. Joseph Kennedy II and then Sen. John Kerry, before serving on the Boston City Council for nine years. Pressley said that framing gets her rise all wrong.
"Again, binary choices and revisionist history," she said. 
Pressley, who the first woman of color elected to the Boston City Council in its then-100-year history in 2009, described her time at City Hall as "disruptive." For two terms, she was also the only woman on the council during the reign of longtime Boston Mayor Tom Menino, who Pressley said led with a "heavy foot." Still, she maintained her focus on advocating for "black and brown girls" and pushed initiatives like free condoms in schools, more robust sex education programs, and "dismantling" the school-to-prison pipeline. Pressley said her election precipitated five more women of color, who she described as fellow "truth-tellers" and "table-shakers," getting elected during her time on the City Council. With six women of color, the 13-member body looks nothing like it did 50, or even 10, years ago.
"Did I work to change things structurally and legislatively from within the system? Yes, because I'm a legislator and I was serving on a governing body," she said.
"My values have always been progressive," Pressley said. "My approach to actualizing my progressive values has always been one through coalition building. This is about people forcing a narrative of binary choices. Are you insider or outsider? Are you privileged or poor? Are you radical or sane? I'm working. I'm working, and I have been for a very long time."