Politics
Michael Dukakis is backing Elizabeth Warren for president. But he wants her to reconsider one thing.
"They said they'll take it seriously."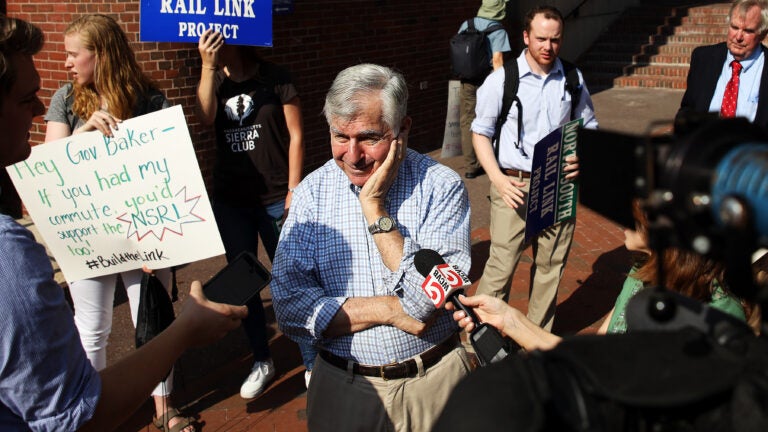 Michael Dukakis is hoping that Sen. Elizabeth Warren continues the long line of Democratic presidential nominees from Massachusetts.
In an interview Friday on WGBH's "Boston Public Radio," the 1988 presidential candidate said he's supporting Warren in the 2020 primary race.
"I'm for Elizabeth," Dukakis said.
The 85-year-old former Bay State governor said he likes a lot of the Democrats running for president, including former Vice President Joe Biden and Colorado Sen. Michael Bennet, who followed him on the show Friday. However, he said Warren's policy-heavy campaign has won him over.
"I know her, I like her, and so far I think she's doing a very good job running a positive campaign," Dukakis said. "She isn't attacking her rivals. She's making recommendations for serious policy changes, and I think it's one of the reasons why she's doing well."
However, he said that Warren's support for getting rid of private health insurance under the single-payer plan proposed by Sen. Bernie Sanders was "the one thing she's done that I hope she'll walk back."
Noting that President Harry Truman once proposed a nationalized health care system, Dukakis argued that the general idea of single-payer health care wasn't as "socialist" as critics make it out to be. However, banning private companies from providing primary or supplemental insurance would go beyond what countries with universal coverage have done. And he had reservations about that.
"Every health care system in the world that I know of — including the Brits, where the government runs the system — lets you buy health insurance if you want to," Dukakis said.
Echoing the argument that Ohio Rep. Tim Ryan made during a Democratic primary debate last month, the former governor questioned why it would be a good idea to force union members with quality, employer-sponsored health care to switch from their insurance to a government-run plan (Sanders has argued that the health care offered under Medicare-for-All would be better).
Dukakis argued that a public health insurance option (which Biden and Bennet both support) would drive down costs and be most politically practically, even if it would still face stiff resistance from the insurance industry.
"If we do the public option, so people can buy into Medicare, that's going to be 40 percent cheaper than private insurance," he said.
"And believe me, it will be fought tooth and nail by the private insurance companies because they know what's going to happen," Dukakis added. "People and businesses will elect to go into the public system. And it's terrific. For those of us who are 65 and older, there's nothing like Medicare. It's so much better than anything else."
Earlier in the campaign, Warren was less firm on the subject of eliminating private health insurance. During a CNN town hall in March, she said there are "different pathways" to Medicare-for-All and conceded that there "could" be a role, if only temporary, for private insurers under a single-payer system. Warren also noted at the time that she supports legislation to create a Medicaid-based public option.
"What's really important to me about this is we never lose sight of what the center is," she said. "Because the center is about making sure that every single person in this country gets the coverage they need and that it's at a price that they can afford."
Despite Warren's unequivocal answer on eliminating private insurance during the Democratic debates, Dukakis said Friday there was "nothing wrong" with walking back the position at this point in the campaign. While he hadn't spoken directly to Warren about the subject, Dukakis said he had relayed his concerns to her staff.
"They said they'll take it seriously," he said.