Politics
Here's what we know so far about the potential for a Joe Kennedy-Ed Markey primary race
Kennedy is reportedly deciding whether to run for Markey's seat, and the Massachusetts senator appears to be gearing up for a challenge.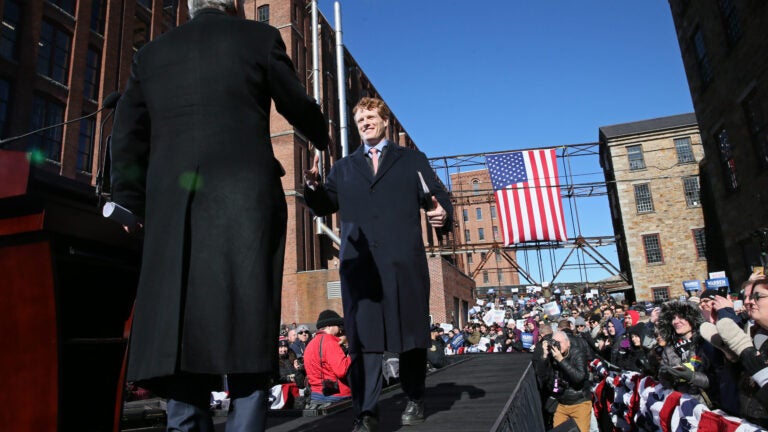 Two years ago, Rep. Joe Kennedy III made the rare admission that he'd consider running for higher office "if a Senate seat were to open."
It seems he may be done waiting.
Reports that the Massachusetts congressman and youngest member of the Kennedy political dynasty is considering a 2020 primary challenge to unseat Sen. Ed Markey sent shockwaves through the political world this weekend.
The Newton Democrat himself has said he intends to run for a fifth-term representing the state's 4th District. However, a growing number of signs suggest his plans for next year could be more disruptive.
The New York Times was the first to break the news of Kennedy's interest Friday night, citing an unnamed senior Democratic official who said the 38-year-old was weighing a campaign against Markey, the Bay State's 73-year-old junior senator. The Boston Globe and Politico also confirmed the report over the weekend, citing sources who said Kennedy would make his decision in the next few weeks.
Markey already has two lesser-known challengers, but Kennedy's entrance into the race would set up the latest — and by far most high-profile — intra-party fight in a state where the Democratic establishment has recently had to fend off an increasingly impatient generation of younger progressive candidates.
And a potential Kennedy-Markey matchup could be a rare instance in which the challenger is the favorite.
Last month, Politico reported that a mysterious telephone poll was conducted asking voters who they would vote for in a race between Kennedy and Markey, as well as about the two Democrats' relative favorability and policy positions.
At the time, Kennedy's political team would not confirm or deny whether they had paid for the poll. The Times reported Friday that, according to a source, they did. And according to the Globe, the poll found that voters favored Kennedy by a small margin over the sitting senator.
Earlier this month, a group of local Kennedy supporters created a Facebook group, petition, and website urging the congressman to run for Senate. While they respect Markey, the group — which includes Democratic activists and a former aide to Gov. Deval Patrick— says Kennedy would represent more "passionate, proactive leadership in the US Senate to combat the divisiveness of Senate Majority Leader Mitch McConnell and the Republican Party."
"We believe that Sen. Markey has served with distinction and we are grateful for his years of public service, in particular his commitment to the environment," the founders of "Jump in, Joe" wrote in a Commonwealth magazine opinion piece Saturday.
But they argued that Kennedy has proven to be a more forceful leader on Democratic issues, from his viral speeches to his 2018 State of the Union response. While Markey has earned a reputation as an effective behind-the-scenes legislator and worked with New York Rep. Alexandria Ocasio-Cortez to introduce the Green New Deal resolution, Kennedy's supporters argue the country needs the younger Democrat's "vision and passion."
"We launched this effort not because we are anti-Markey, but because we strongly believe in Congressman Kennedy and his vision for America," they wrote. "These are unusual times in our nation and a new era in politics in which incumbency no longer means that someone is entitled to elected office in perpetuity. It is healthy for our democracy to give voters a choice."
As of Tuesday night, the Facebook group had nearly 900 members.
Kennedy spokeswoman Emily Kaufman told Politico last week that the congressman was "humbled by the support of so many folks in Massachusetts," but remains focused on his current seat — at least in the present tense.
"As he has said, he is running for reelection in the 4th District," Kaufman said in a statement.
For his part, Markey appears to have anticipated a difficult challenge in 2020.
"Ed is not going anywhere," Paul Tencher, an adviser to the senator's campaign, told the Times. "He's going to run, and he's going to run no matter who is in this race."
The Malden Democrat has more than $4 million in campaign funds, according his most recent campaign finance filings, enough to roughly match the $4.2 million that Kennedy has to spend. According to Politico, Markey has spent more than $100,000 this year on Facebook ads, which ramped up last week as rumors began to swirl.
The Globe reported last week that Markey had also collected endorsements from six of his 10 colleagues in the state's congressional delegation. Notably absent from the list was Kennedy, as well as Reps. Seth Moulton and Ayanna Pressley, both of whom beat incumbent congressmen to win their seats.
The list did, however, include the name of Sen. Elizabeth Warren, who is close to both Markey and Kennedy, the latter of whom she taught at Harvard Law School. Kennedy even introduced the senator before her 2016 Democratic convention speech and at her 2020 presidential campaign kick-off in February (both Markey and Kennedy endorsed Warren in the presidential primary race).
Warren praised both of her colleagues in an interview with the Times over the weekend, but threw her "full support" behind Markey in an endorsement video released Monday.
Ed Markey releases video endorsement from Elizabeth Warren amid possible Joe Kennedy primary challenge https://t.co/F5YzoOhX3P pic.twitter.com/1zuE7Ylppk

— The Boston Globe (@BostonGlobe) August 19, 2019
"He's a leader, he's a fighter, and he is a true progressive," Warren said, citing Markey's consistent record on a plethora on issues, including the environment, gun safety, and health care.
Markey also picked up the endorsement last week of the abortion rights group NARAL Pro-Choice America and, on Sunday, the confirmed support of Boston Mayor Marty Walsh. In an interview Monday with the Globe, Markey said he talks regularly with Kennedy, whom he declined to criticize for thinking about challenging him.
"I am running on the most important issues of our era," he told the Globe, reportedly citing his record on climate change, economic justice, and reproductive rights. "I am crisscrossing the state. I keep going nonstop because these issues are so important, and it is critical that I continue to lead because that is what the people of Massachusetts expect."
Echoing comments he
made last November
 when asked about a potential primary challenger, Markey said he was more energized than ever by the need to stand up against President Donald Trump.
"This is the most energized that I have ever been in my life," he said Monday.
Kennedy's decision will impact more than just the Senate race; it could set off a chain reaction down the ballot.
Politico reported last week that potential candidates are already lining up to run for his 4th District seat. Massachusetts Treasurer Deborah Goldberg and Jesse Mermell, the president of the Alliance for Business Leadership, have reportedly reached out to donors and operatives just in case. Newton City Councilor Jake Auchincloss also told the outlet that he'd consider running.
Ihssane Leckey, a former Wall Street regulator living in Brookline, is already running in the Democratic primary for Kennedy's seat.
Kennedy himself still hasn't directly addressed the recent Senate speculation. In a podcast interview last week, he was asked why he chose not to join the crowded field of Democrats running for president in 2020 and noted that he wouldn't get to see his two young children.
"I've got plenty of stuff at the moment to keep me busy," he said.