Politics
Would Joe Kennedy run against Ed Markey from the left — or the right?
Or is that the wrong question?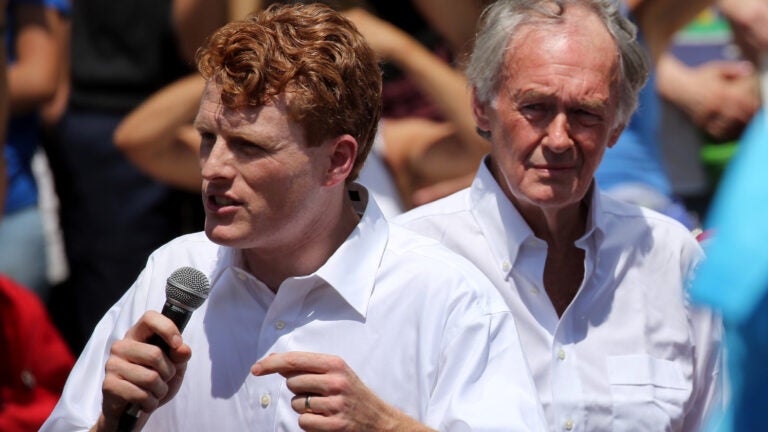 Rep. Joe Kennedy III will reportedly decide whether to launch a 2020 primary challenge against Sen. Ed Markey in the coming weeks. In the meantime, the question is why.
"We think it's important for the voters of Massachusetts to have a choice," Jamie Hoag, one of the organizers of the effort urging Kennedy to enter the Senate primary race, told Boston.com in an interview.
But what exactly would that choice be between?
There's a clear age difference; Markey, a 73-year-old Malden native, has been in politics nearly as long as the 38-year-old Newton congressman and scion of the Kennedy political dynasty has been alive.
However, unlike the primary races across the country — and in Massachuetts — in which older incumbents have faced challenges from younger progressive candidates, the two Bay State Democrats hold very similar political views, even on progressive causes that have divided members of their party.
"I don't think this will be a race run on ideological differences," Peter Ubertaccio, a political science professor at Stonehill College, told Boston.com.
Markey has been rated as one of the, if not the, most liberal members of the Senate over the course of his six years in the upper chamber. While congressional scorecards do not rate Kennedy quite as liberal compared to his House peers, his positions have recently shifted more toward the left.
Once opposed to legal marijuana (even for medical purposes), Kennedy reversed course last November on the day the first recreational pot shops opened in Massachusetts. Citing broken federal policy and inconsistent state laws, Kennedy said at the time that he felt the best path forward was for the federal government to legalize and "thoughtfully regulate" recreational marijuana, despite his continued concerns about mental health and addiction, particularly for young adults.
On the issue, Kennedy may have leapfrogged Markey. The senator's office told Vice last year that he is "fully supportive" of medical marijuana, but did not reply to a request for comment on his recreational marijuana stance. Like Kennedy, Markey has called for the federal government to further research the drug.
Kennedy was also previously skeptical of single-payer health care, raising concerns about how coverage would be delivered, how the system would be funded, and one proposal's effect on reproductive rights. But when a revised Medicare-for-All bill was introduced this past February, he jumped on board in support of the government-run plan as a "strong roadmap for the future of our system."
Markey was an original co-sponsor of the Medicare-for-All bill when it was first introduced in 2017.
The two Bay Staters also oppose the movement to boycott Israel over its treatment of the Palestinian people, but voted against a Republican-backed bill in February that would allow states to crack down on the Boycott, Divest, Sanctions movement, citing constitutional concerns. In 2017, Kennedy similarly said he would review an anti-BDS bill he was sponsoring after free speech advocates raised alarms.
A longtime environmentalist, Markey perhaps most notably teamed up with New York Rep. Alexandria Ocasio-Cortez earlier this year to introduce the Green New Deal and has since been an outspoken advocate of the sweeping plan to transform the American economy to tackle climate change. On Thursday, he received the endorsement of the Sunrise Movement, the youth-led group that originally pushed the Green New Deal to national prominence last fall.
After initially declining to take a stance, Kennedy announced his support for the Green New Deal last December and was one of the resolution's more than 60 original House co-sponsors.
Ubertaccio noted that Markey has evolved himself on the issues, albeit over a longer timeframe.
First elected to Congress in 1976, Markey held a number of socially conservative views up until the early 1980s. That includes opposing busing to integrate schools and proposing constitutional amendments to ban abortion. According to the Boston Herald, he also supported the death penalty and school prayer, but changed those stances ahead of his first Senate run in 1984.
"On all of these positions, Ed Markey has been a strong progressive for nearly 30 years and stands by his record," Giselle Barry, a spokeswoman for Markey, told the Herald in 2013.
Markey recently notched endorsements to vouch for his more recent progressive bonafides, including from NARAL Pro-Choice America and the Coalition for Social Justice, as well as fellow Massachusetts Sen. Elizabeth Warren. Ubertaccio says he doesn't see either candidate as vulnerable on their previous, more moderate positions.
"There's just not going to be a lot of daylight between Joe Kennedy and Ed Markey on issues that are meaningful to Democratic voters," he said. "It's going to come down to style."
Hoag, a former aide to Gov. Deval Patrick and Rep. Jim McGovern, says he thinks Kennedy is unquestionably a "true progressive," but more important is the nationally known Democratic star's ability to "elevate" issues.
"He's got a strong voice. He's got a powerful voice. And he's been using it effectively so far," Hoag said.
Markey has developed a reputation as a "workhorse" behind-the-scenes legislator — crafting proposals like the recent Green New Deal and a 2009 climate change bill that passed in the House — as well as his own niche on evolving issues like telecommunications and the iInternet.
However, Hoag says, Kennedy's record of advocacy on social issues around mental health parity and LGBT rights and his ability to create viral moments would be useful in the Senate, where "Democrats lack a bench of progressive leaders." Hoag says Kennedy's voice would be particularly valuable if Republicans still a hold majority in the Senate after the 2020 election to "pushback against Mitch McConnell" and attract the country's attention to "what's going on in the Senate."
"I think it's more than just being progressive or not," he said. "It's how they approach the issue."