Politics
Elizabeth Warren's book made an appearance in her favorite TV show
The final season of HBO's "Ballers" began with a shoutout to one of its biggest — and most surprising — fans.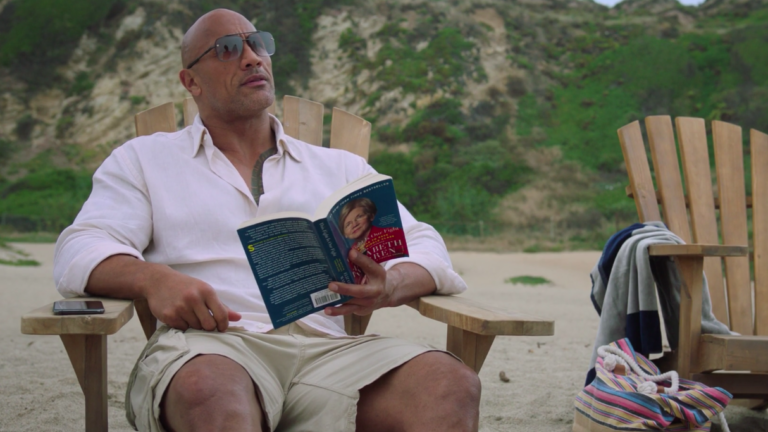 Sen. Elizabeth Warren's last book opened with a mention of the HBO show "Ballers." So perhaps it's only fitting that the last season of "Ballers" opened with Warren's book.
The premiere of the show's fifth and final season kicked off Sunday with a scene of Dwayne "The Rock" Johnson sitting on a beach reading the Massachusetts senator and Democratic presidential candidate's 2017 book, "This Fight is our Fight," in yet another expression of the mutual fandom between the actor and Warren.
"I have one more chapter left," Johnson's character, Spencer Strasmore, tells his girlfriend, who teases him: "The same one you've been reading for the last three hours?"
The less-than-subtle cameo did not go unnoticed by those watching Sunday night, many of whom posted screenshots on social media.
"The Rock reading Elizabeth Warren in the 'Ballers' premiere completes possibly the strangest mutual admiration quid pro quos in cultural history," The Hollywood Reporter television critic Daniel Fienberg tweeted.
"Spencer Strasmore has layers!" another Twitter user wrote.
Her book's appearance must have been a pleasant surprise to Warren, who is an outspoken "Ballers" fan and tweeted earlier Sunday that she and her husband, Bruce Mann, were looking forward to the Season 5 premiere, even if they were sad to see the show end. Warren also congratulated Johnson on recently getting married to his real-life longtime girlfriend, Lauren Hashian.
"Mahalo, my ballin' friend (thanks Bruce too) It's been a helluva run and I'm grateful to the people," Johnson tweeted back, wishing Warren luck and thanking her "for all your hard work on behalf of our country."
Mahalo, my ballin' friend (thanks Bruce too)
It's been a helluva run and I'm grateful to the people. Thanks for the ? and ⛓, I mean happy marriage well wishes ?
Best of luck and thank you Senator for all your hard work on behalf of our country.
Enjoy @BallersHBO tonight ?? https://t.co/uBjuk6iRTS

— Dwayne Johnson (@TheRock) August 25, 2019
Warren has said she's a fan of other HBO shows, like "Big Little Lies" and "Game of Thrones." But she appears to have a particular affinity for "Ballers" — and Johnson.
Warren and the 47-year-old professional wrestler-turned-megastar actor first bonded in 2017 over her love of the show, which depicts Strasmore, a former NFL player, as he manages his post-playing career as a financial manager and businessman. In the prologue of "This Fight is Our Fight," the 70-year-old senator said that she and Mann binge-watched "Ballers" — which she said their son "hooked us on" — on the night of the 2016 election.
"Ballers was terrific. The 2016 election, not so much," she wrote.
Warren has since repeatedly tweeted about looking forward to the show, and The Rock is always quick to thank the senator for her support from his active Twitter account.
????? You reporters better put some respek on Senator Warren's name – she is READY for our season premiere of @BallersHBO tomorrow night at 10pm on @HBO. Thank you Senator for the support – I feel we'll deliver our best yet. You have a big Rock sized hug coming when I see u https://t.co/a56AsNolMj

— Dwayne Johnson (@TheRock) August 11, 2018
Warren even revealed last year that she keeps a signed copy of the Season 1 pilot episode from her "favorite actor and not-so-secret crush" at her Senate office in Washington, D.C.
Happy birthday to my favorite actor and not-so-secret crush @TheRock! I keep this on my desk in Washington to remember to stay ballin'. Send my love to your beautiful family! pic.twitter.com/yxfc8FE5Av

— Elizabeth Warren (@ewarren) May 2, 2018
And if a show about millionaire athletes and executives seems out-of-character for the Bay State Democrat's populist brand, she contends that "Ballers" is "actually a story about hard work."
"It's a story about perseverance," Warren said in a 2017 interview. "It's a story about having to reach within yourself and find something you're not 100-percent sure is there."
However, in a more recent interview, she suggested there's a simpler explanation for why she loves the show.
"It is The Rock," Warren said.
https://twitter.com/ewarren/status/1028811546242179073