Politics
Joe Kennedy opens up about why he's thinking about taking on Ed Markey
"I hear the folks who say I should wait my turn, but with due respect — I'm not sure this is a moment for waiting."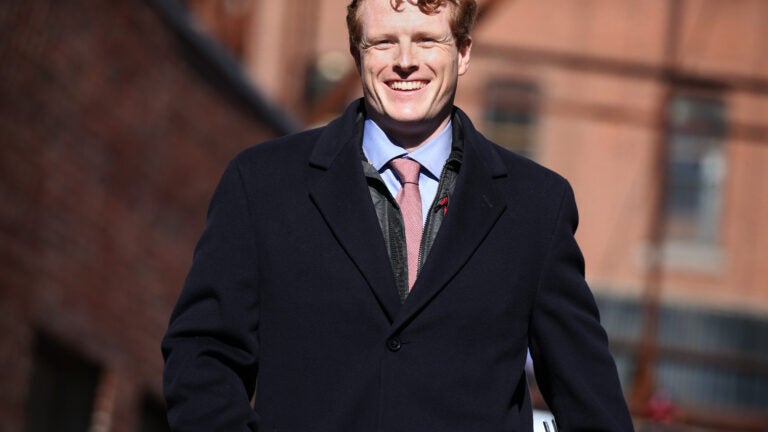 The rumors are true: Rep. Joe Kennedy III is considering a 2020 primary bid for Sen. Ed Markey's seat.
The Massachusetts congressman says so himself.
"Over the past few weeks I've begun to consider a run for the U.S. Senate," Kennedy wrote in a Facebook post Monday morning about his "plans for 2020," confirming the recent reports that he was thinking about challenging Markey, who is up for re-election next year.
"This isn't a decision I'm approaching lightly and — to be completely candid — I wasn't expecting to share my thoughts so soon," he said.
The 38-year-old Newton resident says he remains genuinely undecided; if he runs, it would set up one of the most high-profile Senate primary fights in recent memory — between a longtime Democratic lawmaker and the youngest elected member of the Kennedy political dynasty.
His campaign also filed paperwork Monday forming a fundraising committee, Kennedy for Massachusetts, to support a potential Senate run, according to Federal Election Commission records. The exploratory committee allows Kennedy to raise and spend up to $5,000, even if he hasn't yet made an official decision.
Kennedy had previously said he'd consider running for Senate if a seat "were to open." However, after keeping his head down during his early years in Congress, the fourth-term 4th District representative became more outspoken following President Donald Trump's election in 2016 — from viral House floor speeches to last year's State of the Union response.
And he's now signaling his patience is up.
"I hear the folks who say I should wait my turn, but with due respect — I'm not sure this is a moment for waiting," Kennedy wrote Monday.
"Our system has been letting down a lot of people for a long time, and we can't fix it if we don't challenge it," he continued. "I've got some ideas on how to do that. And I don't think our democratic process promises anyone a turn. What it does promise is the chance for anyone to earn it — if we think we have something to offer and are willing to put ourselves and our ideas out there."
Still, Kennedy said he was grappling with how the decision would affect his wife and family, which includes two kids under the age of 4 (and a dog, Banjo).
"We're incredibly lucky to have the support and resources that we do, but like every young family, we struggle daily to balance it all," he wrote. "So we have been taking the time to talk through what an endeavor like this would mean for us, and for Ellie and James, in particular."
Kennedy added that he was "humbled by the words and actions of so many people supporting my potential candidacy."
Kennedy's campaign reportedly commissioned a poll last month on how he would fare in a hypothetical race against Markey. According to The Boston Globe, the poll found voters favored Kennedy. And after it was initially reported, a group of local Democrats launched a Facebook group, petition, and website urging Kennedy to enter the Senate race.
"It means the world," Kennedy wrote Monday of the general support.
Kennedy said he would be spending the "next couple weeks" working to decide whether a potential Senate primary campaign would be "right for me and right for Massachusetts." While he and Markey are mostly aligned when it comes to actual policy, experts and supporters say the race would be run on generational and stylistic — rather than ideological — differences.
Following the reports that Kennedy was mulling a primary challenge, Markey's campaign has announced endorsements from several national progressive advocacy groups and more than half of the Massachusetts congressional delegation, including Sen. Elizabeth Warren.
The Malden native — who was first elected to Congress in 1976, before joining the Senate in 2013 — already has two lesser-known challengers: Brookline labor attorney Shannon Liss-Riordan and Framingham businessman Steve Pemberton. However, Kennedy's national name recognition and equal fundraising strength would amount to by-far the most formidable Senate primary challenge in the Democrat-dominated state's political history.
Read his full post below:
https://www.facebook.com/JoeKennedyforCongress/posts/2940956949279182