Politics
Michael Dukakis offered traffic advice to four governors meeting in Boston. One didn't take it in stride.
"So much for bipartisanship."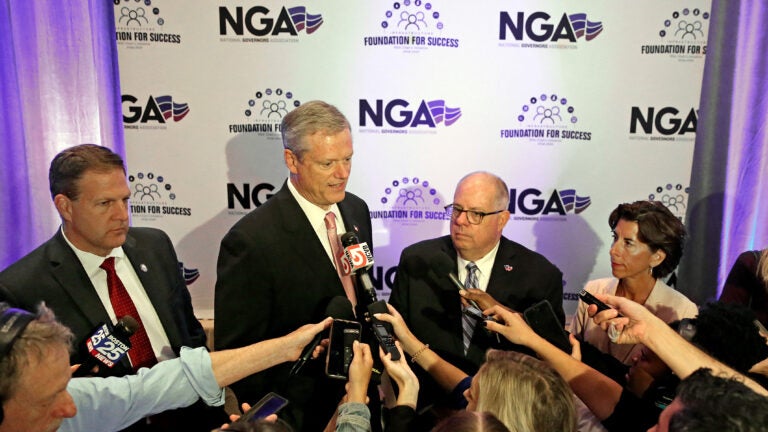 Four governors met Tuesday morning in Boston for a special summit to discuss ways to relieve traffic congestion, a pressing issue in a region increasingly crippled by gridlock.
Hours before the group arrived at the Fairmont Copley Plaza hotel, former Massachusetts Gov. Michael Dukakis gave them some advice: Invest in "a first-class regional rail system."
"It would take 60,000 to 70,000 cars off the road every day," Dukakis, who was the Democratic presidential nominee in 1988 and has been an outspoken advocate for rail and public transportation in his post-political life, said in an interview The Boston Globe.
According to Dukakis, regional rail could benefit residents across New England, including Western Massachusetts, Rhode Island, and New Hampshire.
"You can't solve this by fooling around with the highway," he added, arguing that ideas like managed lanes and local highway widening projects would be ineffective.
Three of the four governors at the National Governors Association summit have supported investments in regional rail service, if not to the degree Dukakis thinks is necessary.
Massachusetts Gov. Charlie Baker and Rhode Island Gov. Gina Raimondo told reporters Tuesday that they're looking into adding faster train service between their two states, particularly Boston and Providence, among other efforts to address congestion. Maryland Gov. Larry Hogan, the chair of the NGA, said his state has taken an "all-of-the-above approach," pointing to billions in investments his administration had dedicated to both road and transit improvement.
One, however, took exception to the Dukakis's criticism.
"Not to be overly negative, but the one thing I'm not hearing enough over the past 12 hours is the taxpayers have to pay," New Hampshire Gov. Chris Sununu said in his opening remarks during the summit's second session Tuesday morning.
Sununu, a second-term Republican, defended Baker, a fellow Republican, and Raimondo, a Democrat, for what he was their "smart" and "incremental" approach toward the issue of traffic, and raised concerns about the immediate costs of transportation projects for taxpayers.
"I'm going to go on my high horse, because I did 10 minutes before walking in here," he said. "Someone said, 'Hey did you hear what Mike Dukakis said?' He made a comment about this, kind of hitting on Charlie Baker and Gina Raimondo, that they're not doing enough on rail or we need to spend billions of dollars on rail. Well, that sounds wonderful. But let's understand if you're going to spend $5 billion to get less than 1 percent of the people off the road, there's a cost to that, right?"
During the panel, Sununu described himself as "anti-tax," "anti-gax tax," and "anti-toll," and argued it was unfair to raise broad-based taxes for transportation projects that only benefit certain corridors of a region. He also criticized Democrats for opposing mileage taxes — which have been proposed to offset declining gas tax revenues due to more fuel-efficient cars — because, in his words, "all the liberals apparently own electric vehicles or something."
"Everyone has to pay their fair share and everyone deserves to actually have those investments made," he said.
Still, Sununu pitched his state as a more rural, "nimble" laboratory for potential congestion solutions. He said that the state's "booming" economy was actually having more of an effect on traffic in other places.
"If you want to know what the best thing we're doing to mitigate congestion it's frankly stealing businesses out of New York City, right?" he said. "Because [Democratic New York Gov. Andrew] Cuomo can't do anything right, frankly, and businesses flood into New England. Really."
New Hampshire's 2.2 percent economic growth last year slightly outpaced New York (2.1 percent) and trailed only Massachusetts (2.7 percent) among its New England peers. Sununu has previously joked he has "a catcher's mitt" for all the businesses moving from New York and Connecticut to New Hampshire. The governor's office declined to provide specific examples Tuesday, citing a policy against sharing the names of such businesses that have had discussions with Sununu or relocated to New Hampshire without their explicit approval.
Hogan, a moderate Republican who earlier reveled in his NGA role as a "non-partisan governor representing Democrats and Republicans," seemed somewhat dismayed Tuesday by Sununu's unprovoked swipes.
"So much for bipartisanship," he quipped.