Politics
Joe Kennedy isn't the only one. These people are all thinking about challenging incumbents in Massachusetts.
Here's a look at the "atypical" number of Democratic primary races shaping up across the state.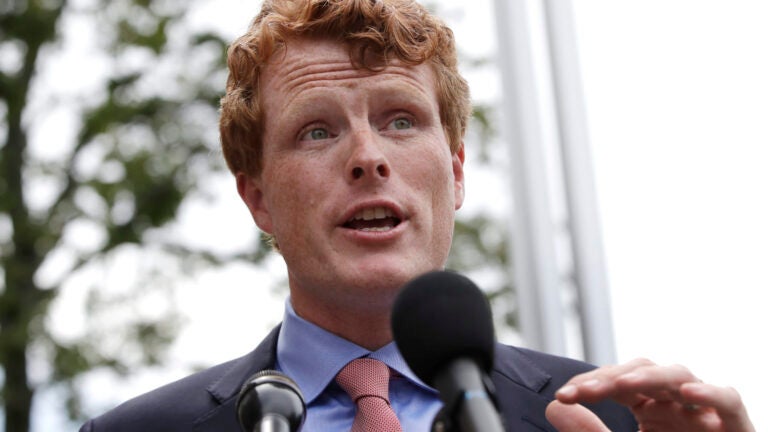 Summer is over — unofficially, at least. It's primary season in Massachusetts.
Rep. Joe Kennedy III's potential campaign against Sen. Ed Markey may have grabbed the recent headlines, but he's hardly the only Bay State Democrat thinking about taking on an incumbent in 2020. Even though the state primary next September is more than a year away, intra-party races are shaping up in more than half of the state's congressional districts, from Springfield to Salem. And that's not even counting Sen. Elizabeth Warren's bid in the Democratic presidential primary.
"This is definitely atypical," says Erin O'Brien, a political science professor at UMass Boston.
According to O'Brien, there's a combination of factors for the significant uptick in primary challengers.
At the national level, she says primaries tend to heat up when the wings of parties feel let down by party leaders. What's happening now in the Democratic Party is analogous to when Tea Party candidates challenged establishment Republicans following President Barack Obama's election.
"In the era of Trump, political progressives are angry," O'Brien said. "They sort of held their nose and voted for Hillary Clinton and got Donald Trump."
But that's not the only reason. O'Brien says the weakening of political parties as gatekeepers and the pent-up political talent in Massachusetts have created a new dynamic in the Democrat-dominated state, where incumbent lawmakers have traditionally had a relatively easy time defending their seats — if they had a challenger at all.
Like Kennedy, younger elected officials may be unsure "this is a moment for waiting."
Additionally, Peter Ubertaccio, a political science professor at Stonehill College, says that coverage of successful primary challengers, Massachusetts Rep. Ayanna Pressley and New York Rep. Alexandria Ocasio-Cortez, has likely encouraged other potential candidates. Plus, social media and digital campaigning make launching such an effort significantly cheaper than in past decades.
"You still have to do all the traditional stuff, but it gives you access to a broader audience you would not have had otherwise," Ubertaccio said.
O'Brien notes that taking down an incumbent remains an incredibly steep uphill climb; even for serious challengers with a campaign infrastructure, the likes of Pressley and Ocasio-Cortez are anomalistic examples.
"It's still the case that most primary challengers lose — and lose pretty substantially," she said.
Here's a look at the Bay Staters giving it a go anyway.
Senate
Next year's Senate race may buck the conventional primary rules.
Due to Kennedy's name recognition and fundraising strength, the 38-year-old Newton Democrat might even be favored if he chooses to run against Markey, who was first elected to Congress in 1976, before winning Sen. John Kerry's former seat in 2013.
Still, if not the most flashy politician, Markey has garnered a reputation as a policy-oriented legislator in Washington, D.C. — particularly on the environment and technology — with a record as progressive as any other senator. The 73-year-old Malden native has also secured endorsements from six of the 10 other Massachusetts delegation members, including Warren.
Kennedy has said he'll decide whether to challenge Markey in the coming weeks. While he hasn't drawn any significant policy differences with Markey, the 38-year-old congressman says that addressing the societal problems that precipitated Trump's election is "a challenge for a new generation."
"Senator Markey is a good man," Kennedy told reporters last week. "I think I've got new ideas and a new approach, and, if I get into this race, that's what this race will be about."
Why would he run? O'Brien suspects Kennedy sees challenging Markey as the easiest path to a Senate seat in a state with a number of ascendent young Democrats.
"He's looking to 2026, when Pressley will have been in the House for awhile, Katherine Clark will be moving up in the leadership, Maura Healey is someone who a lot of people see not staying as AG forever," she said. "Seth Moulton presumably will have recovered from this presidential debacle by then. Those are four really compelling political talents, and they want to be senator, too, in all likelihood. So I think Joe Kennedy is jumping the line because he knows who's at the end of the line."
Even if Kennedy doesn't run, Markey will still have a primary race on his hands. The senator is facing two other lesser-known Democratic challengers: Brookline labor attorney Shannon Liss-Riordan and Framingham businessman Steve Pemberton.
Liss-Riordan has tried to outflank Markey from whatever space is available on the left, pressuring him to support impeachment proceedings against Trump (which the senator also now supports) and calling for the repeal of the Second Amendment. Meanwhile, Pemberton staked out a slightly more moderate position, not quite committing to ambitious proposals like Medicare-for-All and the Green New Deal, both of which Markey support. The former foster child has also called Markey and Kennedy "candidates of privileged insiders."
1st District
Rep. Richard Neal is running for his 17th term in Congress, where he is one of the chamber's most influential members as chairman of the House Ways and Means Committee. As such, Neal is on the forefront of the battle to obtain Trump's tax returns. However, the Springfield native is also facing a formidable fight from a constituent just up I-91: Holyoke Mayor Alex Morse.
Morse, a 30-year-old who was elected as Holyoke's youngest and first openly gay mayor in 2011, is running to Neal's left with support from national progressive activists and a pledge to not accept donations from corporate political groups. Neal has drawn criticism from the left wing of the Democratic Party, particularly for his fundraising from corporate groups and more moderate positions on health care and tax reform.
"I'm not questioning the fact that he has power," Morse recently told the Horse Race podcast. "But I want to make sure that power is being used for each and every person in the district."
2nd District
Rep. Jim McGovern is seeking a 14th term representing central Massachusetts and, as House Rules Committee chairman, is another member of the delegation who holds a powerful position in Congress. The progressive Democrat isn't facing any major primary opponents. McGovern did briefly have a declared challenger in Summer Miller, a transgender video game streamer running on a far-left platform. However, Miller announced she was suspending her "short-lived campaign" last month.
3rd District
After winning the seat in a 10-way primary last year, Rep. Lori Trahan is running for re-election for the first time. And she may face a familiar opponent.
Trahan defeated Dan Koh, a former chief of staff to Boston Mayor Marty Walsh, following a recount in the open primary race last year to succeed Rep. Niki Tsongas. Koh recently called on Trahan to support beginning impeachment proceedings against Trump, which the Westford congresswoman subsequently did following Special Counsel Robert Mueller's testimony. Still, Koh, now an Andover selectman, is toying with the idea of a potential primary rematch.
"Haven't ruled it out, still too early to tell," he told Boston.com in an email last week
For her part, Trahan seems to be preparing to face Koh again. After he spoke out in July about impeaching Trump, Trahan wrote in a fundraising email to supporters that "one former primary opponent made it pretty clear last week that he is running against me. "
4th District
Kennedy's potential decision to run for Senate could set off a mad-dash race among Democrats for his 4th District seat. But even if the Newton congressman decides to seek re-election, there will still be a primary contest in the district.
Ihssane Leckey, a Moroccan immigrant and former Wall Street regulator, announced a primary campaign for Kennedy's seat this past spring. The Brookline resident says she would more forcefully advocate for progressive policies — like universal family care, a Green New Deal, and Medicare-for-All — than Kennedy.
"There is absolutely no moral capitalism," she told Dig Boston in June, referring to Kennedy's preferred economic ideology. "There is democratic socialism. We see that in our country and we see that it works for us. What we have in our country is corrupt representation. We have a corrupt government and that is why we are not able to get to where we need to get."
Of course, if Kennedy pursues his interest in a Senate seat, Leckey will soon have company. As The Boston Globe recently reported, the list of potential candidates eyeing his 4th District seat in easily in the double figures, from statewide elected officials to local municipal lawmakers.
5th District
As the vice chair of the Democratic Caucus, Rep. Katherine Clark is now the sixth-highest-ranking House Democrat. The Melrose congresswoman hasn't attracted any high-profile challengers since she first won her seat in 2013.
Revere resident Raffaele DePalma declared his candidacy for Clark's seat in April, but has yet to raise any money, according public records. His campaign, preaching "equality and respect," has so far amounted to videos posted on Twitter.
6th District
After suspending his presidential primary campaign last month, Rep. Seth Moulton announced he would seek a fourth term in Congress. But the Salem Democrat picked up three primary challengers while he was running for the White House.
Jamie Zahlaway Belsito, a Salem State University trustee, was the first into the race in June, criticizing Moulton for ignoring the district amid his presidential bid. A former volunteer for former moderate Republican candidate Richard Tisei (who Moulton defeated in 2014), Belsito told Commonwealth magazine that she became a Democrat in the wake of Trump's ban on transgender members of the military and cuts to reproductive health care, among other reasons.
Nathaniel Mulcahy, a Rockport ecology researcher, also declared his candidacy in June, running to the left of Moulton on a platform supporting a Green New Deal, Medicare-for-All, free public college, and immigration reform (and also bees). Mulcahy's campaign emphasizes climate change as an issue that will have broad consequences for future generations.
Lisa Peterson, a Salem city councilor, announced in July that she would run for Moulton's seat on a similar message as Belsito: discontent with the congressman's presidential ambitions and his effort to force Rep. Nancy Pelosi and other House Democratic leaders to give up power. Peterson's campaign also stresses addressing systemic inequalities that have made Massachusetts an "increasingly expensive" place to live.
Moulton was recently asked about the argument that he was ignoring his constituents and told reporters that his "commitment to the district has always been sincere."
"And the results show," he added, referring to a recent study that recognized his office's embrace of technology as an example for modernizing constituent services across the country, as well as an award last year for transparency.
7th District
Rep. Ayanna Pressley won her Boston-area seat by upsetting an incumbent Democrat last year and has gone on to make a name for herself on the national political stage. Without any declared challengers in 2020, it looks like her path for to a second term will be easier than it was to her first.
8th District
Rep. Stephen Lynch is currently posed for a rematch from last year's race.
The South Boston Democrat is facing Brianna Wu, who he defeated easily in last year's primary election, again in 2020. However, Wu, a video game developer who was targeted in the Gamergate backlash, has pledged to run a stronger and more well-funded campaign in her second try.
According to her website, Wu is calling for "real progressive leadership" and "a bolder Democratic party" that works toward a Green New Deal, Medicare-for-All, and gun law reform. Her platform also includes increased funding for public education and transportation.
Lynch, a self-described "moderate," has argued that proposals like a Green New Deal and Medicare-for-All will scare away older voters.
"I think the talk of going socialist, I think most people 50 years and older probably have a different view of socialism and whether or not that's good for our country," he told WGBH last month. "I understand that for millennials they have a different view of it, but I think for the moderates, I think that frightens them."
9th District
Rep. Bill Keating was the focus of a July opinion piece by a constituent in The Boston Globe, questioning the congressman's progressive bona fides — even though the Bourne Democrat has supported both a Green New Deal and Medicare-for-All legislation.
So far, no Democratic challengers have filed to run against Keating. Last year, he easily dispatched with democratic socialist candidate Bill Cimbrelo in the primary.