Politics
Beto O'Rourke took a BoltBus to Boston, and people had questions
The Democratic presidential candidate said his seat was "very comfortable" and "spacious."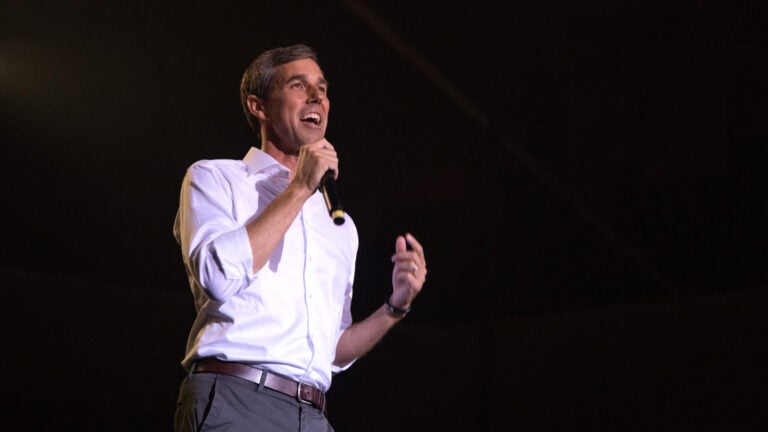 Beto O'Rourke made his trip Thursday from New York to Boston in perhaps the most cost-effective, if not luxurious, manner.
A BoltBus.
"See you soon, Boston," the former Texas congressman and Democratic presidential candidate wrote in an Instagram story Thursday morning, showing him reading a book while he waited with other travelers at the low-cost line's Manhattan bus stop.
Shortly before 2:30 p.m., he posted another update: "We have left New Haven on time."
O'Rourke is visiting the area for a sold-out town hall Thursday evening at Tufts University in Medford followed by a student meet-and-greet at Backlash Beer Company in Boston.
He is hardly the first candidate to take a more economical travel option. In June, a photo of Sens. Elizabeth Warren and Bernie Sanders flying coach on the same plane went viral. And several other 2020 candidates, including Pete Buttigieg and Julian Castro, posted photos of themselves on the subway ahead of CNN's climate change forum Wednesday.
Still, O'Rourke was immediately peppered with questions on social media Thursday about the decision to take the BoltBus at the potential expense of time and comfort. In a Facebook livestream during the third hour of the ride, O'Rourke said the bus was fortunately only "half full" and thanked a commenter on the platform for a $100 donation.
"We are putting it to good use on this BoltBus," the El Paso native said, later adding that he met a number of "interesting people on the bus."
NYC to Boston on the BoltBus

Posted by Beto O'Rourke on Thursday, September 5, 2019
On the heels of O'Rourke's appearance in the CNN climate change forum, a campaign spokesman told Washington Post reporter Dave Weigel that it was the environment-friendly option, arguing that flying "takes nearly every bit of time as the 4 hr Bolt ride – so why not choose the lower carbon option?"
Beto O'Rourke spox says that he is indeed taking the Bolt bus from NY to Boston bc it pollutes less. Airport travel/security "takes nearly every bit of time as the 4 hr Bolt ride – so why not choose the lower carbon option?"

— Dave Weigel (@daveweigel) September 5, 2019
BoltBus, which is owned by Greyhound Lines, sells tickets for the four-and-a-half-hour trip from New York to Boston for as low as $15, so some attributed the decision to the campaign's decline in fundraising. After a strong first-quarter performance, O'Rourke's fundraising numbers dropped by more than 50 percent in the second quarter of this year (though he has more recently been able to break through with his calls for gun reform in the wake of recent mass shootings in his home state).
Meanwhile, FiveThirtyEight editor-in-chief Nate Silver argued on Twitter that the time difference between taking a bus and plane from New York to Boston is actually nearly two hours — and that's before counting any delays due to traffic.
"Does Beto not have TSA Pre" Silver wrote, referring to the federal agency's expedited security screening program. "Flying NYC to BOS is gonna be quite a bit faster than taking the bus if you know what you're doing."
I think my favorite reply to this is people who are like "WHAT IF THERE'S TRAFFIC ON THE WAY TO/FROM THE AIRPORT?!?!".

Guess what traffic's also going to affect: The bus! 4:30 is Bolt's listed travel time from NYC to BOS, *not* counting additional delays because of traffic.

— Nate Silver (@NateSilver538) September 5, 2019
Aleigha Cavalier, the O'Rourke campaign's national press secretary, confirmed on Twitter that the candidate — who has done more campaign events than anyone else in the Democratic primary race — does in fact have TSA PreCheck.
Tommy Vietor, one of the hosts of the popular liberal podcast Pod Save America, suggested O'Rourke should have instead chosen a train, noting that the legroom on a BoltBus might not be the most comfortable option for the 6-foot-4 former congressman. After O'Rourke's official campaign Twitter account responded that Vietor's unsolicited advice was a "weird flex," the former Obama administration official (jokingly?) shot back with an ominous warning involving the candidate's favorite burger chain.
Tweet all you want but you're gonna get a whataburger shoved up your ass if you don't fix these logistics

— Tommy Vietor (@TVietor08) September 5, 2019
In his Facebook livestream, O'Rourke said the ride was "very comfortable" and "spacious" since he had two seats to himself.