Politics
'Give me a break': Elizabeth Warren says the lightbulb and plastic straw debates are distractions
"This is exactly what the fossil fuel industry wants us to talk about."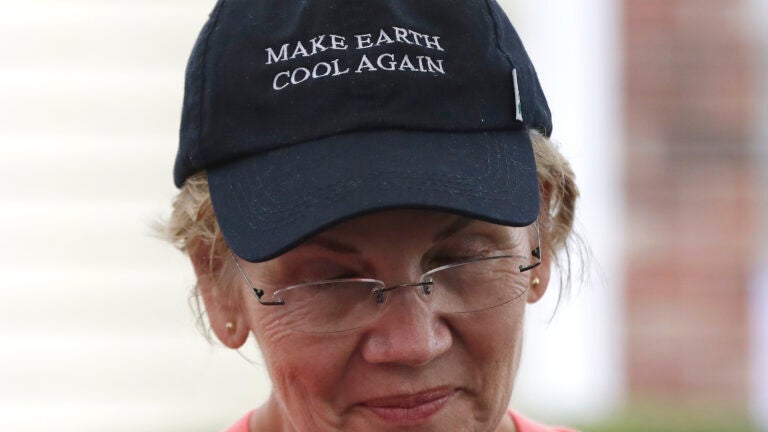 Sen. Elizabeth Warren let out a deep sigh as Chris Cuomo began the question during CNN's climate change forum Wednesday night.
The subject was lightbulbs.
Following a move this week by President Donald Trump's administration to roll back rules that would soon require Americans to use more energy-efficient lightbulbs, Cuomo wanted to know if Warren — one of the 10 Democratic presidential candidates participating in the televised, climate change-focused forums Wednesday — thought the government should "be in the business of telling you what kind of lightbulb you should have." He noted that the classic "candle-shaped" lightbulbs, which would have to be replaced by more efficient versions, "are a favorite for a lot of people."
"Oh come on, give me a break," Warren replied.
The Massachusetts senator said she supports attempts by people to reduce energy consumption or pollution at the margins, like replacing lightbulbs or plastic straws or — "dang" — even eating fewer cheeseburgers. However, Warren said these debates are a distraction from what really matters when it comes to addressing climate change.
"This is exactly what the fossil fuel industry wants us to talk about," she said.
Sen. Elizabeth Warren says conversations around regulating lightbulbs, banning plastic straws and cutting down on red meat are what the fossil fuel industry wants people focused on as a way to distract from their impact on climate change. #ClimateTownHall https://t.co/N3vZCD2jHC pic.twitter.com/eVQhFxgKet

— CNN (@CNN) September 5, 2019
"They want to be able to stir up a lot of controversy around your lightbulbs, around your straws, and around your cheeseburgers," Warren added. "When 70 percent of the pollution, of the carbon that we're throwing into the air, comes from three industries."
Earlier during the forum, Warren identified the three biggest sources of carbon pollution as transportation, the electric power industry, and personal homes and businesses. According to the Environmental Protection Industry, those three sectors account for 71 percent of greenhouse gas emissions.
"Now, the other 30 percent, we still got to work on. Oh, no, we don't stop at 70 percent," she said. "But the point is, that's where we need to focus."
Warren's climate change plan, which she announced Tuesday, aims to address those three areas with goals to eliminate carbon emissions from commercial and residential buildings by 2028, from vehicles by 2030, and from electricity generation by 2035. To do this, Warren's administration would implement tighter regulations restricting emissions from vehicles and the building industry, retire coal power plants, and create a new Federal Renewable Energy Commission. The plan also commits $1 trillion to subsidize the economic transition, which would be paid for by reversing the Trump administration's tax cuts for wealthy individuals and corporations.
During the CNN forum, Warren said there was a simple reason for why Congress still hadn't acted to address climate change, as the country increasingly feels its effects: "Washington is corrupt."
"It's these giant corporations that keep hiring the PR firms that — everybody has fun with it, right, gets it all out there — so we don't look at who's still making the big bucks off polluting our Earth," said Warren, whose platform revolves around the argument that American government has been captured by corporate interests.
Earlier in the forum, she warned that future, supposed climate change bills could be coopted by fossil fuel companies, like Exxon.
"We are running out of time on this one," Warren said. "So we've got to do this in 2020, and that means the first thing we've got to do is we've got to attack this corruption head on in Washington and say enough of having the oil industry, the fossil fuel industry write all our laws in this area. No more. No more."