Politics
Barney Frank once told Barack Obama that Elizabeth Warren 'wants your job'
Tensions were high between Warren and the Obama administration at the time and the former Massachusetts congressman says he was trying to provide the president with some 'win-win' advice.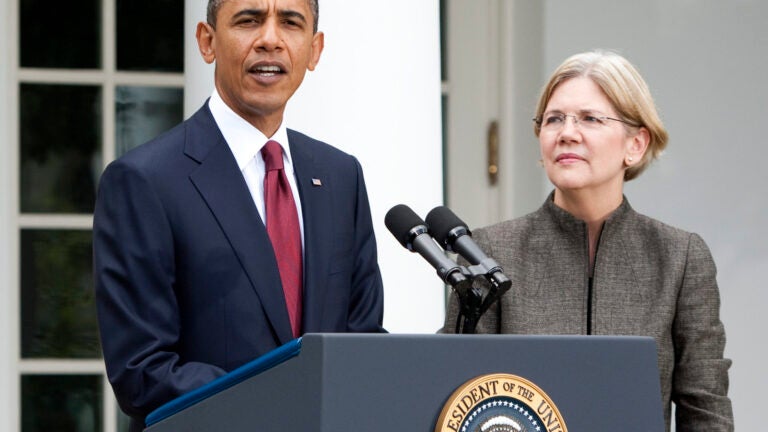 Did Barney Frank see this all coming before the rest of us?
Long before Sen. Elizabeth Warren was running for president — and even still needed convincing to run for Senate — the former Massachusetts congressman says he suspected she had an eye on the Oval Office.
In a Politico article Thursday about the divisions over economic policy and lingering bitterness between Warren and some members of President Barack Obama's administration, Frank recalled telling Obama to appoint the then-Harvard Law School professor to lead the consumer protection agency she had helped set up.
Obama was considering nominating Warren as directer of the Consumer Financial Protection Bureau. However, Senate Republicans and even some Democrats were reportedly opposed to putting such a crusading populist in charge of the new agency. So the White House was looking at an alternative: Persuade Warren to run for the Massachusetts Senate seat held by Scott Brown, who was up for reelection in 2012.
Frank, who worked with Warren on his 2010 financial reform bill, says he told Obama to pursue both Plan A and Plan B, so to speak.
"I said, 'Well it's a win-win. Either you appoint her and she gets confirmed or she is rejected and she wins the Senate seat," he told Politico, recalling a 2011 conversation with the president.
Obama was (rightly) skeptical that Warren, who was then the head of a panel overseeing the bank bailouts, wanted to be a senator; she had reportedly directly asked Obama advisor David Axelrod to be CFPB director and initially resisted the efforts to draft her into a Senate run.
But Frank said that perhaps the Senate seat could a stepping stone to another executive branch position.
"[Obama] said, 'Do you think she wants to be a senator?'" Frank told Politico. "And I said, 'I think she wants your job but she's got to start somewhere.'"
It ended up working out for both sides, to an extent. Warren won the 2012 Senate race and Obama got his pick, former Ohio attorney general Richard Cordray, to lead the CFPB.
Still, Warren continues to harbor deep reservations about how the Democratic administration handled the economic recovery and a number of former Obama officials  had some not-so-nice things to say — anonymously — about her in the Politico piece. Warren thought the recovery efforts should have prioritized the prevention of home foreclosures, while Obama officials thought saving large financial institutions needed to be the first step to keep the system from collapsing.
Before returning to Massachusetts to run for Senate,  Warren reportedly met with Obama and advised that he surround himself with more people who better understood the anger across the country at how the recovery was handled.
"Sure, the banks are more profitable than ever, they are bigger than ever, the stock market is through the roof," Warren told Politico. "But across this country, there are people who still pay the price for a financial crisis that they didn't cause and that they never had a chance to survive. … That's not a success."
Ultimately, she said that anger contributed to the election of President Donald Trump. And now, even if she didn't originally want to run for elected official, Warren is proving Frank's suspicions true.