Politics
Deval Patrick has a new job: Pundit
The former Massachusetts governor shared his thoughts on the third Democratic debate, and he wasn't a fan of Julian Castro's attack on Joe Biden.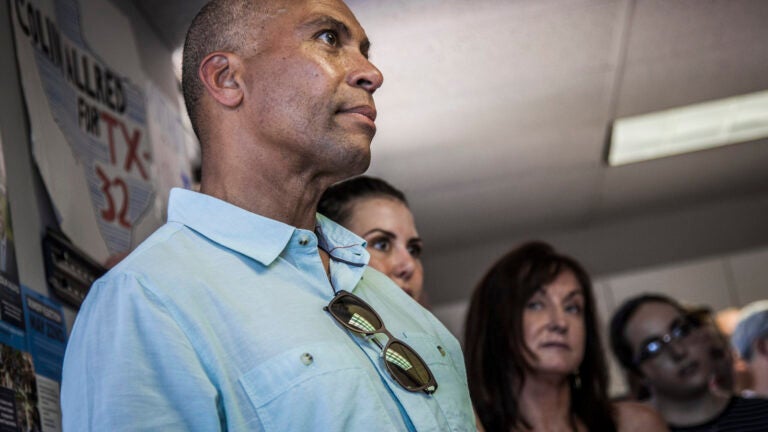 Deval Patrick won't be running in the Democratic presidential primary race in 2020. But he will be providing commentary along the way.
The former Massachusetts governor is joining CBS News as a political contributor, the networked announced Friday morning. In a tweet, the company said the 63-year-old Democrat, who now works as a social investment manager at Bain Capitol, will "provide his insights to us throughout the 2020 election."
"The character of our Country is what's at stake in the 2020 election," Patrick himself tweeted. "Looking forward to joining my friends at @CBSThisMorning to analyze and discuss. We might all learn a thing or [two]."
We're excited to announce that former Massachusetts Governor @DevalPatrick is our newest @CBSNews Political Contributor.

He'll provide his insights to us throughout the 2020 election. pic.twitter.com/5HLrGsCexJ

— CBS This Morning (@CBSThisMorning) September 13, 2019
Patrick made his first appearance as a contributor Friday on "CBS This Morning" to weigh in on the third Democratic primary debate and criticized Julian Castro, the former San Antonio mayor and housing secretary, for his veiled attack on Joe Biden, suggesting the 76-year-old former vice president was losing his memory.
"It was unnecessary," Patrick said. "There are differences in how the candidates view their policy choices and their policy proposals and that is all fare game, but it doesn't have to be trivialized."
Last year, he attributed his decision to not run for president, at least in part, to the "cruelty of our elections process."
Patrick said Friday that he thought Biden "started really strong," but said the former vice president appears to "take umbrage" at being challenged on his record.
"I think there's some sort of practice he has to get back into of just relaxing when he's challenged because that's part of it," he said.
Patrick also suggested that candidates, like Sens. Kamala Harris and Amy Klobuchar, were making a mistake by focusing heavily on President Donald Trump.
"We have to be talking about what comes after a successful Democratic campaign," he said. "What is our vision for how we serve not just the people who voted for Democrats but for everybody."
That vision apparently doesn't include Medicare-for-All, at least for Patrick, who called it a "slogan" for a lot of different versions of health care expansion.
"Personally, I think having a private health insurance industry is important to have alongside government-supplied health care," he said, citing the benefits of private innovation.
Patrick wasn't on the show to make any endorsements Friday, but said he wanted a president who would bring the country together.