Politics
Debate moderators keep asking Elizabeth Warren this same Medicare-for-All question
The Massachusetts senator says it misses the point. But it reveals a lot about the health care debate.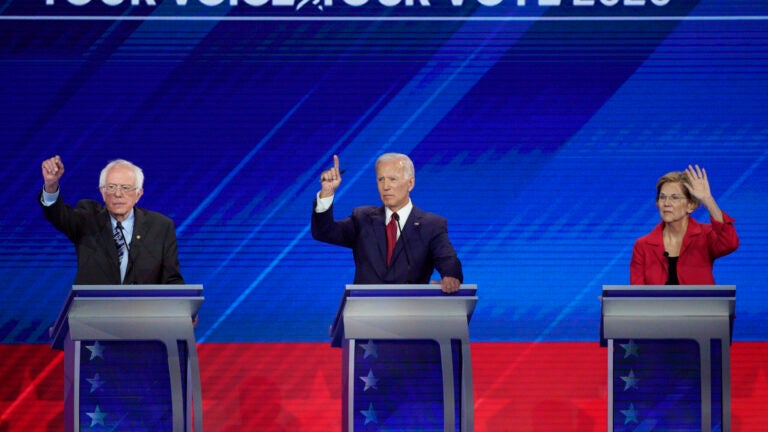 Sen. Elizabeth Warren says Medicare-for-All will lower overall costs for middle-class Americans.
But debate moderators keep trying to nail her down on the question: Would a national, government-funded health care system increase middle-class taxes?
The Massachusetts senator hasn't been particularly keen to serve her opponents an attack ad-worthy quote on the subject.
CNN host Jake Tapper repeatedly pressed her on the subject during the second round of Democratic presidential primary debates in July. Even if Medicare-for-All eliminates health insurance premiums, would Warren "raise taxes on the middle class" to pay for it, he asked. Warren sidestepped the question.
"Costs will go up for billionaires and go up for corporations," she said. "For middle-class families, costs — total costs — will go down."
So, again, during the third debate Thursday night, ABC News anchor George Stephanopoulos asked if she would admit "middle-class taxes are going to go up" under Medicare-for-All. Warren repeated that "the richest individuals and the biggest corporations" would pay more "and middle-class families are going to pay less." Still, Stephanopoulos wasn't satisfied with that answer.
"Will middle-class taxes go up?" he asked.
Warren suggested that focus was missing the point.
"Look, what families have to deal with is cost, total cost," she said, noting how most Americans currently have to pay premiums and co-pays for their health care.
"What we're talking about here is what's going to happen in families' pockets, what's going to happen in their budgets," Warren said. "And the answer is on Medicare-for-All, costs are going to go up for wealthier individuals and costs are going to go up for giant corporations. But for hard-working families across this country, costs are going to go down."
So what's the answer?
Sen. Bernie Sanders, whose Medicare-for-All legislation Warren supports, has been more direct on the question, though he still emphasizes the same point as his Bay State neighbor.
"People who have health care under Medicare-for-All will have no premiums, no deductibles, no co-payments, no out-of-pocket expenses," Sanders said during the first debate in June. "Yes, they will pay more in taxes, but less in health care for what they get."
Debate moderators, for their part, having stopped asking him that particular question. The Vermont senator's office lists a number of possible financing mechanisms for Medicare-for-All, including savings from "obsolete" health tax expenditures, a 7.5 percent payroll tax paid by employers (exempting small businesses), and a 4 percent payroll tax paid by employees, which would apply to all families earning more than $29,000 a year.
Sanders has said that tradeoff will amount to an average savings of $3,000 a year for the "average" middle-class family, in addition to guaranteeing coverage for 100 percent of the country. Studies have generally found that implementing single-payer health care would decrease overall costs for most families, while increasing costs for those with the highest incomes. But as NPR reported earlier this summer, it would ultimately depend on how the plan is implemented and how much particular families are already spending on health care.
Warren, who hasn't released her own health care plan, recently added a page on her campaign website about her support for Medicare-for-All, but doesn't specifically outline how the program would be funded. That was something for which Joe Biden criticized her during the debate Thursday.
"Thus far, my distinguished friend, the senator on my left, has not indicated how she pays for it," the former vice president said.
Biden has instead proposed a so-called public option, in which Americans would be given a choice to buy into a government health insurance program that competes with (rather than replaces) private insurers. He argues it would come at a lower price than Medicare-for-All and, during the debate Thursday, noted that Warren's proposed wealth tax on the country's richest families wouldn't come close to covering the cost of a full-blown single-payer system.
"The tax of 2 percent that the senator is talking about, that raises about $3 billion," Biden said. "Guess what? That leaves you $28 billion short."
It's likely he meant trillions rather than billions. Warren's campaign estimates her wealth tax would raise $2.75 trillion over 10 years and researchers have put the price tag for Sanders's Medicare-for-All plan at more than $30 trillion over that same time period.
Still, as Sanders pointed out Thursday, those same studies say his plan would result in an overall reduction in health care spending. The United States currently spends about twice as much on health care as other high-income countries, largely due to administration costs and higher drug prices.
"Joe said that Medicare-for-All would cost over $30 trillion," Sanders said. "That's right, Joe. Status quo over 10 years will be $50 trillion. Every study done shows that Medicare-for-All is the most cost-effective approach to providing health care to every man, woman, and child in this country."
Bernie Sanders to Joe Biden on health care: "Every study done shows that 'Medicare for All' is the most cost effective approach to proving health care to every man, woman and child in this county. I wrote the damn bill, if I may say so." https://t.co/INdRXlIwFs #DemDebate pic.twitter.com/Idu7n8241U

— ABC News (@ABC) September 13, 2019
Biden also pointed out that Sanders's funding proposals for Medicare-for-All would only get "about halfway" to funding the overall cost of the plan, even with the proposed payroll tax increases for most income earners.
"They're going to end up paying 4 percent more on their income tax," Biden said. "That's a reality. Now, it's not a bad idea if you like it. I don't like it."