Politics
Joe Biden confuses Stop & Shop with Rite-Aid while recalling Boston visit
"There was a Rite-Aid strike."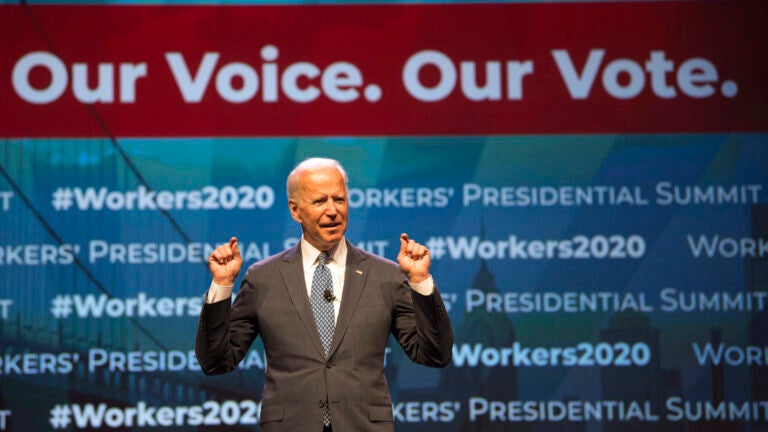 This won't help the growing narrative that Joe Biden is prone to gaffes.
The former vice president and frontrunner in the Democratic presidential primary race spoke Tuesday at an AFL-CIO forum in Philadelphia to pitch union members on his candidacy and recalled a recent time he lent support to labor workers in Boston.
Making a point about how labor groups had benefitted non-union workers, Biden referred to his April appearance outside a Stop & Shop grocery store in Dorchester, where workers were picketing as part of a regional strike.
Only he messed up one major detail.
"There was a Rite-Aid strike," Biden said, mistaking Stop & Shop with the national drugstore chain founded in his hometown of Scranton, Pennsylvania.
Joe Biden confuses the "Rite Aid strike" with the Stop and Shop strike. #workers2020 pic.twitter.com/MlR8TKbqUf

— Brett Banditelli (@banditelli) September 17, 2019
There are just two Rite-Aid locations in Boston, according to the company's website. Meanwhile, there are ten Stop & Shops in the city, including three in Dorchester alone.
The 76-year-old Democrat went on to say Tuesday that there was a chance to revitalize the labor movement in the United States, where the overall union membership rate has dropped by roughly 50 percent over the last 25 years. Biden pointed to support he saw in Boston from non-union workers for the striking employees at Stop & Shop, which is New England largest and only fully-unionized supermarket chain.
"I looked out in that parking lot when I was talking with the folks and I was walking the picket line up in Boston," he said. "And what happened? I looked out there and I bet you 40 percent of the people there were non-union. They were there cheering."
Biden was among a number of Democratic presidential candidates, including Sen. Elizabeth Warren, who voiced support for Stop & Shop workers during the 11-day strike. Warren, a Massachusetts senator, also rallied striking workers at a store in Somerville.
The Quincy-based grocery chain and the unions representing its New England workers eventually agreed to a new contract preserving health care and pension benefits, premium Sunday pay, and wage increases for current employees. But the costly work stoppage effectively forced the company's hand; the three-state strike ultimately cost the company $345 million in net sales.