Politics
Ed Markey responds to Joe Kennedy's Senate primary campaign announcement with a challenge
Markey wants a climate change debate. Kennedy isn't making any commitments just yet.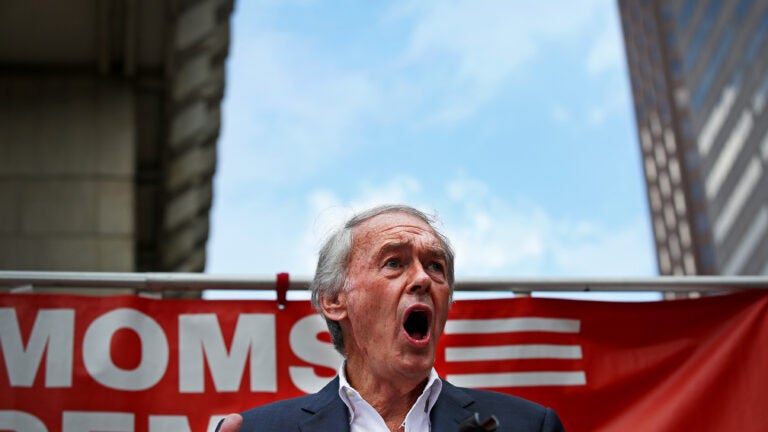 Sen. Ed Markey is responding to Rep. Joe Kennedy's primary challenge with a challenge of his own.
Within minutes of Kennedy formally announcing his Senate campaign Saturday morning, Markey called on the Massachusetts congressman and his two other Democratic primary challengers to agree to a debate specifically focused on climate change in November.
The 73-year-old Malden native, who introduced the Green New Deal resolution earlier this year with Rep. Alexandria Ocasio-Cortez, said he was "very disappointed" in the Democratic National Committee's decision to not hold a single-issue climate change debate for the 2020 presidential primary candidates.
"In Massachusetts, we can do better than that," he said. "So today I'm challenging Congressman Joe Kennedy, Shannon Liss-Riordan, and Steve Pemberton to a climate change debate, and to do it very soon."
The challenge came less than 24 hours after Markey attended a youth-led climate action rally Friday in Boston.
Yesterday, I joined 10,000 activists to strike to end climate change. The people of Massachusetts show me every day how committed they are to fighting for a better future. I challenge my opponents to a debate on climate change. We can't afford to wait. #MAClimateDebate #mapoli pic.twitter.com/0qUUWrTFeY

— Ed Markey (@EdMarkey) September 21, 2019
In response, Kennedy's campaign said that climate change is among "a series of critical issues" the 38-year-old Newton Democrat would like to debate, but declined to immediately commit to a debate specifically focused on the issue.
"There are a series of critical issues Joe believes must be debated in front of the Massachusetts people, including climate change, healthcare, housing, civil rights, economic justice and countless more," Kennedy spokeswoman Emily Kaufman told Boston.com in an email Saturday. "He looks forward to working with all candidates in the race to set a robust schedule over the course of this campaign."
Kennedy, who also supports a Green New Deal, has also made a point of contrasting his support for eliminating the Senate filibuster, which requires a 60-vote threshold to pass most legislation, with Markey's position on the supermajority rule.
"I have called for the end of the filibuster so you can actually implement policies like the Green New Deal, he hasn't," he recently told WCVB in a recorded interview for Sunday morning's "On The Record."
Markey suggested that his proposed climate change debate be held on the week of November 11, following Veterans Day and the municipal elections.
And while he didn't suggest a particular location, the debate would effectively be held on his home turf. In addition to co-authoring the Green New Deal, Markey has made environmental issues one of his central focuses since he was first elected to the House in 1976; as a congressman, he also cowrote the only major climate change bill to pass in the House (the legislation died in the Senate). Last week, Ocasio-Cortez endorsed Markey for re-election, citing his record on the environment, among other issues.
Markey also requested Saturday that the debate be hosted by a Massachusetts environmental group, "who have shown the greatest commitment to fighting climate change." That said, a number of the state's environmental groups have already endorsed the Bay State senator in the Senate race, including The Sunrise Movement, the League of Conservation Voters, 350 Mass Action, the Sierra Club and Environment Massachusetts.
Kaufman noted that the League of Conservation Voters, as well as the environmental group Clean Water Action, give Kennedy and Markey equally approving marks on their legislative scorecards and that the Sierra Club has endorsed Kennedy in his past congressional races.
Liss-Riordan, a Brookline labor attorney who announced her primary challenge in May, agreed to Markey's climate change debate proposal in a tweet Saturday, but made a counter-request for a debate "on labor and the future of the economy."
Do you agree to a debate on labor and the future of the economy this fall? #mapoli

— Shannon Liss-Riordan, Candidate for U.S. Senate (@ShannonForMA) September 21, 2019
Pemberton, a Framingham businessman and author, also said he was "happy" to accept Markey's challenge, but similarly proposed single-issue debates on a number of other subjects.
"Climate change is the existential crisis of our times and the fact that we have made little progress is an indictment of the elected officials who have failed to act for decades," his campaign said in a statement Saturday afternoon.
"But we should not stop with a one-off debate," the statement continued. "Steve challenges all candidates to commit to at least one debate a month throughout this primary on all the issues facing Massachusetts and the nation: income inequality, health care, education, gun violence, addiction, foster care, social justice and so many others. These debates should be held in every corner of the state so voters can take the measure of all the candidates and decide who will bring an urgency to the Senate that currently lacks lived experience and too often defaults to incumbency and insider connections."
John Walsh, a top advisor to the Markey campaign, thanked Liss-Riordan and Pemberton for agreeing to the climate change debate, and said he assumed Kennedy would agree to it as well. In a phone interview Saturday afternoon, Walsh said Markey was also open to debates focused on other pressing issues and expected the campaigns would eventually negotiate a schedule.
"We're anxious to talk about them all," he told Boston.com.
Still, Walsh said the debate on climate change should come first "because it impacts everything else."
The former Massachusetts Democratic Party chair said the challenge Saturday was a product of the energy Markey witnessed at the youth rally Friday in Boston. The 10,000-person call for climate action "reinforced" both the "urgency" Markey felt on the issue and the "disappointment" the senator had in the national Democratic Party for not elevating climate change to the degree he felt it merited, according to Walsh. International experts say global leaders have a closing window to act before the detrimental effects of a warming plant become irreversible. 
"Lets do better than the national Democrats," Walsh said. "Let's put climate first, let's do it fast, and let's do it standalone."