Politics
Climate and transportation activists are carrying a 9-foot-tall Charlie Baker puppet around Massachusetts. Here's why.
"All levels of government need to charge forward and give kids a shot at a livable future."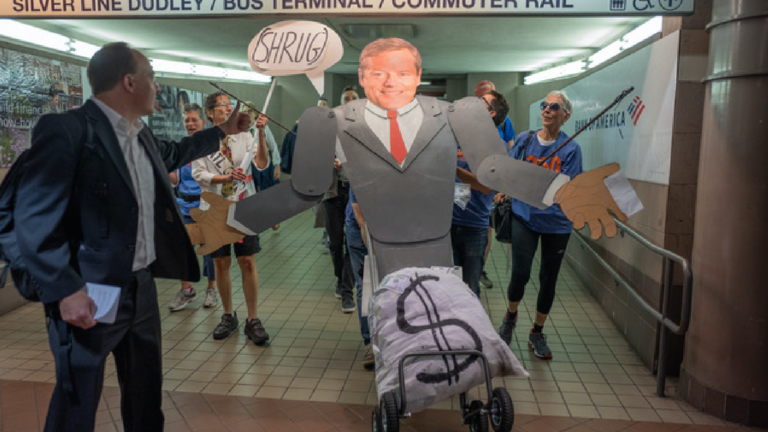 With the impacts of climate change looming larger year after year, local activists are literally looking to make a big statement around Massachusetts this week.
A nine-foot-tall Gov. Charlie Baker puppet will tower over the volunteers for 350 Mass for a Better Future, a Cambridge-based climate advocacy group carrying the two-dimensional mock-up of the state's Republican chief executive to several towns and cities on what the group dubbed the "Charlie's Climate Catastrophe Tour."
The Baker administration has failed to combat the causes of climate change, particularly fossil fuel dependency, and to lead on the transportation issues plaguing the Commonwealth, Craig Altemose, executive director of Better Future Project, told Boston.com Monday.
That's why climate and transportation activists are hitting up the sites where they say Baker's leadership is lacking, from the Weymouth compressor station to a proposed electrical substation in East Boston.
"We want someone who is exclusively pushing renewables and doing it at a much faster rate than the governor is currently doing," Altemose said.
The protests, which kicked off in Boston on Sunday, come on the heels of the Youth Climate Strike that drove what's estimated to be millions of people to the streets in cities around the globe, including Boston. Marchers demanded that lawmakers take immediate action to cut carbon dioxide emissions and bring the world closer to a future with renewable energy.
According to 350 Mass, transportation-created pollution makes up over 40 percent of the state's total climate pollution, with the vast majority of it billowing out of the exhaust pipes of vehicles on the road.
Baker has long used his state-issued SUV to travel for work.
Last month, he rode the MBTA's Red Line — the first time he opted for public transportation since taking office in 2015 — to a ribbon-cutting ceremony for the new Wollaston Station in Quincy.
In June, Baker, whose administration has put forth an $8 billion capital improvement plan for the MBTA, announced plans to accelerate the needed system repairs.
This week's protest tour, highlighting the need for a reliable, electric-powered transit system as an alternative to gas-guzzling cars, is taking "'Governor Baker' out of his limo and onto the T for more than just a one-off photo-op," organizers say.
"We need more than just photo-ops," Rosie Mott of the Transportation Working Group of 350 Mass said in a statement. "The situation of congestion and frustration is at an all-time high. We need real solutions now."
The demonstrations stepped off outside the State House Sunday, where marchers made their way to South Station, according to Altemose. Participants sang a modified version of "Charlie on the MTA" with lyrics like, "He's a talk the talker, not a walk the walker," he said.
Additional stops this week, among others, include a visit to a Town H,all meeting regarding a proposed electrical substation in Cambridge Wednesday, and on Thursday, appearances at the Framingham Commuter Rail Station and the site of a proposed substation in East Boston.
The tour will culminate Friday with a visit to the site of the proposed, controversial Weymouth compressor station, according to organizers.
The Baker administration approved required air permits for the natural gas project in January.
"Given the federal rules that we were operating under and all the rest and the results of our very comprehensive review, we basically had no choice other than to grant it," Baker said at the time.
Baker's office did not return a request for comment Monday.
Altemose said he gives credit to Baker for taking steps to bolster the state's plans for climate change resiliency and for his support of off-shore wind projects.
But those efforts remain somewhat problematic, according to Altemose, who said lawmakers still must mitigate the severity of climate change so that its impacts are more manageable.
"The frustration for climate activists is you can't with your left hand (say), 'Yes more wind,' then with you right hand, 'Yes, more gas," he said.
Pointing to last week's Youth Climate Strike, Altemose said the younger generations made clear they want renewable energy to become a reality within the next decade.
"All levels of government need to charge forward and give kids a shot at a livable future … It's borderline criminal to not be doing that at this point," he said.