Politics
Elizabeth Warren is rising. So are the attacks from her fellow Democrats.
For the first time, Warren is leading in Iowa — and in the crosshairs of 2020 primary rivals.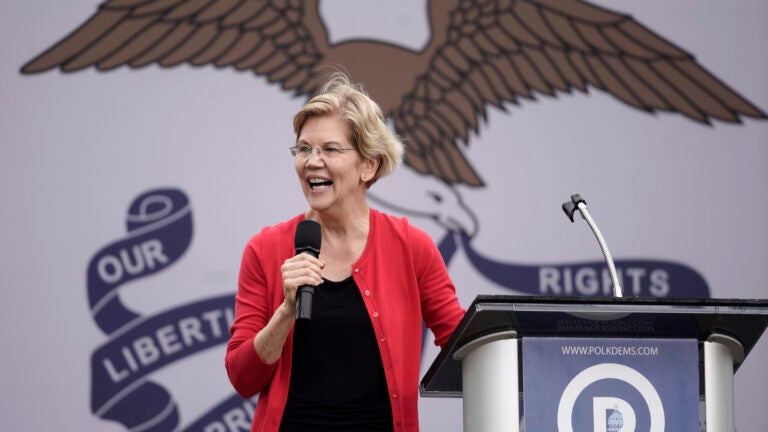 Sen. Elizabeth Warren's steady rise in the Democratic presidential primary race is beginning to receive the attention — and ire — of her opponents.
After a slow start in its early months, the Massachusetts senator's policy-focused campaign largely avoided being attacked by fellow Democrats (save for the ill–fated swipe from Maryland Rep. John Delaney, here or there). While most the field appeared comfortable taking shots at the perceived front-runner, former Vice President Joe Biden, they shied away from taking on Warren, who is the candidate Democratic voters view the most favorably, according to recent polls.
Maybe too favorably.
For the first time this weekend, Warren narrowly overtook Biden in a respected poll of likely Iowa caucus-goers. The Des Moines Register's Selzer & Co. poll found Warren statistically tied with Biden in the state with a lead within the margin of error — 22 percent to 20 percent — while Vermont Sen. Bernie Sanders faded to 11 percent.
The rest of the field remained in single digits, and they appear to be changing their play-nice strategy.
"We got a lot of great people running, but some of these ideas are better left in the college faculty lounge than right here at this port," Minnesota Sen. Amy Klobuchar said last Thursday during a campaign stop in Detroit, in what was largely perceived as an allusion to the left-wing plans proposed by Warren, a former Harvard law professor.
Klobuchar, who is running on a more moderate platform, later told CNN that the remark wasn't directed at Warren, but didn't hesitate to point out that she didn't agree with Warren on several issues.
That same day, South Bend, Indiana Mayor Pete Buttigieg was more direct. In an interview with CNN, he called Warren "extremely evasive" on the question of whether implementing Medicare-for-All would raise middle-class taxes. Warren has repeatedly avoided directly answering the question, which she says misses the point; under a single-payer system, health-care premiums would be eliminated, which Warren says would lower "total costs" for non-wealthy Americans.
"Senator Warren is known for being straightforward and was extremely evasive when asked that question," Buttigieg said. "And we've seen that repeatedly. I think that if you are proud of your plan and it's the right plan, you should defend it in straightforward terms.
Buttigieg added that he found Warren's responses "puzzling."
"Everybody knows the answer to that question of whether her plan and Senator Sanders' plan will raise middle class taxes is yes," he said. "Why wouldn't you just say so and then explain why you think that's the better way forward?"
Biden also criticized Warren on the subject. During a campaign event in Iowa on Friday, he told a Warren supporter, who had suggested the former vice president was protecting the profits of insurance companies, that the Democratic nominee wouldn't be able to beat President Donald Trump if they were "not being straightforward" about Medicare-for-All.
"Tell Elizabeth … she's gonna raise people's taxes," Biden said, according to the Associate Press.
Another target of criticism has been Warren's pledge to not hold big-donor fundraisers during the Democratic primary, opting to instead rely completely on grassroots donations. Warren made the pledge in February, but did hold such fundraisers during her Senate re-election campaign last year. That led former Pennsylvania Gov. Ed Rendell, a top Biden surrogate, to write a Washington Post op-ed earlier this month calling Warren a "hypocrite," after she criticized Biden for a high-dollar fundraiser in Philadelphia.
"It's one thing to fashion a campaign that relies on grass-roots fundraising, but it's another to go out of your way to characterize as power-brokers and influence-peddlers the very people whose support you have previously courted," Rendell wrote. He later told Politico that the column wasn't written at the behest of the Biden campaign.
California Sen. Kamala Harris — whose fundraising from corporate executives, similar to Biden, has been the subject of scrutiny from the left — has also targeted Warren's pledge. On a conference call last week, a campaign spokeswoman told reporters that Harris "didn't come in with millions and millions of dollars raised in 2018," an apparent allusion to the leftover funds that Warren raised for her re-election last year and then transferred to her presidential campaign.
The Harris campaign argued that they spent 2018 raising money for other Democratic candidates. But as the Wall Street Journal noted, so did Warren.
In the wake of the attacks, Warren's communication director Kristen Orthman has said that the campaign is simply focused on doing what it's been doing.
"We will continue to run the campaign we have from the beginning — identifying what is broken, talking about our plans to fix it, and building a grass-roots movement to make it happen," Orthman told the Washington Post last week.
The one candidate who notably hasn't gone after Warren is Sanders, a long-time ally with whom she reportedly has a virtual non-aggression pact. Still, the Vermont senator's campaign hasn't refrained from emphasizing certain differences.
During the third Democratic debate last month, Sanders noted that he was the "only person up here to have voted against all three of Trump's military budgets." The one-off line was read by some as a subtle attempt to draw attention to the fact that Warren voted for two of those defense budgets.
The Sanders campaign has also alluded to the fact that he is the only candidate who has pledged to also refuse big-donor fundraisers in a general election. Warren says her pledge stands solely for the Democratic primary and that "we will do what is necessary" to match the "Republican machine" in a general. Last week, Sanders campaign manager Faiz Shakir told Politico that the 78-year-old democratic socialist is the "only candidate who is able to say his campaign will rely only on grassroots funding in both the primary and against Donald Trump."
Most recently, Warren came under fire from the Sanders campaign after he outlined her opposition to a national rent control standard during an Iowa forum on Saturday. Sanders had included the idea — federal limits on how much rents could increase across the country — in a housing plan he released last week (Warren supports a more local, case-by-case approach to rent control).
In a tweet Sunday night, Sanders campaign national press secretary Briahna Joy Gray quoted Warren's words against her, using the line that the Bay State senator used to rebuke Delaney — "I don't understand why anybody goes to all the trouble of running for president of the United States just to talk about what we really can't do and shouldn't fight for" — to argue that national rent control was an imperative
Sanders himself, at least so far, has yet to comment directly on Warren's answer. But he did post one particularly succinct tweet Sunday afternoon.
https://twitter.com/BernieSanders/status/1175834645981736962?s=20