Politics
Joe Kennedy's 'people's pledge' proposal isn't going over well with his primary opponents
"This type of political gamesmanship is what is wrong with our politics and our politicians."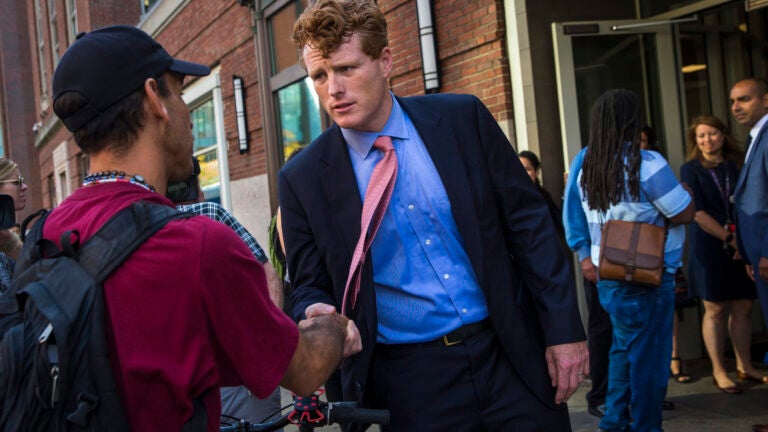 It's back.
Just days after officially announcing his primary campaign against Sen. Ed Markey over the weekend, Rep. Joe Kennedy is calling for a so-called "people's pledge" to limit third-party spending in the four-way race. Kennedy's campaign said it reached out to his three opponents Tuesday morning, suggesting the candidates would have to make a donation to charity if an outside group pays for advertising or direct mailers on their behalf.
"I hope my fellow candidates will join me in pledging to keep Massachusetts votes and voices at the center of this campaign," the Massachusetts congressman said in a statement.
Today I'm calling for a #PeoplesPledge in #MASen to combat unaccountable outside money in our elections. Hoping to work with my opponents to set the terms for a cooperative pledge that keeps Mass voters at the center of this race. #mapoli

— Joe Kennedy III (@joekennedy) September 24, 2019
The proposal was publicly met with a degree of skepticism from his fellow Democrats. Markey's campaign said they would review the proposal. Shannon Liss-Riordan criticized it as a gimmick. Steve Pemberton suggested Kennedy was being politically convenient.
The people's pledge — or at least calls for it — has become a perennial fixture in Massachusetts electoral politics since Scott Brown and Elizabeth Warren first agreed to one such deal in 2012.
The pledge was intended to discourage spending from independent political groups, such as Super PACS, in their fiercely contested Senate race. One post-election study found it was effective, resulting in the increased relative influence of small-donor donations, more disclosure of political donors, and less negative advertising (even if it may have incidentally resulted in more direct attacks between the two candidates).
However, the pledge has also become increasingly criticized as a political maneuver as much as a vehicle for cleaner elections, particularly when one candidate looks poised to disproportionately gain from outside spending or has a strong fundraising operation of their own.
Liss-Riordan, a Brookline labor attorney who announced her Senate candidacy in May, said Tuesday that she supports "blocking any outside spending" in the race, but ripped both Kennedy and Markey — who agreed to the pledge during his 2013 Senate primary campaign and called for it in the general election that year — for "recycling old gimmicks when it's convenient for them."
She noted that Kennedy's call came just a few days after Environment Massachusetts, one of the several environmental groups supporting Markey, announced plans to spend $5 million to support the incumbent Democratic senator, who introduced a Green New Deal resolution earlier this year. The pledge would also block the money the Democratic Senatorial Campaign Committee has said it plans to spend supporting Markey.
Kennedy's campaign argues that he wouldn't exactly benefit, either; the pledge would preclude local labor unions — several of which have already endorsed him — from spending on his behalf. It would also block the possibility of his father, former Rep. Joe Kennedy II, using his nearly $2.8 million in leftover campaign funds to help his son.
Liss-Riordan also dinged Kennedy for accepting donations from political groups, prior to his pledge earlier this month to reject contributions from corporate PACs. According to the nonpartisan campaign finance research group Maplight, the congressman received $1,277,503 from corporate PACs since his first campaign in 2012 (Markey, who hasn't yet agreed to reject corporate PAC donations in the race, has also received nearly $2.2 million in such contributions since the 2008 campaign cycle, when Maplight first began tracking the subject).
"This type of political gamesmanship is what is wrong with our politics and our politicians," Liss-Riordan said in a statement Tuesday. "I wish Senator Markey and Congressman Kennedy were more focused on delivering results for working people than scoring political points."
Pemberton, the Framingham businessman who announced his Senate primary campaign in July, said Tuesday that he would "definitely sign the pledge," but — similar to Liss-Riordan — raised questions about the timing of the proposal.
"I have to say, voters are getting more and more frustrated with insider politicians who suddenly 'see the light' on special interest money when it suits their immediate needs," Pemberton told Boston.com in a statement, specifically referring to Kennedy's previous acceptance of general PAC contributions.
John Walsh, a senior campaign adviser for Markey, said their campaign will review Kennedy's proposal, which is modeled after the people's pledges from the 2012 Senate race and the Democratic Senate special election primary race in 2013. Under the Kennedy campaign's proposal, anyone in the race who benefits from outside spending would have to make a donation, worth half the cost of the ad, split equally between charities picked by each of the candidates.
As they look over the idea, Walsh also noted that Kennedy had yet to commit to Markey's own recent proposal.
"We are looking forward to hearing from Congressman Kennedy on the climate change debate challenge Senator Markey issued last weekend, which Shannon-Liss Riordan and Steve Pemberton accepted immediately," he said.
In a statement, Kennedy's campaign said he was "happy to debate climate," but also wanted to discuss a host of other important issues, including "economic justice, democracy reforms, the future of labor, housing, health care, civil rights, gun violence, [and] immigration." The campaign also had been in contact with groups asking for single-issue debates on labor issues, Western Massachusetts and LGBT rights.
"We look forward to sitting down with the other campaigns to hash out a robust debate schedule for the months to come," Kennedy spokeswoman Emily Kaufman said.