Politics
3 key ways Boston's zoning board would change under a city councilor's proposal
"We need to do better."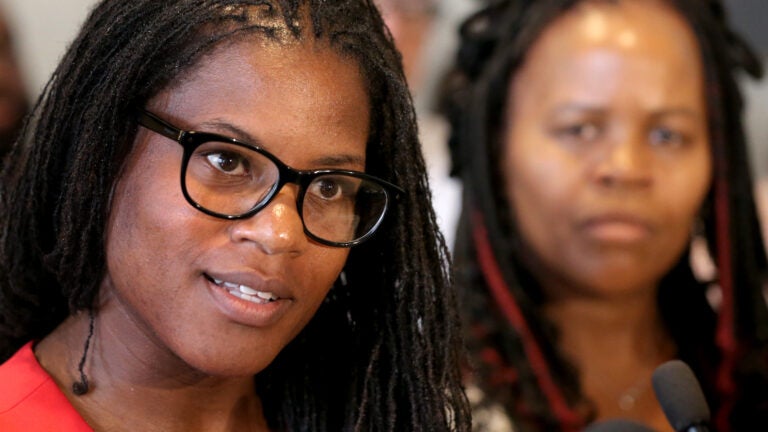 Boston City Councilor Lydia Edwards is seeking to modernize the city's Zoning Board of Appeal with a proposal aimed at protecting the body from conflicts of interest and promoting its transparency, she says.
Amid a bustling development boom, Boston's seven-member board, tasked with ruling on zoning variances, is operating based on laws initially crafted over 60 years ago, Edwards says.
"We need to do better," the District 1 councilor said Wednesday, as she introduced the home rule petition to the council. "We need to think better, and we need to bring new perspectives to the table."
The proposal also comes amid a federal probe of the ZBA and following a turbulent month for the board.
John Lynch, a city official for the Boston Planning and Development Agency, pleaded guilty last month in federal court to accepting $50,000 to influence a 2017 ZBA vote.
ZBA member Craig Galvin, a Dorchester real estate agent, also resigned in September following a Boston Globe report that he was a sales agent for a condo project Lynch built in 2018.
Galvin was on the board while reviewing other projects that he also served as a listing agent or consultant for, according to various media reports. Galvin reportedly recused himself from some ZBA votes but not others.
Edwards said her proposal would work hand in hand with Mayor Marty Walsh's administration and the city-hired law firm, Sullivan and Worcester, who are reviewing the ZBA.
It would also target eliminating conflicts of interest from the board, according to Edwards.
The proposal, if approved, would block real estate and construction industry professionals from serving on the board and would prohibit existing members from immediately entering those fields for a five-year period, among other changes.
In @BOSCityCouncil, I'm introducing legislation to modernize the Zoning Board of Appeal. pic.twitter.com/hVYB54Wl5G

— Lydia Edwards (@LydiaMEdwards) October 2, 2019
"Let's be honest, it's a necessary, a very necessary conversation that we need to have in the City of Boston — a grown-up conversation," Edwards said.
Here are a few key ways the proposal would combat concerns of conflicts of interest and increase transparency on the board:
The real estate industry would not have a seat at the table
Under current laws, members of the ZBA are real estate agents, construction unions, and architects.
But officials must make sure that the ZBA is representative of the city, Edwards said.
Her proposal would scrap the board's current structure and would instead install experts in affordable housing, civil rights and fair housing, environmental protection and climate change, urban planning and neighborhood design, and zoning and the general laws, according to the filing.
Seats would also be reserved for a homeowner and a renter, respectively, in Boston, the petition says.
City government needs to insulate the group from conflicts of interest, Edwards said.
"The real estate industry should not sit on any board making regulatory decisions about real estate," she said.
Members and ZBA staff would also be prohibited from "engaging in (other) permitting, planning, development or real estate functions" in the city, according to Edwards.
A 'revolving door' for outgoing board members will not be tolerated
Edward's proposal takes aim at stopping any members of the ZBA from being able to personally cash in on projects they reviewed upon finishing their three-year term.
Former board members would be prohibited from working in "real estate, construction, development, (or) purchase or sale" in Boston for up to five years after their tenure ends, according to Edwards.
"There should be no revolving door — (meaning) you've left the ZBA, you can turn around and engage in business on things that you just voted on, on things that you just had an impact," she said.
Quarterly and financial reports would be required
Similar to the BPDA application process, those seeking zoning variances from the ZBA would be required to file financial interest disclosure forms and detailed information about the involved companies and landlords, according to Edwards.
"This really speaks to the speculation conversation that we had before where there are many LLCs and foreign entities coming into the state and (they're) able to get a lot of things done and no one actually knows who owns them," Edwards said. "I want full transparency. I want to see who you are."
The ZBA would also be required to submit quarterly reports outlining the number and types of conditional use permits or variances the board approved in each neighborhood and zoning district, according to the proposal.
Edwards said that clause would provide officials with data to see what neighborhoods are being built up by the books, and which ones are receiving exceptions to the rules.
"That's key," she said. "That information shouldn't just be us talking to each other after a hearing."
The proposal, which also includes requirements to make records and meeting notices more accessible, was sent to the Committee on Government Operations for review.
Should it pass the council, the home rule petition would eventually require approval from the state Legislature. Walsh would also need to green light changes to the ZBA.
https://youtu.be/IzIYlSHhYIY?t=1090