Politics
Joe Kennedy agrees to a climate change debate — but not the one Ed Markey wants
A planned debate at Tufts was nixed after Kennedy's campaign voiced objections to the host and setting. But the Massachusetts congressman still wants to wait until next year.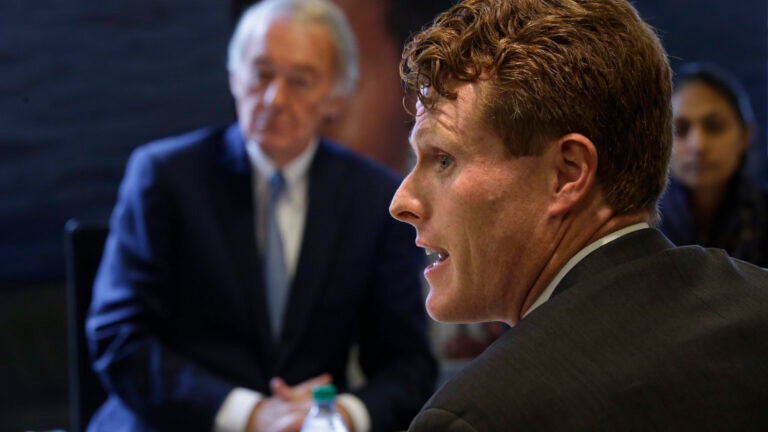 Rep. Joe Kennedy III accepted Sen. Ed Markey's climate change debate proposal on Friday, but his campaign took issue with the originally scheduled event. And while the other campaigns appear somewhat amenable to their objections, the four candidates still haven't settled to terms.
"We look forward to a high-profile climate event, a robust debate schedule across the state, and continued discussions with all campaigns as we approach the election year," Kennedy campaign manager Nick Clemons said in a statement.
Markey challenged Kennedy and his two other Democratic primary challengers to the single-issue debate last month, within minutes of the formal launch of the Massachusetts congressman's Senate campaign. The two other candidates in the race, Shannon Liss-Riordan and Steve Pemberton, agreed immediately, but Kennedy was non-committal. The 39-year-old Newton Democrat's campaign noted at the time that there are "a series of critical issues Joe believes must be debated in front of the Massachusetts people."
After negotiations with other campaigns this week, Kennedy's campaign announced Friday that they too had agreed to a climate change debate — at least in theory.
Earlier this week, Markey's campaign said that the 73-year-old senator, Liss-Riordan, and Pemberon had agreed to a Nov. 18 debate hosted by the Environmental League of Massachusetts at Tufts University. However, the Kennedy campaign — which also proposed five other "issue-inclusive" Senate primary debates Friday — had objections to the date, place, and host.
First, they don't think it should be held until next year.
"Given the timing of impeachment proceedings and the winter holidays, we believe these debates should start in early 2020 to ensure maximum voter impact and participation," Clemons said Friday.
House Speaker Nancy Pelosi indicated Thursday that she expects the recently launched impeachment inquiry to be relatively quick, though the process is expected to stretch through November. The House of Representatives is also already scheduled to be in session on Nov. 18, creating a potential scheduling conflict for Kennedy.
"To try and rush debates at a moment when voters' attention is elsewhere is a backhanded way to limit participation in these essential forums," Clemons said.
Second, they think it should be held somewhere that has particularly felt the effects of climate change — perhaps one of the Massachusetts communities at risk from rising seas and intensifying storms. That doesn't exactly describe Tufts, a college located on a hill.
"We think it is critical that the climate debate in particular occur on the ground in a frontline community in Massachusetts most impacted by our failure to address climate change over the past several decades," Clemons said.
Third, the Kennedy campaign thinks the Environmental League of Massachusetts is an inappropriate host. The nonprofit's political arm — the Environmental League of Massachusetts Action Fund — recently endorsed Markey for reelection.
"We are committed to working with the other campaigns to find an appropriate host and location," Clemons said.
Following the Kennedy campaign's announcement, the three other Senate primary candidates indicated openness to those two particular demands — apparently nixing the planned Tufts event.
In a joint statement Friday afternoon, the Markey, Liss-Riordan, and Pemberton campaigns said they have agreed to participate in a Nov. 10 climate change debate.
Mara Dolan, a spokeswoman for the Markey campaign, told Boston.com that the host and place of the debate is still yet to be determined. The debate is still scheduled for November. However, unlike Nov. 18, the House is not in session on Nov. 10.
"We are still hopeful that Congressman Kennedy will join us," the campaigns said.
Markey, who introduced the Green New Deal resolution earlier this year and has a long record as an environmental advocate, called for a November climate change debate after the recent youth-led climate rally — in Boston and across the world — reinforced his urgency on the issue, campaign adviser John Walsh told Boston.com last month. However, they had looked to hold it after the upcoming municipal elections (Nov. 5) and Veterans Day (Nov. 11). The new date would be the Sunday of Veterans Day weekend.
In response to the new proposed debate, Kennedy spokeswoman Emily Kaufman told Boston.com that the campaign still thinks "early 2020 is the best time to maximize voter engagement on this critical issue — not the middle of a holiday weekend."
"We look forward to continuing to work with all parties to find a date that works for everyone," Kaufman said.