Politics
Conservative outlets raised questions about Elizabeth Warren's pregnancy story. She's standing by it.
"The principal told me the job I'd already been promised for the next year would go to someone else."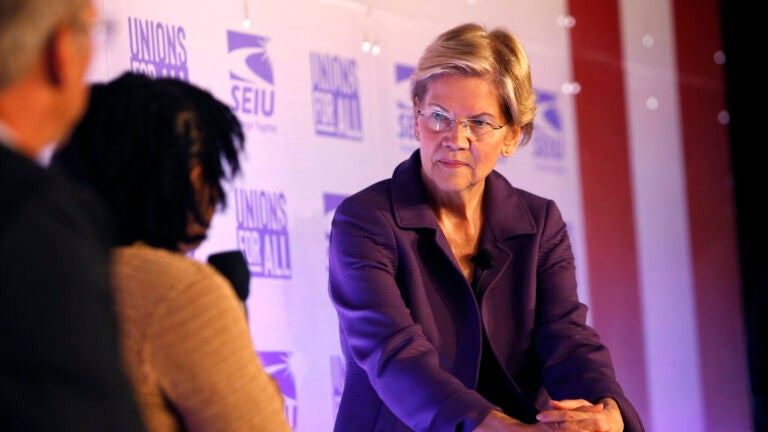 Sen. Elizabeth Warren is sticking to her story about losing a teaching job after becoming pregnant with her first child, after the oft-told campaign trail anecdote came under scrutiny from conservative media.
"When I was 22 and finishing my first year of teaching, I had an experience millions of women will recognize," Warren tweeted Tuesday morning.
"By June I was visibly pregnant—and the principal told me the job I'd already been promised for the next year would go to someone else," she wrote. "This was 1971, years before Congress outlawed pregnancy discrimination — but we know it still happens in subtle and not-so-subtle ways."
This was 1971, years before Congress outlawed pregnancy discrimination—but we know it still happens in subtle and not-so-subtle ways. We can fight back by telling our stories. I tell mine on the campaign trail, and I hope to hear yours.

— Elizabeth Warren (@ewarren) October 8, 2019
The Massachusetts senator and Democratic presidential candidate has repeatedly told the story at campaign events to illustrate the inequalities women faced in the workforce when she was first starting out. After graduating from the University of Houston, Warren was hired as a speech pathologist at Riverdale Elementary School in Riverdale, New Jersey.
"By the end of the first year in teaching, I was visibly pregnant, and the principal did what a lot of principals did back then: He wished me well, and hired someone else for the job," she recalled at a Democratic Party dinner in Iowa in April.
"Teaching special needs kids is a calling," Warren said that same month at the National Action Network convention in New York City. "But I finished out the year visibly pregnant and didn't get invited back. Those were the days."
She has recalled the story from her 2014 memoir to the most recent Democratic primary debate. Warren has repeatedly said she was "shown the door" after school officials found out she was pregnant. The event ultimately resulted in Warren going back to law school, setting her course toward eventually becoming a distinguished professor and U.S. senator.
However, this week, several Republican-aligned media outlets raised questions about the claim that she was let go because of her pregnancy.
On Sunday, Fox News reported on a 2007 interview, in which Warren didn't explicitly cite the pregnancy for why she left her job.
"My first year post-graduation I worked in a public school system with the children with disabilities," she told Harry Kreisler, a historian at the University of California, Berkeley. "I did that for a year, and then that summer I didn't have the education courses, so I was on an 'emergency certificate,' it was called. I went back to graduate school and took a couple of courses in education and said, 'I don't think this is going to work out for me.' I was pregnant with my first baby, so I had a baby and stayed home for a couple of years, and I was really casting about, thinking, 'What am I going to do?'"
On Monday, the Washington Free Beacon, a conservative news site, uncovered meeting minutes that showed the Riverdale school board had voted in April 1971 to renew Warren for a part-time teaching job that was similar to the one she held during her first year. However, minutes from a June 1971 meeting indicated that Warren had chosen to resign, which the board "accepted with regret." As CBS News later reported on Monday, local newspapers also reported at the time that Warren was "leaving to raise a family" and had "resigned for personal reasons."
In an interview with the outlet, Warren said was indeed originally offered a job for a second year — before she was apparently pregnant.
"I was pregnant, but nobody knew it," she told CBS News. "And then a couple of months later when I was six months pregnant and it was pretty obvious, the principal called me in, wished me luck, and said he was going to hire someone else for the job."
Warren also stood by her account of being "shown the door" as an "accurate description."
"When someone calls you in and says the job that you've been hired for for the next year is no longer yours — 'We're giving it to someone else' — I think that's being shown the door," she said.
In response to the Free Beacon report, several observers, including Washington Post columnist Greg Sargent, noted that it was unlikely that school officials would admit in meeting minutes that Warren was let go because of her pregnancy. Until 1972, New Jersey state education policies allowed public schools to remove untenured teachers after their fifth month of pregnancy. The Supreme Court ruled in 1974 that such mandatory leave rules were unconstitutional.
According to CBS, two former longtime Riverdale Elementary teachers, who were at the school during Warren's year there, said they didn't remember anyone getting outright fired for being pregnant, but confirmed there was a culture of pushing out pregnant teachers at the time.
"The rule was at five months you had to leave when you were pregnant," one of the teachers, Trudy Randall, told CBS News. "Now, if you didn't tell anybody you were pregnant, and they didn't know, you could fudge it and try to stay on a little bit longer. But they kind of wanted you out if you were pregnant."
Warren gave birth to her first child, daughter Amelia, on Sept. 2, 1971 — roughly three months she left the school in June.
In 1978, the Pregnancy Discrimination Act was amended to affirm that employers couldn't discriminate "on the basis of pregnancy, childbirth, or related medical conditions." Still, Warren says such workplace discrimination "still happens in subtle and not-so-subtle ways."
A growing amount of research shows that the gender wage gap can be attributed to the impact of childrearing; last year, a study found that having a child results in a 20 percent decrease in career income for women, compared to no decrease for men with children. The New York Times also recently reported on how some of the country's largest companies "still systematically sideline pregnant women."
"We can fight back by telling our stories," Warren tweeted Tuesday. "I tell mine on the campaign trail, and I hope to hear yours."