Politics
'Proudly kinky, proudly nappy': Edwards drives City Council support for bill to end natural hairstyle discrimination
"This law would be impacting a younger version of me."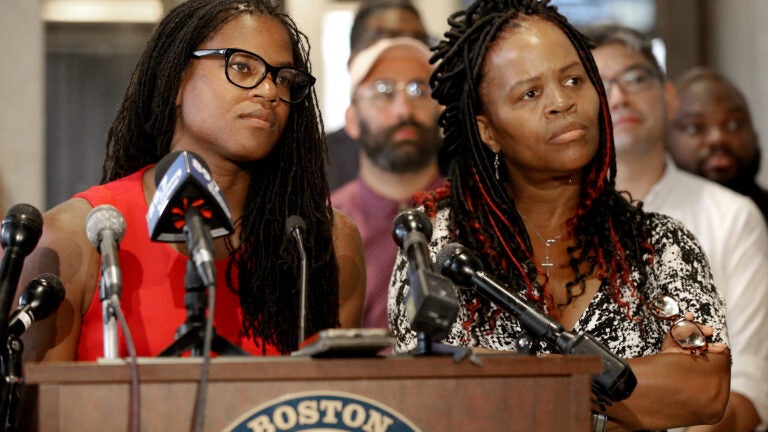 The Boston City Council is supporting a proposed state law that would shoot down policies and regulations discriminating against natural hairstyles — rules that disproportionately affect people of color, particularly in schools and in the workplace.
Councilors voted on Oct. 2 to adopt a resolution by City Councilor Lydia Edwards voicing support for the bill filed by state Rep. Steven Ultrino, a Malden Democrat.
Ultrino's proposal, "An Act Prohibiting Discrimination Based on Natural Hairstyles," would officially recognize that targeting "a person's natural hair and hairstyle associated with their race is racial discrimination" and protect an individual's rights to wear braids, locs, and twists, among other stylistic variations.
While the bill also evokes other situations as examples — such as a person being denied entry at a nightclub or a hairstylist charging a higher price because of a natural hairstyle — Edwards said the law is crucial for ending school dress code policies that prevent young, black girls from attending their classes based on how they choose to style their hair.
Those kinds of dress code violations make up the majority of the reasons why black girls are disciplined in school, she said.
"I want you to understand what a slap in the face those regulations are at the outset: When they tell you your hair is … so offensive that you shouldn't be able to wear it that way," Edwards told councilors. "Natural means just that. My hair grows out this way, proudly kinky, proudly nappy. That's my hair — and it has been a journey to actually say that out loud and be proud of that."
In @BOSCityCouncil this week, spoke on issue of discrimination against natural hair & hairstyles.

For full video, including @Kim_Janey comments follow link: https://t.co/eJ65s0fa4c @RepUltrino @LCRBOSTON pic.twitter.com/c81CCGDZxS

— Lydia Edwards (@LydiaMEdwards) October 3, 2019
In 2017, the issue erupted in Ultrino's Malden district when twin 15-year-old black girls who were students at Mystic Valley Regional Charter School received multiple detentions for wearing hair extensions.
School dress code policies at the time banned hair that was more than 2 inches in thickness or height, shaved sides, and hair extensions.
The state Attorney General's office told the school its dress code appeared to violate racial discrimination laws, and those bans were later dropped from the student handbook.
"The way the regulations are written for the Mystic Valley Regional Charter School would have prevented me as a young girl from going to school there," Edwards said.
"I had to come forward, not only to support this legislation, but to give you a face to who this law would be impacting: a younger version of me," she added.
Proud to file resolution @BOSCityCouncil in support of @repultrino bill to ban discrimination against natural hairstyles. Natural means just that. This is who I am and who we are. pic.twitter.com/DwZBFTfCq5

— Lydia Edwards (@LydiaMEdwards) October 2, 2019
Under Ultrino's bill, "no school district, school committee, public school or nonsectarian school shall adopt or implement a policy or code that impairs or prohibits natural hairstyles," according to the filing.
"The Department of Elementary and Secondary Education shall provide written guidance for the administration of this section," the bill says.
Councilor Kim Janey, referencing how her hairstyle recently changed from long locs to a twist, said she understands the issue wholeheartedly.
"This is about letting our young girls just learn, letting young black girls in particular learn," Janey said. "We should not be trying to mandate how people's hairs grow out of their head and whether or not they can access school and work."
The bill, filed last month, was referred to the House of Representatives Committee on House Rules.