Politics
Ayanna Pressley endorses four at-large Boston City Council candidates — and snubs two incumbents
"In this moment, it is even more essential that we elect leaders at the local level who will stand with those who find themselves under attack."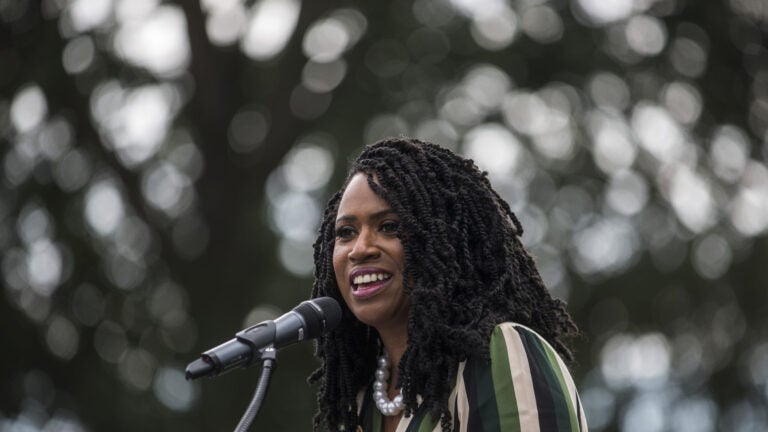 Rep. Ayanna Pressley, who was a Boston city councilor less than a year ago, is wading into the first City Council race since she was elected to Congress.
In a press release Thursday, Pressley announced her endorsements for the four at-large City Council seats up for grabs in the Nov. 5 election. A former at-large councilor herself from 2010 to 2019, the Massachusetts congresswoman backed two incumbents and two newcomers to the race. Receiving her support for reelection were councilors Michelle Wu and Annissa Essaibi-George, along with two progressive challengers, Alejandra St. Guillen and Julia Mejia.
"I am so proud to have served on the Boston City Council alongside Michelle and Annissa, and to have gotten to know Alejandra and Julia through their years of service to our city," Pressley said in a statement. "Collectively, Michelle, Annissa, Alejandra, and Julia have devoted decades to advocating for and lifting up the residents of Boston."
As the first woman of color to serve on the Boston City Council, Pressley's endorsements envision progressive women of color sweeping the four at-large seats for the first time in the legislative body's 110-year history.
St. Guillen, the former director of the city's Office for Immigrant Advancement, has also been endorsed by Boston Mayor Marty Walsh, Massachusetts Attorney General Maura Healey and a slate of local progressive groups and other elected officials. Mejia, a former MTV producer and education advocacy group founder, has the backing of a number prominent local progressive activists and legislators. Both are Boston natives.
Notably absent from the list were two incumbent city councilors. Pressley left out longtime Councilor Michael Flaherty — a Southie Democrat who held an at-large seat since 1999, with the exception of a four-year gap following his 2009 mayoral campaign — and Councilor Althea Garrison, a conservative, perennial candidate from Dorchester who, as the fifth-place finisher in the previous City Council race, was appointed to fill Pressley's seat earlier this year.
Pressley didn't mention a reason for why she snubbed Flaherty and Garrison. However, the two councilors have notably broken with their colleagues when it comes to housing and transportation, which were among a list of broad issues Pressley says the council must address. During a Roxbury forum Tuesday night, Flaherty and Garrison were the only at-large candidates in the eight-person field that opposed raising Boston's Inclusionary Development Policy threshold — requiring housing developers to reserve 13 percent of units for affordable housing — to at least 20 percent, according to WGBH. They also both spoke out against a proposal by Wu in April to charge Boston residents $25 for residential parking permits, which are currently free; Garrison even reportedly criticized Wu for the proposal again during the Roxbury forum this week.
However, Pressley's campaign says her endorsements are more about the qualities of the four candidates she backed, than the four she did not (the two other challengers that survived last month's preliminary election are David Halbert and Erin Murphy).
"In this moment, it is even more essential that we elect leaders at the local level who will stand with those who find themselves under attack, and who will advocate and work every day, in partnership with community, to make real progress on the challenges facing Boston residents — from housing, healthcare, and education to transportation, immigration, and so many more," Pressley said in the press release, which said President Donald Trump's administration was exacerbating "persistent inequities" facing local residents.
"In times like these, it is essential that we elect leaders like Michelle, Annissa, Alejandra, and Julia," she said. "I look forward to working with them to continue to move Boston forward, for everyone."