Politics
Here's why Dan Koh is thinking about another run for Congress
Lori Trahan's campaign says they are "happy to take our case to the voters."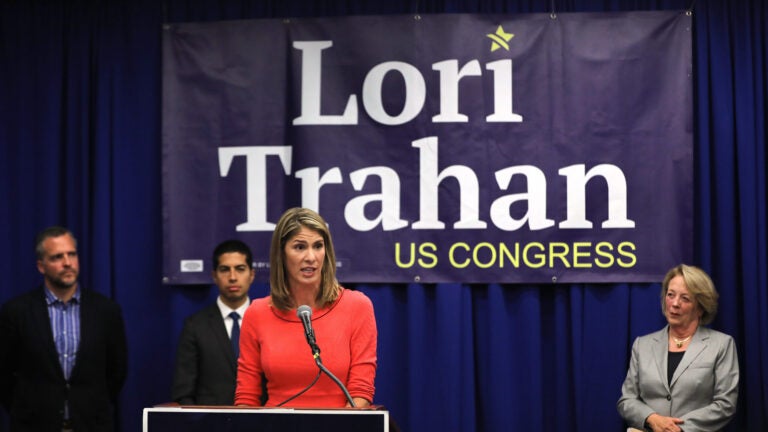 Could the 3rd District see a primary rematch next year? Dan Koh says it's up to Rep. Lori Trahan, even though he's the one mulling a primary challenge.
Koh, an Andover native and former chief of staff for Boston Mayor Marty Walsh, has been pressuring the freshman congresswoman to release bank statements to prove she didn't break campaign finance laws during her narrow 2018 win in the Democratic primary race for the Massachusetts congressional seat.
If she doesn't, Koh says he's seriously considering another run — even if it rankles fellow Democrats — and has positioned himself as a more forceful, progressive advocate in the era of President Donald Trump. But before he jumps in, the 34-year-old is testing how the issue of Trahan's campaign funding plays with voters.
"The residents of the 3rd Congressional District deserve honesty and transparency from their elected officials, especially at a time when trust in government is threatened on a daily basis by the Trump administration," Koh said in a statement last week to the Lowell Sun.
What exactly is Trahan's campaign finance issue?
Trahan, a Lowell native and Westford resident who served as former Rep. Marty Meehan's chief of staff, narrowly beat Koh in the Merrimack Valley-area district's 10-way primary race for the Democratic nomination. After a recount, the final vote totals showed that she had won by 145 votes.
However, Koh and some campaign finance watchdogs are skeptical about the money that helped Trahan across the finish line.
Despite being vastly outspent by Koh, the 45-year-old congresswoman, who had trailed in polls through the summer, "dramatically [increased] her TV advertising" in the two weeks leading up to the September primary day, according to a Boston Globe report this past March. According to the Globe, Trahan said the spending was funded by a $371,000 loan she made to her campaign.
According to Federal Election Commission rules, candidates can donate as much of their own money to their own campaign as they like. However, campaign contributions from other individuals are subject to a $2,700 limit. And some suspect that Trahan's $371,000 loan was not entirely her own. Per the Globe's original report:
…the financial disclosures Trahan filed during the summer show she didn't have anywhere near enough money to cover such big loans — mainly, she listed a joint bank account with her husband containing less than $15,001.

After the November election, when the Globe began asking questions, she amended her financial reports four times, adding a joint bank account and a $71,000 home equity loan that she said she could draw on. Even then, however, the resources Trahan reported appear insufficient to make $371,000 in loans.

A campaign finance expert says Trahan's explanations don't add up. He believes that her campaign donations were improperly reported, and possibly illegally given to her by her husband, David Trahan, a successful home builder.

Federal election laws allow candidates to donate or loan their campaign any amount of money as long as it comes from a personal account or a legitimate bank loan. But if the money comes from anyone else — even a spouse — it is subject to the current contribution limit of $2,700, according to Federal Election Commission rules.

"The discrepancies between the supposed personal loans and her financial disclosures seem unlikely to have an innocent explanation," said Adav Noti, a Washington, D.C.-based campaign finance expert, who reviewed her filings at the Globe's request.
Trahan's campaign says she has "fully" complied with all FEC requirements and told the Globe that the funds came from three sources: two joint bank accounts with her husband, a $71,000 home equity loan, and "additional income" from the consulting business she founded after Meehan retired in 2007. The campaign later said that she made a total of $1.1 million from the consulting firm since 2015, including $265,000 in 2018.
However, the fact that Trahan didn't disclose those assets until December and has declined to share bank records make it difficult to confirm. Additionally, the amount she eventually reported earning in 2018 was only slightly less than the roughly $300,000 she made on average in the three years before her campaign.
"When you're running for Congress, it's a full time job," Maurice Cunningham, a political science professor at UMass Boston, told the Globe. "To earn $265,000 while you're doing that — it raises questions. Who are you earning it from and what are you doing for it?"
In late March, the Campaign Legal Center, a non-partisan campaign finance watchdog, filed a complaint with the FEC asking the agency to investigate if Trahn's loans were legal. A conservative-leaning group echoed that call in April. However, the FEC currently lacks a quorum to take action on any such matter, since the Senate has not acted to fill two vacancies on its five-commissioner panel.
In the absence of any FEC ruling, the question now is whether voters care enough to make a judgment.
What has Koh been up to?
After the election, Koh largely kept his head down, opting to run for the Andover Board of Selectmen and focusing on a local tech startup.
However, this summer, he broke his silence to pressure Trahan to support impeaching President Donald Trump — first in a Facebook post and then in a Lowell Sun opinion piece. When Trahan did announce her support for an impeachment inquiry in July following special counsel Robert Mueller's testimony to Congress, the Lowell Sun wrote that Koh had clearly "forced her hand," even though she insisted that he had "zero impact on my decision."
A week later, Trahan wrote in a fundraising email that "one former primary opponent made it pretty clear last week that he is running against me," less than subtly alluding to Koh. Since then, she has warned of "potential opponents" and "challengers" in fundraising appeals.
"As you know, Lori likely will be facing a primary next year," her campaign wrote to supporters last Thursday.
Koh says he's undecided about running, knowing that a primary challenge could be unpopular and taint future political prospects. Through the summer, Koh maintained that it was "too early to tell." But he's surveying the field to see how the campaign finance issue, among other things, plays with voters in the 3rd District.
Last week, the Boston Herald reported that Koh had put out a poll in the district asking voters about their relative opinions of him and Trahan. According to a source close to Koh, the poll included questions about the campaign finance complaint against Trahan, among other issues.
The Lowell Sun — after obtaining screenshots of the poll, which was distributed via text message — reported that one question was worded to ask what voters knew of the complaint about Trahan's "acceptance of illegal campaign funds that may have influenced 2018 election results," followed by a suggestion that she "cheated the system." The poll then asked who they would vote for if Koh ran.
In response, Koh confirmed that he conducted the poll "to get a better sense of the public's opinions" and told the Sun in a statement that Trahan could "restore trust and put this issue behind her" if she released records showing the $371,000 loan was legal.
"If Congresswoman Trahan releases the bank statements as well as the full client list from 2018 that is at the center of this ethics investigation, and it proves she did nothing wrong, I will not run," he said in a statement.
Trahan's campaign says they're "happy to take our case to the voters," painting Koh as a sore loser.
"Dan Koh has been playing politics for months because he thinks he's entitled to serve in Congress," a spokesperson for the campaign told Boston.com in a statement. "It speaks volumes that Dan Koh's first poll in the campaign is 100% negative and doesn't test any positive message about himself; he doesn't have anything positive to say about why he should be in Congress."
How it's playing
In the questions around Trahan's loan, Koh's supporters see echoes of the the campaign finance scandal that doomed Rep. Frank Guinta, a New Hampshire Republican, in 2016. During his first campaign, Guinta's parents gave him $381,000 from a family fund they legally controlled. The congressman subsequently loaned most of the money to his campaign, which the FEC ultimately ruled amounted to an illegal donation, which far exceeded the limits on individual political contributions. After getting hammered by Democrats (as well as some Republicans) on the issue, Guinta narrowly lost his re-election bid to Rep. Carol Shea-Porter.
Koh's supporters frame his potential candidacy as a test of whether Democrats walk the talk when a similar campaign finance controversy isn't inflected by partisanship.
"It's more than a little disconcerting that the very same people who rightly railed against Guinta receiving money inappropriately are not only deadly silent in this case, but in fact are saying, 'What's the big deal?'" said the person close to Koh, who requested anonymity to speak freely on the matter.
According to the person, there are a "significant" number of people urging Koh to run. However, at least in public, his trial ballon has faced headwinds.
Globe columnist Scot Lehigh penned an opinion piece last week urging Koh against making "a dumb run" and downplaying the FEC complaint against Trahan as "the equivalent of a campaign parking ticket." Additionally, Lehigh argued that the implicit message of a potential challenge would alienate women and predicted a landslide re-election win for the congresswoman. Others have pointed out that Trahan could counter by highlighting the "substantial amount of out-of-district Boston developer money" Koh received during his 2018 campaign. While he repeatedly raked in massive quarterly fundraising sums, the contributions came disproportionately from outside the district, especially compared to Trahan.
"Dan Koh managed to lose last year, despite leading in the polls and outspending Lori Trahan by more than $2 million," a spokesperson for the Trahan campaign said in a statement.
Koh's campaign wouldn't solely focus on litigating whether Trahan's campaign loan was legal; he has also tried to outflank Trahan from the left — not only on impeachment, but also on health care. Koh was an outspoken supporter of moving the country to a single-payer "Medicare-for-All" health care system. Trahan signed on as a sponsor of Medicare-for-All legislation in March, but did voice concerns about potential unforeseen costs of the system during the campaign.
Trahan's campaign says her record in Congress speaks for itself, working with the Democratic majority to block Trump's Republican agenda, backing the Green New Deal, and supporting women's reproductive rights.
"We would stack that record against political staffer Dan Koh's any day of the week," Mairead Lynn, a spokeswoman for EMILY's List, a political group that supports pro-choice Democratic women, told Boston.com in a statement.
Lynn also signaled that Trahan's supporters could punch back at Koh by tying him to scandals in Boston, such as the several Walsh administration officials found guilty on felony charges. She also resurfaced an attack — first levied by former state Sen. Barbara L'Italien during the 2018 primary — that Koh responded insufficiently to a Boston city employee's report of sexual harassment by a senior administration official.
"The people of Massachusetts deserve a leader who will stand up and fight for them, not someone who refuses to take responsibility for his actions," Lynn said.
Trahan has added another supporter to her ranks: Sen. Elizabeth Warren, who endorsed the congresswoman for re-election in a video released Thursday morning and urged voters to "pitch in however you can" to her campaign.
"Let's all get in this fight by Lori's side," Warren said.