Politics
Elizabeth Warren is rising, and Republicans are deploying an old tactic
An email from the party's national committee this week offered a clear preview of what could be in store. However, the Massachusetts senator has used the attacks to rally supporters.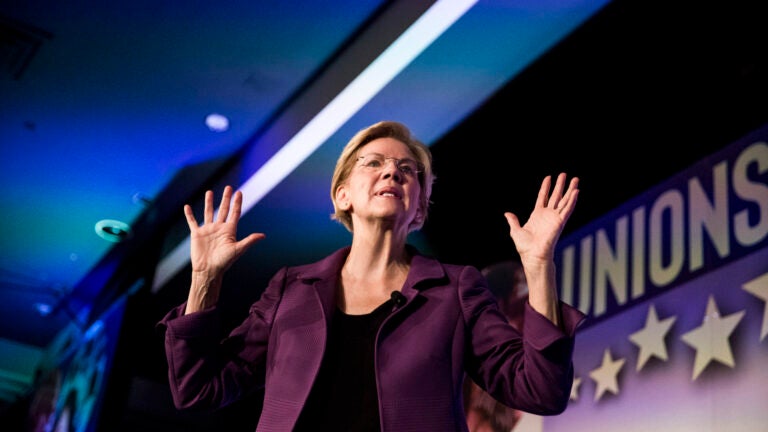 WASHINGTON — President Donald Trump and his allies have struggled for months to come up with effective ways to confront Sen. Elizabeth Warren, whose steady rise in the polls put the lie to Trump's boasts last spring that she was "finished" and "gone," undone by her past claims of Native American ancestry.
Republicans have tried to brand her as a socialist, attack her policy ideas and portray her as too left-wing for the U.S. electorate. None of those arguments have diminished her political momentum, robust fundraising or polling.
But in the past week, conservative news sites have challenged Warren's story about how a public school principal forced her out of a teaching job in 1971 because she was "visibly pregnant," and the Republican National Committee grabbed onto the issue to wage its own attack. In doing so, Republicans employed a tactic — questioning a female candidate's authenticity — that is at once often a sexist trope in politics and a strategy used against Hillary Clinton in 2016.
Warren and her team, in turn, have confidently parried those attacks and used them to rally supporters. Rather than take a defensive posture, Warren has responded by offering her personal story as one of countless instances of pregnancy discrimination that have occurred in U.S. workplaces, where it remains a widespread problem. In a video that has been viewed more than 1 million times across social media platforms, Warren read messages from women sharing their own experiences.
After I became visibly pregnant, I was told that the job I'd been promised for next year would go to someone else. Pregnancy discrimination is real, and it still happens today—but telling our stories is one way we can fight back. Here are some of your stories that I heard today. pic.twitter.com/x1pe2ikzTr

— Elizabeth Warren (@ewarren) October 9, 2019
Christina Reynolds, who was an aide on Clinton's campaign and is now a spokeswoman for EMILY's List, which supports female Democratic candidates who back abortion rights, said the Warren campaign's move to solicit stories from people was a better response to the Republican attack "than just saying, 'No, it's not true.'"
"I think it's a really powerful thing that she's done," she said, "which is turn this into a learning opportunity for all of us as to what women have faced at past times, what they might still face and how can we do better."
Well before Warren's story about losing her teaching job became the subject of news articles, she was being challenged over how she has presented her biography. Since she first ran for the Senate in 2012, she has faced questions over having identified herself as Native American during her career as a law professor, and she drew a backlash last year when she released a DNA test offering evidence that she had a Native American ancestor. Warren later apologized in private and in public.
An email from the Republican National Committee on Tuesday offered a clear preview of how the party would seek to undermine her if she becomes the Democratic nominee: "It's not just her heritage Fauxcahontas has been lying about to get ahead," the subject line said. A spokeswoman for the committee, Liz Harrington, said Wednesday, "Like her false claim of Native American status, this is another example of Warren seemingly shifting the facts of her life story for personal gain." (Warren has said she did not advance her career by identifying herself as Native American, an assertion backed up by an extensive Boston Globe investigation.)
"The more examples like this that surface, the more it will stick with voters that this is someone who cannot be trusted," Harrington said.
Trump has slurred Warren for years over her ancestry claims, and the personal attacks on her come out of the Trump playbook from 2016 that targeted both Republicans and Clinton. Michael Steel, a Republican strategist who was an adviser for former Gov. Jeb Bush's 2016 presidential campaign, said Trump would need to "tear down" whoever is the eventual Democratic nominee in order to win reelection, given his low approval ratings.
"One of Senator Warren's great strengths is her ability to connect her biography to her record to her plans for the future," he said. "That gets undermined if she can't rely on her biography as the foundation of that progression."
All year, Warren has framed her personal story to voters as one of perseverance, focusing on her upbringing in Oklahoma, her family's financial struggles and her winding path to an eventual career as a law professor. Voters often praise her biographical stories as a powerful part of her pitch, which centers on bringing about big change to an economic and political system that she describes as rigged against ordinary people.
As part of that story, Warren tells crowds that at the end of her first year as a public-school teacher, she was "visibly pregnant" and lost her job. A retired teacher from Warren's school in New Jersey told CBS News, "The rule was at five months you had to leave when you were pregnant."
Teachers in the United States were commonly pushed out of their jobs during pregnancy at the time, either through termination or the requirement of an unpaid leave of absence. Congress passed the Pregnancy Discrimination Act in 1978, which barred employers from treating pregnant women differently from other people "similar in their ability or inability to work," but claims of discrimination persist to this day.
"These attacks on Senator Warren are absurd," said Sen. Kirsten Gillibrand of New York, who dropped out of the presidential race in August. "Of course pregnancy discrimination was a serious problem in 1971, and it continues to a widespread issue today despite a law banning it." She added that "the stories that women are sharing are real and powerful."
Regardless, the Republican National Committee dismissed Warren's description of why she lost her job, citing a 2007 interview in which she discussed her public-school teaching career but did not mention being forced out, as well as records showing that the school board had approved a contract for Warren for the next school year.
The records were reported Monday by The Washington Free Beacon, a conservative website. "Another Elizabeth Warren lie about Elizabeth Warren?" asked Kellyanne Conway, a top aide to Trump, as she shared The Free Beacon's article on Twitter.
Warren told CBS News that she had not revealed her pregnancy when the contract was approved, and that two months later, when she was showing, the principal told her that she would not be welcomed back. Addressing the 2007 interview, she said: "After becoming a public figure, I opened up more about different pieces in my life, and this was one of them."
The attacks are the latest evidence of how Republicans are reviving tactics Trump used to caricature Clinton, whom he branded as "Crooked Hillary," as dishonest.
Attacking authenticity has been a common strategy targeting women running for office for decades: Long before Clinton, Geraldine Ferraro faced it in 1984, when she was the first woman to appear on a major party's presidential ticket.
"This is a tried and true tactic when it comes to women candidates and elected officials, because women pay a much higher price when their honesty and integrity is called into question," said Amanda Hunter, research and communications director at the Barbara Lee Family Foundation, which supports women in politics.
"Our research shows that voters historically give women what we call a virtue advantage, but then the other side of that is they punish them for any real or manufactured ethical infraction," she said. "And once women are knocked off that pedestal, it's a lot more difficult for them to climb all the way back up."
Debbie Walsh, the director of the Center for American Women and Politics at Rutgers University, said the broadsides against Warren reflected her increasing status as a front-runner for the Democratic nomination.
"They're going to come for her in every possible way that they can, and her honesty and truthfulness will be one tactic," she said. "We certainly saw this as a tactic when Hillary Clinton was running, to constantly question her veracity."
Walsh said she thought Warren's story of experiencing pregnancy discrimination would "make her relatable for an awful lot of women out there who understand that this has been how the world works."
Warren's campaign demonstrated readiness for the attacks as news outlets began publishing articles in recent days about her public-school teaching career and pregnancy. Warren spoke with CBS News to go into greater detail about her story, and she and her campaign sought to shift the focus onto the broader issue of pregnancy discrimination.
Her admirers praised her on social media and others offered support, including some rivals in the 2020 race, a sign of the protectiveness that many Democrats feel toward their candidates in the face of Republican attacks.
Jennifer Palmieri, who was the communications director for Clinton's 2016 campaign, noted the extent of that unity around Warren. "This could have been something that really got pounced on by her opponents," she said, "and that didn't happen."