Politics
A local transgender boy asked Elizabeth Warren a question during CNN's LGBTQ town hall
"He shone his beauty into the world and came out - I would argue - in spectacular fashion."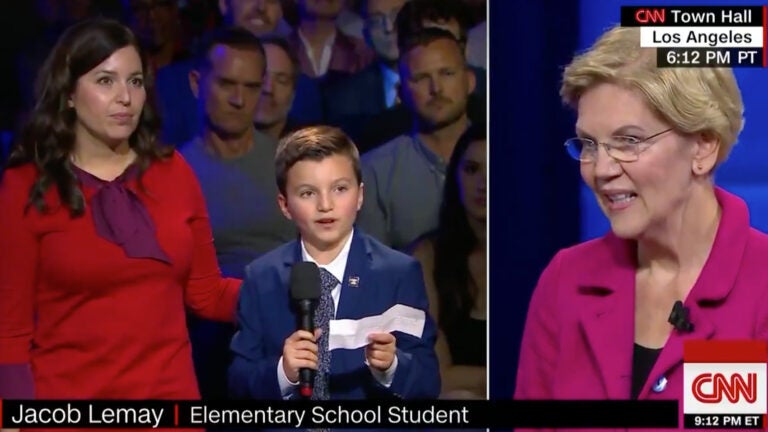 Sen. Elizabeth Warren is still a long way from the White House. But if elected president, the Massachusetts senator has already settled on one person from whom she'll seek advice.
Jacob Lemay — a 9-year-old transgender boy from Massachusetts, whose story went viral after his mother Mimi wrote an open letter in 2015 about his early-age transition — got to ask Warren a question during CNN's presidential candidate town hall on LGBTQ rights Thursday night.
"What will you do in your first week as president to make sure kids like me feel safer in schools?" Lemay asked alongside his mom from the live audience at the Los Angeles event. "And what do you think schools should do better so that I don't have to worry about anything but my homework?"
Warren said she liked the question, even if she didn't immediately get into specifics. The Cambridge Democrat did however reiterate her commitment to appointing an education secretary that "believes in public education," and would enforce students' civil rights. And she said that Lemay would have a say on who it is.
"The secretary of education was given a whole lot of power over the public schools and over the rules and how they're enforced," Warren said. "And we've had some secretaries of education who have been better and we've had one that's been a whole lot worse. Her name is Betsy DeVos."
DeVos, a former Republican Party leader who has called for expanded charter schools and school voucher programs, has come under intense scrutiny from Warren's office since being appointed by President Donald Trump, including for her office's stance on civil rights protections. Under questioning by Massachusetts Rep. Katherine Clark in 2017, DeVos declined to say if she would withhold federal funds from private schools that deny admission to LGBT students or families (Clark, who represents and resides in Melrose, applauded Lemay's question Thursday).
"When I'm president, she'll be gone," Warren said Thursday.
Whoever replaces Devos, Warren added that she would get Lemay's input on the person.
"Here's what I plan to do," she said. "I want to make sure that the person I think is the right secretary of education meets you and hears your story. And then I want you to tell me if you think that's the right person, and then we'll make the deal. Does that sound good?"
Lemay replied with a thumbs up.
Elizabeth Warren on transgender children feeling safe in school: "We've had some secretaries of education who've been better and we've had one that's been a whole lot worse. Her name is Betsy DeVos. So when I'm President, she'll be gone." #EqualityTownHall https://t.co/dBF43PYMdk pic.twitter.com/4Md8UQftRI

— CNN (@CNN) October 11, 2019
According to his family, Lemay's assigned gender at birth was female. But before he was even 3 years old, Jacob began to consistently insist he was boy. After consulting with experts and struggling with the decision, his parents decided to let him make the decision. Mimi's open letter to her son on his fifth birthday — which was published on Boston.com — about raising and accepting him as transgender made national headlines.
In a post Friday morning, Mimi wrote on Facebook that she was "bursting with pride" over the courage Jacob showed in his nationally televised appearance Thursday night.
"Jacob struggled for a long time. He struggled coming out to us, because we struggled to understand what he was asking for," she wrote. "He struggled being one of few kids in his daily life who were special in this way. He struggled with the fear of what kids would say if they found out – so we kept our advocacy in silos, mine active, his dormant. Then came last night and he was ready, and he shone his beauty into the world and came out – I would argue – in spectacular fashion."