Politics
Pete Buttigieg took a dig at Elizabeth Warren's small-donation fundraising strategy
"We're not going to beat him with pocket change."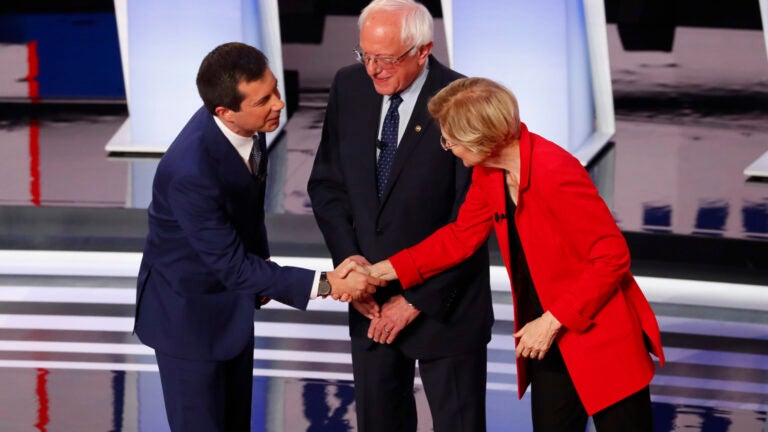 Last week, Sen. Elizabeth Warren announced that her pledge to forgo traditional big-money fundraisers during the Democratic primary race would extend through the general election, if she wins the party's presidential nomination.
Pete Buttigieg isn't a fan of that plan.
In an interview released Monday by the Snapchat politics show "Good Luck America," the South Bend, Indiana, mayor — who has leveraged pricey supporter events to become one of the most prolific fundraisers in the primary field — was asked if he thought Warren's strategy was a mistake.
"My competitors can go with whatever strategy they like, but we're going to make sure we have the resources to compete because we are going up against the sitting president of the United States," he said.
Buttigieg noted that President Donald Trump — whose campaign, along with the Republican National Committee, raised a combined $125 million in the third quarter of 2019 — will have a "tremendous" amount of financial support.
"We're not going to beat him with pocket change," he said, drawing a backlash on social media from some progressives.
"Small-dollar grassroots campaigns, aka what Buttegieg insults here as 'pocket change,' out-fundraise him by millions," New York Rep. Alexandria Ocasio-Cortez tweeted. "Our nation's leaders should be working to end the era of big money politics, not protect it."
Buttigieg, whose campaign raised $19.1 million last quarter, told "Good Luck America" that Democrats will need the "full spectrum" of both grassroots and large-donor support to compete with Trump. In addition to holding swanky fundraisers from San Francisco to Provinctown, his campaign regularly asks supporters for donations as low as $3.
However, the Indiana Democrat was still out-raised during the last three months by Warren, who swore off fundraisers in February (though she did hold them during her Senate campaign). The Massachusetts senator's campaign announced a third-quarter haul of $24.6 million, trailing only Sen. Bernie Sanders, who is also rejecting traditional fundraisers.
"Look, for me this is pretty straightforward," Warren told CBS News last week. "Either you think democracy works and electing a president is all about going behind closed doors with bazillionaires and corporate executives and lobbyists and scooping up as much money as possible. Or you think it's about a grassroots, let's build this from the ground up."
Warren's campaign did not respond to requests for comment Monday on Buttigieg's remark. However, on Tuesday, the campaign released a campaign finance plan to curb the influence of special interest money, reduce the ceiling for individual donations, encourage small-dollar donations through a public financing program, and increase transparency around campaign contributions. In a Medium post, she also issued a veiled rebuke of Buttigieg and other 2020 contenders who solicit money from the wealthy.
"If Democratic candidates for president want to spend their time hobnobbing with the rich and powerful, it is currently legal for them to do so — but they shouldn't be handing out secret titles and honors to rich donors," Warren wrote. "Voters have a right to know who is buying access and recognition — and how much it costs."
Her campaign also noted Tuesday that the decision to not spend time asking rich donors for contributions gives her more time to talk (and take selfies) with "grassroots donors."
I don't spend call time asking rich donors to throw big dollar fundraisers or underwrite my campaign. My call time is spent with grassroots donors, thanking them for chipping in whatever they can. Mind if I make just a few more? pic.twitter.com/TDo9EkNpA1

— Elizabeth Warren (@ewarren) October 15, 2019
During his "Good Luck America" interview, Buttigieg also framed his platform as more pragmatic than Warren's ambitious proposals, particularly on health care, where his plan would give consumers an option to buy into a government-run insurance program, rather than forcing people onto a "Medicare-for-All" single-payer system, which Warren supports.
"We're at a moment where I think the country is dangerously polarized, and I think it's not only possible, it's actually fundamentally necessary that we find solutions that are bold enough to fix the big problem and can be done in a way that unifies the American people," he said.
The interview, released the day before the fourth Democratic debate Tuesday night, comes as Buttigieg has increasingly looked to draw a distinction between himself and Medicare-for-All supporters, like Warren and Sanders. In an ad released Tuesday, the 37-year-old mayor's campaign promoted his "Medicare for All Who Want It" health care plan, which they say gives people the "option to choose the plan that's right for their them." Last month, he also called Warren "extremely evasive" on the question of whether implementing Medicare-for-All would raise middle-class taxes.
Buttigieg's increased willingness to directly criticize Warren comes as the 70-year-old former Harvard professor has surged in polls to become a — if not the — frontrunner in the Democratic primary. After an early breakout, Buttigeg has seen his national support dwindle in single digits. And while he has positioned his campaign as more moderate, Buttigieg may see an opportunity in Warren's legions of supporters; recent polls have shown that a plurality of Democrats who pick Buttigieg as their second choice say that Warren is their first choice.