Politics
3 members of the 'Squad' are reportedly making 2020 endorsements. Ayanna Pressley is holding off.
"Ultimately, these political decisions are made as individuals."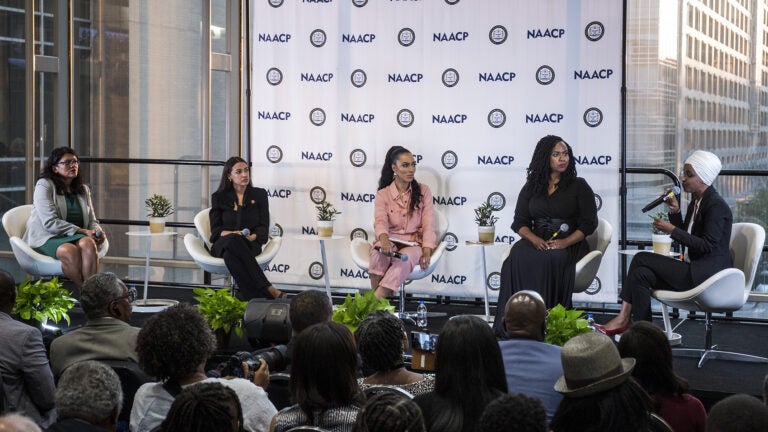 Rep. Ayanna Pressley has always said that the so-called "Squad" is not a "monolith." The Democratic presidential primary race got a reminder of that this week, with three of the four progressive congresswomen reportedly planning to make endorsements in the contest.
Pressley is making no such move. At least not yet.
As The Washington Post first reported Tuesday night, New York Rep. Alexandria Ocasio-Cortez is planning to endorse Sen. Bernie Sanders for president this weekend at a rally in Queens. Shortly thereafter, Minnesota Rep. Ilhan Omar announced she was endorsing Sanders, too. CNN reported that Michigan Rep. Rashida Tlaib also plans to back the Vermont senator, who will visit her district later this month, though the Detroit office threw some cold water on that report Wednesday.
Still, with three of the four "Squad" members seemingly making endorsements, the eyes of the progressive left turned to Pressley, whose campaign said she's yet to make a decision.
"Ayanna has tremendous respect for her sisters-in-service," a spokesperson for the campaign told Boston.com in a statement. "Ultimately, these political decisions are made as individuals. Ayanna knows that taking back the White House in 2020 is a top priority, and she is working everyday to hold this Administration accountable and build a bold, diverse movement that will help propel Democrats to victory up and down the ballot."
In August, Pressley told WGBH that she wanted to let the primary race play out and would be willing to endorse anyone over President Donald Trump. The Massachusetts congresswoman reportedly has a close relationship with Sen. Elizabeth Warren, a 2020 candidate and fellow Bay Stater, with whom she recently introduced legislation to create a federal real-time payments system. She has also teamed up with Sens. Cory Booker and Kamala Harris to introduce legislation aimed at reducing racial disparities. In February, BuzzFeed News reported that both Booker and Harris were courting Pressley's endorsement.
"I have enjoyed the partnership and the opportunity to work with many of the Senate's 2020-ers," she told WGBH. "They're my colleagues."
While Ocasio-Cortez, Omar, Pressley, and Tlaib are often lumped together as vanguards of a new, ascendant class of diverse Democratic leaders, Pressley has sometimes differed in approach and policy. Whereas her three peers charted insurgent paths to Congress, the former Boston city councilor built her political career working "within the system," before defeating longtime incumbent Rep. Mike Capuano in a primary challenge last year.
"My approach to actualizing my progressive values has always been one through coalition building," she said in a radio interview on "The Breakfast Club."
In 2016, Pressley endorsed Hillary Clinton in the Democratic primary over Sanders.
Meanwhile, Ocasio-Cortez, Omar, and Tlaib have deep ties to the Sanders wing of the party. Ocasio-Cortez volunteered for his 2016 presidential campaign, and all three were endorsed in their primary campaign by Our Revolution, a spin-off political group from the Sanders campaign.
The trio of expected 2020 endorsements could reinvigorate the Vermont senator's second White House bid, which has recently been eclipsed in national and early-voting primary polls by Warren, particularly in the wake of the 78-year-old senator's heart attack.
"Together we will build a multiracial working class coalition to win the White House," Sanders tweeted Wednesday in response to Omar's endorsement.
The news could also come as a disappointment for Warren, whose campaign has competed with Sanders for the party's more liberal voters and had recently collaborated with Ocasio-Cortez and Tlaib. Earlier this year, Warren met with Ocasio-Cortez and wrote a blurb for the congresswoman's "Time 100" entry. She also worked on legislative efforts with both Democratic congresswomen — and even filmed a video with Ocasio-Cortez reviewing the finale of "Game of Thrones." Earlier this month, Warren's campaign released a video in which she visited Tlaib's district to discuss the impact of environmental racism.