Politics
Dave Cavell, former Obama speechwriter, enters race for Joe Kennedy's seat
"Too many in our communities are scared and uncertain of what's next."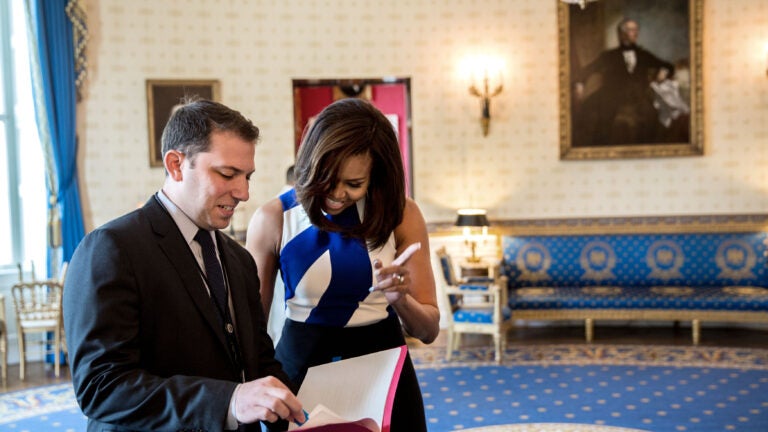 The Democratic primary to succeed Rep. Joe Kennedy III is now a six-way race.
Dave Cavell, a Brookline native and former speechwriter for President Barack Obama, announced his candidacy Thursday morning for the 4th District congressional seat, centering his campaign on addressing the opioid crisis and restoring the "rule of law" in Washington, D.C.
"One thing I've learned is how to help a good president make really bold transformational change in people's lives — and also how to stop a bad president in his tracks," Cavell told Boston.com in an interview Thursday.
A Tufts graduate, he worked in former Gov. Deval Patrick's communications office from 2007 to 2010, before getting his law degree from Georgetown University in 2011. In D.C., Cavell worked two stints in the White House as a speechwriting summer intern in 2011 and as a presidential speechwriter from September 2015 until the end of the Obama administration. Serving as a speechwriter for both the president and First Lady Michelle Obama was "incredible" experience, he said.
From early 2017 until recently, the 35-year-old served as an assistant attorney general and senior advisor to Massachusetts Attorney General Maura Healey, working to push back against the policies of President Donald Trump and suing the Republican administration more than 50 times. Healey's office has also played a leading role in a national lawsuit against opioid manufacturer Purdue Pharma, which recently declared bankruptcy, over its role in the epidemic.
"It's time we take this fight to Washington to address this crisis, get families the resources they so desperately need, and stop the next pharma company from spreading the next generation of deadly pills before it's too late," Cavell said.
There's a growing field of Democrats — particularly from the Boston suburbs — running in the open 4th District primary, in the wake of Kennedy's primary campaign against Sen. Ed Markey. In the congressional race, Cavell joins fellow candidates Ihssane Leckey, a Wall Street regulator and Brookline resident; Newton City Councilor Becky Grossman; City Year cofounder and Brookline resident Alan Khazei; former Brookline Select Board member Jesse Mermell; and Newton City Councilor Jake Auchincloss.
Despite the cluster of candidates from Brookline and Newton, Cavell stressed that the next U.S. representative will have to speak to the issues facing the entire 4th District, which stretches along the Rhode Island border down to working class cities like Fall River and Taunton.
"Whoever wins this race and represents us in Washington really needs to represent the entire district," he said.
Cavell launched his campaign website in three languages — English, Spanish, and Portuguese — and plans to kick off his bid in the coming days with visits to Attleboro and Taunton to discuss the opioid crisis and meet people in recovery. He also mentioned affordable housing and education as priority issues and argued that the Trump administration's policies had exacerbated problems for communities across the state.
"So many of us in the Jewish community are afraid right now, and we aren't alone," said Cavell, whose family are members of Temple Israel of Boston.
"Too many in our communities are scared and uncertain of what's next," he said. "That's why I want to take the work I've done in Massachusetts to Washington and make sure that we're lifting up people and communities, instead of tearing them down."