Politics
'You know what is unfair?': Transportation advocates respond to Charlie Baker's congestion pricing comments
"I pay $281 per month for my train pass."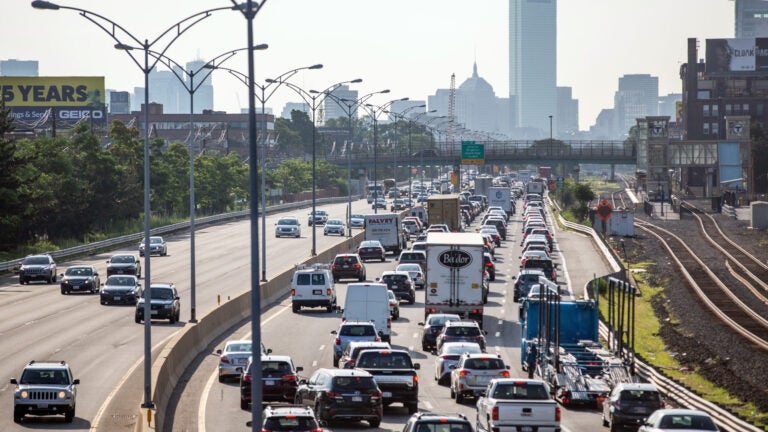 Gov. Charlie Baker's assertion that congestion pricing would be "unfair" to certain Boston-area commuters isn't going over well with some transportation advocates.
Following a State House hearing exploring the concept earlier this week, the Massachusetts governor reiterated his opposition to congestion pricing in the Boston area in a radio interview Thursday. In addition to questioning its potential effectiveness, Baker said the idea — charging drivers some sort of toll in high-traffic areas, particularly during rush hour — would disproportionately hit commuters without the schedule flexibility or transportation alternatives to shift their habits.
"I think it's unfair to the people who are probably least able to afford to pay for it," he said.
However, proponents of public transportation says the status quo is already unfair.
"You know what is unfair? Using environmental justice communities like highways while hourly wage workers are stuck in traffic or struggling to find cash to pay hiked MBTA fares," Boston City Councilor Lydia Edwards, whose district is intersected by both I-93 and Route 1, tweeted in response to the governor's comments.
You know what is unfair? Using environmental justice communities like highways while hourly wage workers are stuck in traffic or struggling to find cash to pay hiked MBTA fares. #mapoli https://t.co/3Q3tkoU8JX

— Lydia Edwards (@LydiaMEdwards) October 17, 2019
In a follow up tweet, Edwards suggested that increased investment in ferry service and "affordable" commuter rail options would help ease the region's traffic issues. Her sentiment was echoed by fellow Boston City Councilor Michelle Wu, who has called for the MBTA subway system to be free.
Know what's unfair, @MassGovernor? Raising prices on commuters who rely on public transit & can't afford to drive & park in Boston. @MBTA #UnfairHikes https://t.co/yCQYcmVuEg

— Michelle Wu 吳弭 (@wutrain) October 17, 2019
The forceful response represents the latest sign of tension between the states's top elected official and supporters of prioritizing public transportation over cars, amid local congestion problems and global concerns about emissions. This past spring, Boston Mayor Marty Walsh said he didn't think Wu's proposal to charge residents for parking permits was "fair." Two months later, the MBTA increased fares for subway and commuter rail riders for for the fourth time since 2012, in the face of protests by Wu and others, who note public transit users are disproportionately lower-income.
This summer, Baker's administration announced plans to accelerate improvements to the MBTA's aging infrastructure and released a comprehensive report on the state's worsening congestion, which found that traffic has reached a "tipping point" in the Boston area. In addition to increased rail investment, the governor's Department of Transportation has proposed tax breaks for companies who let their employees work from home and grants to communities for initiatives that improve bus service
Baker has also voiced support for "managed lanes," in which a separate, tolled lane would be added to congested roadways to give drivers the option of bypassing traffic for a price.
"I believe it is the fairest and most doable option with respect to congestion pricing models," he told reporters in July.
Still, the Republican governor's plans have come under fire from some transportation experts, who says it fails to fully embrace the need for "multi-modal" solutions, and reflects an outdated perspective that forefronts cars.
"Can he not imagine a regionally equitable approach to road pricing?" Jim Aloisi, a former Massachusetts transportation secretary under Gov. Deval Patrick, tweeted Thursday. "Where is the concern for those displaced by high housing costs who now depend on a rail system that ceases to function most of the day? I've had it with antiquated & irrelevant 20th century sound bites that ignore today's realities."
3/ I've had it with antiquated & irrelevant 20th century sound bites that ignore today's realities. I've had it w/deliberate misdirection. You should be tired of it too #mapoli. Let's build our 21st century transportation system w/an eye to the future & a generosity of spirit.

— Jim Aloisi (@JimAloisi) October 17, 2019
In the congestion report released this summer, Baker's administration did cite the pressing need for more affordable housing near public transportation options into Boston, and pointed to several legislative proposals they have made on the matter.
The report also studied the idea of congestion pricing, but concluded there were a number of logistical obstacles and concerns about equity and efficacy in Boston. For one, officials said the state's current network of electronic tolling gantries are mostly misaligned with the worst congestion corridors. They also said that tolls in Massachusetts were already so low that providing toll discounts during off-peak times would be unlikely to change motorists' behavior, while increasing rates would punish "drivers who cannot change the time that they commute or switch to other modes."
"The people who would be hit hardest by that would be the people who have the least control over their schedule, which tend to be people who work for an hourly wage, have to show up at a certain time, can't leave until a certain time, are typically interacting with customers throughout the entire time they're at work," Baker said during a WEEI interview Thursday.
While transportation experts say congestion pricing — whether zone-based or variable, time-of-day tolling — has shown to be the most effective solution for reducing traffic in other cities, the administration's traffic report also raised questions about the effectiveness of London's roughly $15 charge to enter the British's capital's core. Following a nearly 40 percent decrease in personal cars in the decade following that implementation, recent studies found traffic in London was ticking back up, perhaps due to the rise of ride-hailing companies like Uber and Lyft, which were, until recently, exempt.
Local advocates of trying some form of congestion pricing don't expect it to be a "silver bullet," but think it's an idea at least worth trying out. There's also a degree of frustration among public transit riders, in the wake of fare hikes and breakdowns, with the administration's unwillingness to more ambitiously experiment.
"I pay $281 per month for my train pass," Conor Yunits, a public affairs specialist, tweeted Thursday from a stalled commuter rail train. "Tell me more about how unfair it is to ask drivers on 93 to pay tolls."
https://twitter.com/conoryunits/status/1184968135914524677