Politics
Here's what Alexandria Ocasio-Cortez has said about endorsing Bernie Sanders over Elizabeth Warren
"It was less about personalities and more about values."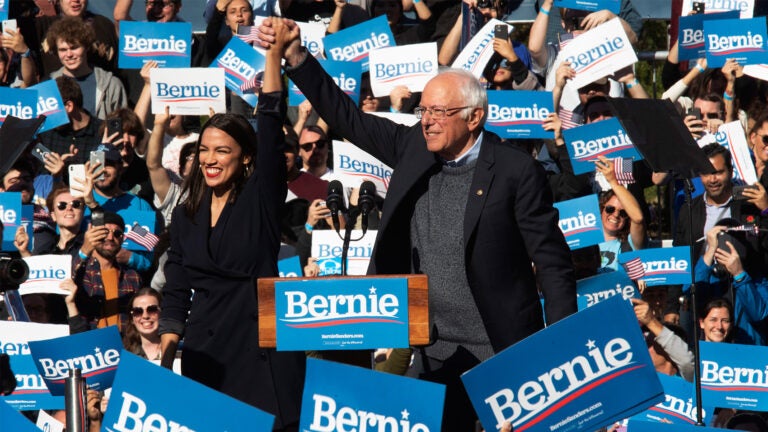 Rep. Alexandria Ocasio-Cortez says her recent endorsement of Sen. Bernie Sanders doesn't detract from what she thinks about Sen. Elizabeth Warren.
"I think she's a fabulous candidate," Ocasio-Cortez told CBS News over the weekend. "And so, frankly, Senator Sanders, Senator Warren, and myself are all on the same team in the party."
The first-term New York congresswoman and national progressive phenom told CBS News she met with Warren before announcing her decision to endorse Sanders. In an interview with The Intercept posted Tuesday, she said it ultimately came down to the grassroots political movement that had been built by the Vermont senator and fellow self-described democratic socialist.
"It was less about personalities and more about values, more about strategy, more about not just, 'are we going to defeat Donald Trump?' but 'how are we going to defeat him?'" she said. "And so, you know, that's a process that I think every American needs to go through and really think about. And regardless of what that process looks like, I'm proud to be part of this movement."
Sanders and Warren were reportedly among several 2020 presidential candidates vying for Ocasio-Cortez's support in the Democratic primary, but were always seen as the most likely recipients of her endorsement. All three have called for ambitious government-funded initiatives — from Medicare-for-All to the Green New Deal, which Ocasio-Cortez co-authored, to tuition-free public college — paid for by higher taxes on the rich to lift up the working class and reduce inequality.
Ocasio-Cortez volunteered for Sanders's 2016 presidential campaign and had since partnered with the 78-year-old senator on legislation in Congress. But she has also been in touch with Warren this year and teamed up with the Massachusetts senator on legislative work and even a light-hearted video reviewing "Game of Thrones."
In response to a Warren supporter who wrote "we're a little jealous" of the Sanders endorsement, Ocasio-Cortez wrote on Twitter that it was a "tough choice" between two "great" candidates.
"We should all be grateful to have such strong, progressive leadership to choose from," she wrote Saturday. "For many it's a tough choice precisely because of how great they are. I'm confident we will all come together on the other side stronger than ever."
Warren returned the compliment when asked about Ocasio-Cortez's endorsement of Sanders over the weekend.
"I am a fan of the congresswoman, she's done some terrific work," she told reporters Sunday, according to The Boston Globe. "I know once this primary is over we're all going to be on the same side."