Politics
A bill on Beacon Hill deals with immunization. Here's what it would do.
"This bill is necessary, and it is not only my elected duty, but also my moral obligation to craft it."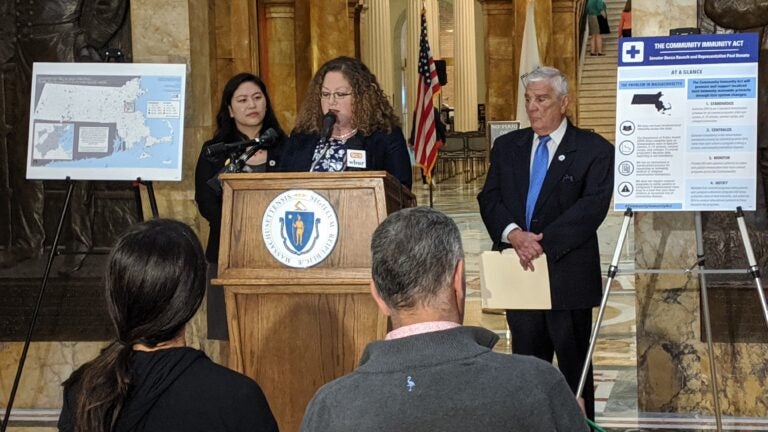 In 2018, 215 elementary schools and 209 middle schools did not provide immunization rates to the state Department of Health, according to state data.
But it's not like they did anything wrong — reporting this data is voluntary. A bill currently being taken up on Beacon Hill aims to change that.
Dubbed the "Community Immunity Act," the law would require schools and programs to report immunization rates to the Department of Health. The state would also take responsibility for issuing both medical and religious exemptions. Any program that falls below a herd immunity level would be designated as "elevated risk," and the parents of children enrolled in the program, or considering enrolling, would be notified.
"We don't really have a comprehensive, state-level immunization policy," state Sen. Becca Rausch, a Democrat from Needham, told Boston.com.
Rausch and Second Assistant Majority Leader Paul Donato, a Democrat from Medford, are the lead sponsors of the proposed law. Recently, the two lawmakers released a map showing exemption rates throughout the state for children in kindergarten and seventh grade using data obtained by the Department of Health.
"There are clusters all across the state with schools with concerningly high rates of un-immunized [children]," Rausch said, noting that there's some in Springfield, on Cape Cod, and Western Massachusetts near the New York border.
For the 2018-2019 school year, there were over 125 programs that were below herd immunity for at least one disease. 
The goal of the bill is to standardize and centralize the state's policy and schedule for vaccinations and issuing exemptions, plus monitor vaccination rates and notify the public of them, according to Rausch. She said she hopes the state will "achieve and maintain localized herd immunity."
There's been multiple concerns Rausch has had with the state's immunization standards, she said. This includes when a couple people came down with measles during the year after her son was born.
"He was too young to get the vaccine," she said. "That's scary for the parent."
Rausch noted that she understands the emotional response to vaccinations. She spoke with public health experts and medical professionals, some who care for kids who suffer from an illness that is prevented through vaccinations.
"This bill is necessary, and it is not only my elected duty, but also my moral obligation to craft it," she said.
Correction: A previous version of this article incorrectly stated that Rep. Paul Donato is from Springfield.