Politics
Mass. bill would ban all flavored tobacco and e-cigarette products
"We're just banning what it is that has been used by the industry to target young people."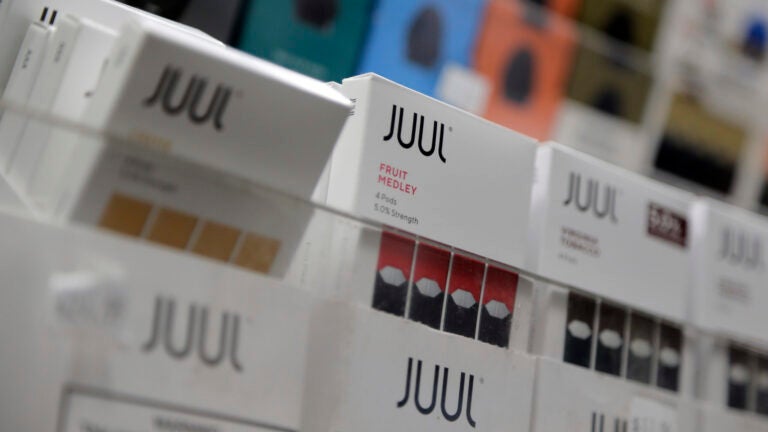 In an attempt to thwart nicotine addiction in a new generation, Massachusetts state lawmakers are targeting what they say plays a crucial role in enticing the youth market: flavored tobacco products.
From e-cigarettes, boasting flavors such as mango and banana cream, to traditional menthol cigarettes, all flavored products would be prohibited on store shelves under a bill sponsored by state Sen. John Keenan and state Rep. Danielle Gregoire.
Titled, "An Act Regulating Flavored Tobacco Products," the bill is a direct response to the teen concerns Keenan said he's heard in his own district.
While adolescent cigarette use had been in long decline, the popularity of vaping products among teenagers has only risen in recent years.
Nationally, almost two thirds, or 64.1 percent, of middle and high school students who reported using tobacco said they used flavored products in 2018, as youth vaping hit epidemic levels, according to the Centers for Disease Prevention and Control.
The trend hasn't gone unnoticed in the Bay State.
"They are incredibly engaged and motivated, and they're engaged and motivated because they are extremely concerned," Keenan, a Quincy Democrat, told Boston.com Tuesday of the young advocates he worked with on the proposal. "They believe they are being targeted … and they don't want their generation being the next generation to be addicted to nicotine and tobacco products."
The bill, if passed, would apply to all flavored tobacco products, from vape e-liquids to cigars and chewing tobacco, and would include both online and in-store sales, according to Keenan's office. Certain businesses, such as hookah lounges and cigar bars, would be exempt, although customers would not be able to buy products to take home.
Retailers who violate the law would be subjected to a $100 fine for the first offense and $200 and $300 fines for subsequent offenses — the same penalties that apply for selling tobacco to minors, according to the bill.
Instead, only tobacco-flavored products would be available for purchase under the bill.
Keenan, who called the variety of flavor offerings "a play out of the big tobacco playbook," said each branch of the industry has passed the buck on who's responsible for the resurgence of teenage nicotine addiction.
In 2017, 41 percent of all youth in Massachusetts reported trying e-cigarettes, while one in five said he or she used e-cigarettes regularly, according to the state Department of Public Health. Compared with their older counterparts, the younger generation is also in stark contrast: Local high school students vape six times more than adults, officials say.
"Regardless of where they're getting them, they're getting them and that's why our ban is across the board," Keenan said.
But retailers say the proposed ban would have a catastrophic effect on their businesses.
"If menthol, mint, and wintergreen products are banned in Massachusetts, convenience stores will close," the New England Convenience Store and Energy Marketers Association said in a tweet Monday. "This will lead to: Food deserts — Less access to food by thousands of SNAP and WIC customers — fewer jobs, prices skyrocketing at remaining stores."
At a July committee hearing on the bill, NECSEMA Executive Director Jon Shaer testified that regulations imposed on retailers would drive consumers to the black market, MassLive reported.
"Limiting brick-and-mortar sellers of flavored tobacco dismantles retailers' role as the state's primary gatekeepers responsible for preventing youth access and the demand for these products will continue to migrate to the internet and unregulated, untaxed illicit markets," Shaer said at the time.
The association and the Boston Convenience Store Owners Association are slated to rally outside Boston City Hall Wednesday morning, where they will call on both city and state lawmakers to "enact sensible tobacco regulations," according to a press release.
Last month, Gov. Charlie Baker launched a four-month ban on the sale of all vaping products amid a nationwide outbreak of vaping-related lung injuries.
Keenan said his bill, which was filed earlier this year and has gone through the committee review process, will not face the legal challenges Baker's ban has experienced.
"We're not going after systems, the devices, the products themselves," Keenan said, adding that the measure has received widespread support, including from state Attorney General Maura Healey. "We're just banning what it is that has been used by the industry to target young people."
He is optimistic lawmakers will vote on the bill soon, potentially before the Legislature breaks on Nov. 20.