Politics
Lori Trahan says questionable campaign loans were a 'gray area.' A campaign finance expert disagrees.
The Massachusetts congresswoman says a six-figure loan came from her husband's income, but that they "never gave it much thought."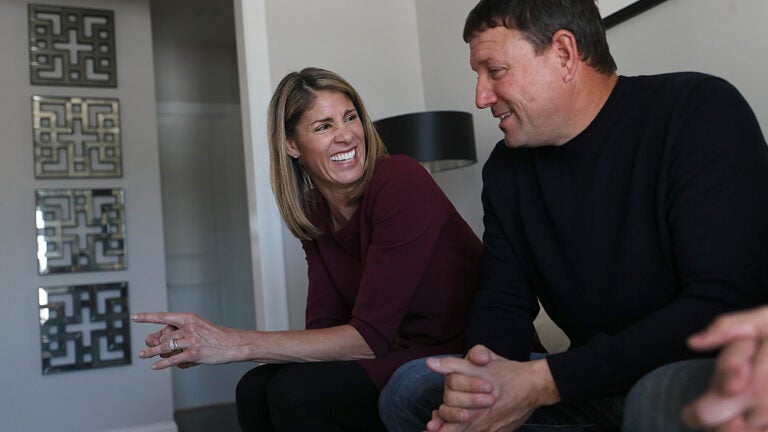 Rep. Lori Trahan is trying to put to rest questions about how she won her 3rd District congressional seat.
In a Medium post Wednesday afternoon, the Westford Democrat admitted for the first time that $300,000 she loaned her 2018 campaign from a joint checking account — funding an advertising blitz in the final weeks of the primary race — had been originally earned by her husband.
Trahan characterized the move as a "gray area" in federal campaign finance rules. Adav Noti, the chief of staff for the Campaign Legal Center, a nonpartisan campaign finance watchdog, says the rules are pretty clear.
"There are lots of gray areas," Noti told Boston.com. "I wouldn't say this is one of them."
The Federal Election Commission does not limit the amount of money candidates can spend on their own campaigns, but prohibits other individuals — even spouses — from donating more than $2,800 to any single candidate.
Two watchdog groups, including the Campaign Legal Center, filed FEC complaints earlier this year after Trahan's six-figure campaign loan — a total of $371,000, including a $71,000 home equity loan — was reported by The Boston Globe in March. Dan Koh, a former chief of staff to Boston Mayor Marty Walsh who narrowly lost to Trahan in last year's primary, has also highlighted the questions around those funds, as he weighs another run for the 46-year-old congresswoman's seat.
Trahan argued Wednesday that past rulings by the FEC (which currently lacks a quorum to make any such decision) on similar complaints, including ones involving prominent figures from Jane Fonda to Bob Dole, suggest contribution limits do not apply to accounts shared by spouses.
For her part, Trahan wrote she and her husband, David Trahan, "never gave it much thought," as they had always considered their respective incomes to be shared and paid routine expenses from both her, his, and joint bank accounts.
"What I earned was our money and what he earned was our money," she wrote. "We didn't distinguish."
Trahan — who was outspent by Koh by more than $2 million in the crowded primary race — said she decided to give her campaign a boost, loaning herself sums of $50,000 on March 31, 2018; $50,000 on June 30, 2018; and $200,000 on Aug. 22, 2018 — shortly after her husband, a successful home builder, deposited similarly sized amounts of money he earned into their joint checking account.
Noti, a former FEC attorney, stressed that political candidates cannot simply "take someone else's money, call it their own, and give it to their campaign," even if it did come from their spouse.
"If she really thought it was her money, they wouldn't have needed that intermediary step," he said. "They would have just sent it right to the campaign."
According to the FEC, candidates are allowed to fund their campaign with "his or her portion" of assets owned jointly with a spouse, such as a bank account or stock. If the amount is unspecified, the candidate's share is "deemed to be half the value," the agency's website says. According to the Globe, Trahan and her husband's joint accounts were not disclosed until December.
Trahan's legal team believes they have strong legal standing.
Jonathan Berkon, a partner at Perkins Coie, a national law firm Trahan's campaign has hired, says the Supreme Court has repeatedly affirmed the right of candidates to make unlimited contributions to their own campaigns from "personal funds" — including "funds held in their spouse's name for their own campaigns, as long as they had the right to manage and dispose of the funds under state law."
According to Berkon, the Trahans entered into a premarital agreement that gave each spouse "equal right to manage and dispose" of their property, as well as each other's income.
"Under the agreement and state law, the funds used by Congresswoman Trahan to loan money to her campaign were her 'personal funds' and were eligible for use in the campaign," Berkon said in a statement to Boston.com.
Noti says prenuptial agreements do fall under state law. But even if the campaign's interpretation is correct, he's "skeptical" it would get her off the hook for FEC violations, given both the lack of initial disclosure (which Trahan argues was not deliberate) and the sequence of transferring the money to a joint bank account before loaning it to the campaign, as opposed to sending it straight to the campaign.
"Neither of those actions is consistent with a good-faith belief that it was really the candidate's money," he said.
In her Medium post, Trahan said they "didn't give much thought to which bank account to use." As two small business owners, the couple structured their finances so that things like health care were paid from her account, their children's tuition was paid from his account, and "a variety of regular household expenses would be paid from joint accounts."
Trahan says they could have used other funding paths for the campaign loan, such as pulling from the $274,000 she earned last year from Concire, the consulting and booking company that she co-founded. Trahan also suggested they could have even used a larger home equity loan.
"I could have done it differently," Trahan wrote.
"I could have dipped into open lines of credit on our homes, like I did for the last loan of $71,000, for all of the loans," she continued. "We had $2 million in equity in our two homes, and a $700,000 line of credit available. Or I could have saved more of my Concire income to use on the campaign and used Dave's income to cover all household expenses. But I never gave it much thought, because we had never structured our finances that way. All of it — what I earned, what Dave earned — was our money, regardless of whether it was in my account, Dave's account, or a joint account."
Koh isn't buying the congresswoman's claims of ambivalence. In a statement Wednesday, the 34-year-old Andover selectman accused Trahan of attempting to cover up a campaign finance violation.
"Campaign finance laws exist to ensure that all candidates play by the same rules," he said. "It is clear today that our member of Congress broke those laws during her campaign and then tried to hide it. It's incredibly disappointing for the voters of the district who deserve fair elections and transparency from their elected officials."
Trahan had previously offered differing explanations and repeatedly amended campaign finance reports after questions were initially raised about the loan.
Financial disclosure forms filed during the summer of 2018 suggested she did not have enough money to cover the $300,000 loan, which her campaign attributed in March to the joint accounts with her husband and "additional income" from Concire.
"My decision to make a personal loan to my campaign was always part of our strategy," Trahan wrote in an April op-ed. "When the time came, I used a combination of personal funds drawn from joint checking accounts and a home equity loan to finance the loan to my campaign."
When asked later that month by a NECN reporter if she could "categorically deny" that her husband helped beyond the legal limit, Trahan said "yeah."
Trahan spokesman Mark McDevitt told Boston.com that those comments reflected the couple's view that the income each of them earned would be their marital property, as opposed to the income of one or another.
"Massachusetts State Law also makes no distinction between the two," he said. "So the Congresswoman simply rejects the notion that this was 'David's money'; it was their money."
Still, Noti said the Medium post Wednesday represents a tacit acknowledgement that those past explanations may not have been 100 percent forthcoming. However, he said the most "problematic" aspect of the post was Trahan's contention that there "is no plausible argument that anything in the amended forms would have changed anyone's vote."
"It's not her decision," Noti said. "A candidate doesn't get to decide what is or isn't relevant to voters and disclose what they think voters want to hear."
Trahan, who emphasized transparency in her 2018 campaign, went on to write Wednesday that she regretted the "inadvertent omissions and errors in my initial filings" and that voters deserved "transparency and accuracy from candidates and elected officials."
Her campaign recently reported nearly $167,000 in legal bills to Perkins Coie, which she wrote Wednesday will "handle all campaign reporting issues moving forward." In the last paragraph of her post, Trahan said she remained proud of her 2018 campaign and accused Koh, who continues to consider another run, of inflating the issue.
"The confusion my former opponent has created about my family's finances will not distract me from a much more urgent concern: securing the financial future of the working people throughout our district," Trahan wrote.