Politics
'Women made history tonight': For the first time, the Boston City Council will have a female and minority majority
"This is the new face of what it means to serve in Boston politics."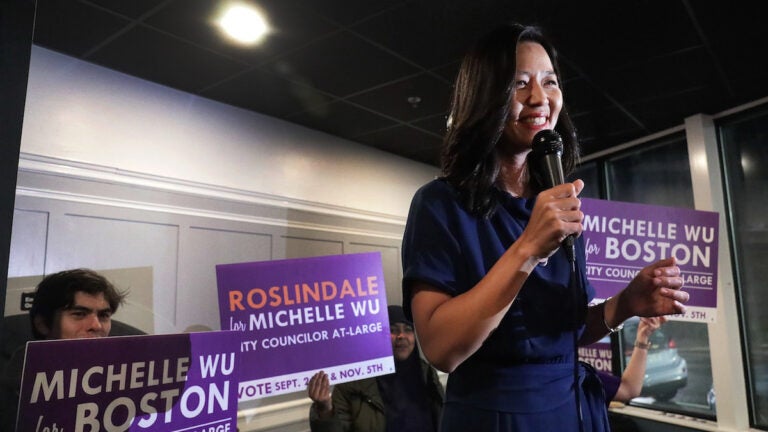 Come January, for the first time ever, women and minorities will make up the majority of the Boston City Council.
Women are expected to hold eight of the 13 council seats while seven councilors of color will be in City Hall next year.
At-Large incumbents Michelle Wu and Annissa Essaibi-George were top vote getters, while newcomers Kenzie Bok and Liz Breadon bested their opponents in districts 8 and 9, respectively, unofficial results show.
Other incumbents, District 4 Councilor Andrea Campbell and Kim Janey, of District 7, cruised to victory by wide margins, each garnering well over 70 percent of the vote, while Lydia Edwards, running unopposed in District 1, secured a second term.
Unofficial results indicated Julia Mejia finished 10 votes ahead of Alejandra St. Guillen in the race for the fourth at-large seat. St. Guillen said she will request a recount after Mejia claimed victory Tuesday night. Each was vying to be Boston's first Latina councilor.
"Let's cut right to it: women made history tonight – For the first time, we'll have a council that is majority women, and the most diverse in history!" Campbell, the council president, wrote in a tweet as the last results rolled in. "Thank you to the residents of Boston for recognizing the incredible leadership of women."
For every little girl who ever doubted her own ability, and thought she wasn't good enough, smart enough, or strong enough. For every little girl or woman who doubts her ability to lead, #bospoli voters present the women of the Boston City Council. #WomenLead #Grateful #Blessed pic.twitter.com/blACNvfLId

— Kim Janey (@Kim_Janey) November 6, 2019
The new and progressive face of the council is the latest iteration of an evolving body that's grown increasingly diverse over the past decade, moving away from its white-men-dominated history and coming closer to matching the city's minority-majority population.
"This is the new face of what it means to serve in Boston politics," Wu told supporters at a campaign party.
Wu points to younger candidates elected to the council + more moms running for office. "This is the new face of what it means to serve in Boston politics," Wu says. #mapoli #bospoli pic.twitter.com/2Y4QhwQSdr

— Stephanie Murray (@stephanie_murr) November 6, 2019
Mejia, in a statement to The Boston Globe, said Tuesday's election made it clear that residents "want more than just change."
"They want transformational change. Change that speaks to the fact that it's time that all voices are included in the decision-making process in our city government," she said.
In District 5, Ricardo Arroyo bested Maria Esdale Farrell, garnering 54.54 percent of the vote to fill the seat to be left vacant by outgoing Councilor Tim McCarthy.
Arroyo, whose family is Puerto Rican, will be the first person of color to helm the district, WGBH News reports.
"What I see today is a city that is moving closer and closer and closer to a more perfect union," he said Tuesday. "We're intergenerational in this room. We're multicultural in this room. We're bilingual in this room."
He told reporters he rejects the notion that his candidacy represents a "new Boston" rising up.
"Those people of color have been here this whole time," he said. "Those women have been here this whole time, pushing and pulling and doing that work."
https://twitter.com/SWINTERSMITH/status/1191910472238485505