Politics
Elizabeth Warren suggested Joe Biden was in the 'wrong' primary. He fired back hard.
"It's representative of an elitism that working and middle class people do not share"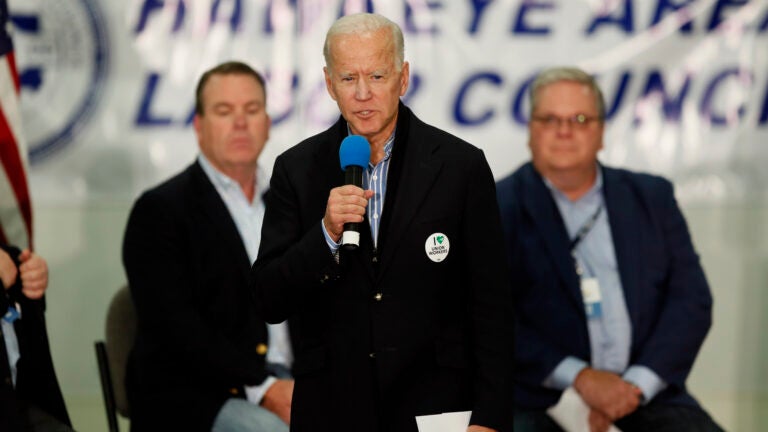 Joe Biden is opening a new front in his intensifying feud with Elizabeth Warren.
In a Medium post Tuesday, the former vice president fired back at Warren's suggestion over the weekend that he was "running in the wrong presidential primary" in response to his dismissal of her Medicare for All financing plan.
Without naming the Massachusetts senator, Biden wrote that Warren's response was "pretty amazing" and, at a certain level, "kind of funny," given his decades-long career in Democratic politics.
"I have fought for the Democratic party my whole career," he wrote. "I know what we stand for, who we stand with and what we believe. And it's not just policies or issues. It's in my bones."
In a not-so-subtle reference to Warren's past as a registered Republican until 1996, he added: "That's not something everyone in this primary can say."
Biden, who has amped up his attacks on Warren as she has risen in Democratic primary polls, went on to say that her response to his Medicare for All criticism reflected "an angry unyielding viewpoint that has crept into our politics" and a "my-way-or-the-highway" approach.
"But it's worse than that," he said. "It's condescending to the millions of Democrats who have a different view. It's representative of an elitism that working and middle class people do not share: 'We know best; you know nothing.'"
The remarks were the first time another major Democratic candidate had accused Warren, a former Harvard Law School professor, of elitism during the 2020 primary, echoing a line of attack often parroted by Republican opponents.
Biden, who has a fraught history with Warren, is not backing down from the attack; his campaign manager promoted his Medium post shortly after it was published and he reportedly repeated the "elitism" charge during a big-donor fundraiser Tuesday evening in Pittsburgh hosted by two local real estate executives.
Warren, whose campaign did not comment on Biden's new wave of criticism, has sworn off such fundraisers and criticized Biden's recent move to accept support from super PACs.
After the former vice president questioned the math of Warren's proposal to pay for Medicare for All last week, the Cambridge Democrat highlighted the plan's support from members of President Barack Obama's administration and suggested Biden was echoing the rhetoric of their political opponents.
"Democrats are not going to win by repeating Republican talking points and by dusting off the points of view of the giant insurance companies and the giant drug companies that don't want to see any change in the law that will bite into their profits," she said.
Warren re Biden campaign calling her M4A "mathematical gymnastics" She cites numbers from Obama economists "if Joe Biden doesnt like that I'm just not sure where he's going." She adds any Dem who defends insurance profits "I think theyre running in the wrong presidential primary" pic.twitter.com/LdhyRrlWKz

— Adam Brewster (@adam_brew) November 1, 2019
For his part, Biden does support major, if not as transformative, health care reforms.
A critic of the calls from more left-leaning candidates to shift the country to a single-payer healthcare system, the Delaware Democrat has proposed creating a government-run health insurance option that would compete with the private market.
In his Medium post, he wrote that his plan would allow people to keep their private insurance plans, while also expanding health care coverage and reducing costs — even if it would not ensure universal coverage like a single-payer system.
"I think it's the best plan," Biden wrote. "That doesn't mean I think those who disagree with me are cowards or small thinkers. And it doesn't mean someone else doesn't have some good ideas. I just think it's a better way."