Politics
How a spat with Elizabeth Warren brought a billionaire to tears
"One thing I know he cares about—his fortune."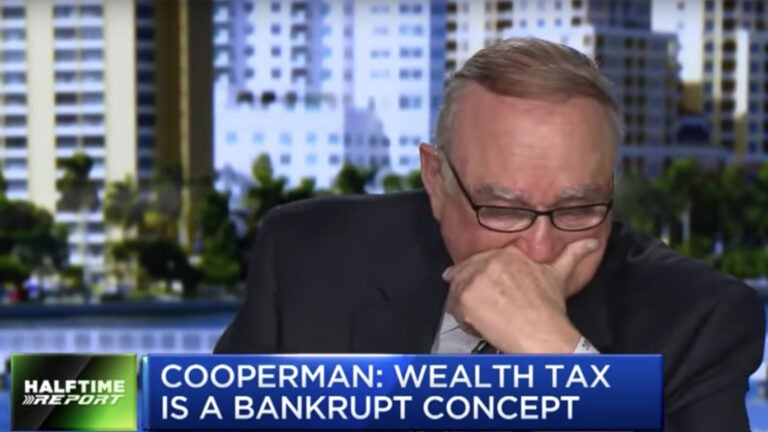 Sen. Elizabeth Warren's criticism of the economic system has evidently hit a nerve — at least when it comes to one particular billionaire.
During an interview Monday on CNBC, hedge-fund manager Leon Cooperman visibly teared up on TV in the midst of a lengthy interview about his war of words with Warren and the 2020 election.
"I care," Cooperman said, his lip quivering. "That's it."
The 76-year-old CEO of Omega Advisors and former Goldman Sachs executive has taken vocal exception to Warren's populist rhetoric, particularly the Massachusetts senator's proposed tax on wealth over $50 million.
The frequent CNBC guest first voiced his opposition to Warren during an appearance on the finance news cable channel in September, suggesting in jest that the stock market wouldn't open if the Democratic presidential candidate won the election. He later conceded that it would open, just "a hell of a lot lower," predicting a drop of 25 percent over the first year.
A month later, Cooperman returned to the network and reiterated that prediction, adding that the same applied to a Bernie Sanders presidency.
"You don't make poor people rich by making rich people poor," he said.
Cooperman, who has committed to donate the majority of his wealth to charity under the Giving Pledge, says he supports higher taxes on the wealthy, but has increasingly railed against the wealth tax idea championed by Warren.
Her proposal would tax individual assets — including stocks, real estate, and retirement funds — above $50 million at a 2 percent annual rate to pay for initiatives, like universal childcare and student loan forgiveness, aimed at boosting the middle classes. The wealth tax would increase to 3 percent on assets above $1 billion (and Warren recently proposed increasing it to 6 percent for wealth over $1 billion to help pay for Medicare-for-All).
"I believe in a progressive income tax and the rich paying more," Cooperman told Politico last month. "But this is the f***ing American dream she is s****ing on."
Those comments invited Warren, who doesn't shy away from highlighting the opposition she elicits from the rich, to respond.
"Leon, you were able to succeed because of the opportunities this country gave you," she tweeted. "Now why don't you pitch in a bit more so everyone else has a chance at the American dream, too?"
Given his own philanthropy, Cooperman said her response moved him to send a five-page letter to the Cambridge Democrat last week, which was first reported by CNBC.
"Your tweet demonstrated a fundamental misunderstanding of who I am, what I stand for, and why I think so many of your economic policy initiatives are misguided," he wrote.
Cooperman said his rags-to-riches story —  as a former New York public school student who became the first member of his family to attend college, who paid off his Columbia Business School loans, and who made a fortune at Goldman Sachs — was "far from unique." He also pointed to several other examples of ultra-wealthy people who donated significantly to charity.
"However much it resonates with your base, your vilification of the rich is misguided, ignoring, among other things, the sources of their wealth and the substantial contributions to society which they already, unprompted by you, make," he wrote.
Cooperman, who also fired off a similar letter in response to President Barack Obama's criticism of Wall Street in 2011, went on to debate Warren's argument that the rich aren't paying their "fair share" in taxes.
Once again, she responded on Twitter — pointing out that her wealth tax proposal is intended to ensure "every kid has the same opportunities [Cooperman] did to succeed."
"Leon is wrong," Warren wrote.
Leon is wrong. I'm fighting for big changes like universal child care, investing in public schools, and free public college.

We can do all of that with a #TwoCentWealthTax. Leon can and should pitch in more—so that every kid has the same opportunities he did to succeed. https://t.co/38fJSXKKCJ

— Elizabeth Warren (@ewarren) October 31, 2019
In another CNBC appearance Monday, Cooperman was asked about the escalating feud and why he decided to write the letter.
"What she's peddling is bull," he said.
Cooperman continued to argue against a wealth tax, noting how several European countries have tried and done away with what he said was a "bankrupt concept." He also called the tax a "nightmare" to enforce (Warren has proposed boosting IRS funding to do so) and claimed it would have unintended financial consequences for the rich.
"I don't need Elizabeth Warren, or the government, giving away my money," Cooperman said, becoming visibly emotional, after describing his plans to donate his fortune.
"She's screwing around with the wrong guy," he added. "I wanted to give it all away. Not 50, 60 percent, I want to give it all away. But I want to control the decision."
Cooperman said he wanted to work with — rather than fight with — Warren, but never got a response to his letter (besides on Twitter).
The televised interview eventually turned to the political climate, with Cooperman saying that the country needed a "unifier" and was being "torn apart" under President Donald Trump, leading to his tearful remarks.
Warren, however, wasn't buying the claim that Cooperman's "care" was for the country as a whole.
"One thing I know he cares about—his fortune," she wrote on Twitter.
Warren pointed out that Cooperman was an investor in Navient, a student loan company that is being sued for allegedly deceptive practices. The Delaware-based corporation has also been a frequent subject of scrutiny by the senator.
In a follow-up tweet, she looked to hammer home the point.
"I care about an entire generation of students being crushed by student loan debt—deferring their American dream because they can't afford it," Warren wrote. "I care about making sure every American has the opportunity to succeed. I'm not afraid to stand up to the wealthy and well-connected."
I care about an entire generation of students being crushed by student loan debt—deferring their American dream because they can't afford it. I care about making sure every American has the opportunity to succeed. I'm not afraid to stand up to the wealthy and well-connected.

— Elizabeth Warren (@ewarren) November 5, 2019
As if she needed more gas to throw on the fire, another billionaire waded into the feud Tuesday, coming to the defense of Cooperman.
Jamie Dimon, the CEO of JP Morgan, told CNBC that Warren uses "pretty harsh words" and "vilifies successful people." Dimon — who prefers increasing the earned income tax credit — also knocked her plan to reform how corporations are run in order to ensure economic gains are shared more broadly.
His comments practically teed up Warren. In a tweet, she said the resistance from billionaires to her plans is telling.
"The fact that they've reacted so strongly—so angrily!—to being asked to chip in more tells you all you need to know," she wrote. "The system is working great for the wealthy and well-connected, and Jamie Dimon doesn't want that to change. I'm going to fight to make sure it works for everyone."
https://twitter.com/ewarren/status/1191848948664811520