Politics
Elizabeth Warren offers to meet with Bill Gates after he speaks out against her wealth tax
"I'd love to explain exactly how much you'd pay under my wealth tax. (I promise it's not $100 billion.)"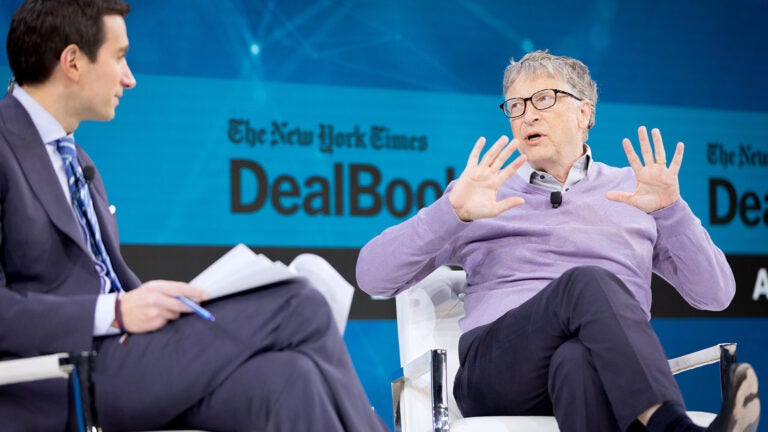 Sen. Elizabeth Warren is extending an olive branch to Bill Gates, after the uber-wealthy Microsoft co-founder expressed opposition to her proposed wealth tax.
During an interview Wednesday at the New York Times DealBook conference, Gates told reporter Andrew Ross Sorkin that he was "all for super progressive tax systems," but supports "something in the middle" of the tax-slashing approach of Republicans and the wealth tax proposed by Warren.
The Massachusetts senator has made her proposed 2 percent annual tax on individual assets (property, stocks, retirement funds, and other valuable assets) worth more than $50 million a central tenet of her Democratic presidential campaign. The tax, which was originally proposed to increase to 3 percent for assets over $1 billion, would be used to finance plans to provide tuition-free college, universal child  care, and affordable housing, according to Warren. And last week, she proposed increasing the tax to 6 percent on wealth over $1 billion to help pay for Medicare-for-All.
Asked about Warren's plan, Gates said he thinks that too much taxation could come at the expense of innovation in the United States.
"Somebody can say I'm very biased, since I've been a prime beneficiary of the existing system," he admitted. "But I'd love somebody to find a middle-ground approach."
Gates added that the government "does need more resources" for things like health care and education and suggested other ways of raising revenue. He specifically mentioned increasing the capital gains tax, repealing recent cuts to the estate tax, and even some form of a wealth tax on people who have "sat on huge gains" for a certain number of years.
Gates, who Forbes estimated last month was worth $106 billion, added that he has paid "over $10 billion in taxes."
"I've paid more than anyone in taxes," he said. "If I had to have paid $20 billion, it's fine. But when you say I should pay $100 billion, then I'm starting to do a little math about what I have left over."
Having exaggerated the potential financial impact of Warren's wealth tax, Gates added that he was "kidding." He also said he had never met the senator and questioned if she would even be willing to meet.
"I'm not sure how open-minded she is or that she'd even be willing to sit down with somebody who has large amounts of money," Gates said.
In keeping with her unapologetically populist campaign rhetoric, Warren hasn't shied away from public fights with wealthy critics. However, following Gates's comments, the Cambridge Democrat signaled a different approach Tuesday evening.
"I'm always happy to meet with people, even if we have different views," she tweeted Tuesday at Gates. "If we get the chance, I'd love to explain exactly how much you'd pay under my wealth tax. (I promise it's not $100 billion.)"
I'm always happy to meet with people, even if we have different views. @BillGates, if we get the chance, I'd love to explain exactly how much you'd pay under my wealth tax. (I promise it's not $100 billion.) https://t.co/m6G20hDNaV

— Elizabeth Warren (@ewarren) November 7, 2019
Using the Forbes estimate of his wealth, Gates would pay a maximum of $3.17 billion this year under Warren's wealth tax, if it were currently in effect as originally proposed. Including the increase on billionaires to pay for Medicare-for-All, that figure would go up to $6.32 billion.
Some critics have made a point of highlighting how the financial hit of the annual tax would accumulate year over year, in addition to raising concerns about increased tax avoidance and legal challenges.
But even at its 6 percent rate on billionaires, Warren's wealth tax is less than the average annual rate of return of investing in the stock market, which — as her campaign noted in its recent Medicare-for-All financing plan — has regularly topped 10 percent. For his part, Gates's net worth has increased by more than $9 billion since October 2018.
During his interview Wednesday, Gates was pressed on who he would vote for in a hypothetical general election between Warren and President Donald Trump, whose policies and rhetoric he has lightly criticized, particularly when it comes to foreign aid. Gates, who has largely avoided getting involved in national politics, said he wasn't "going to make political declarations," but emphasized the important of a "professional approach."
"As much as I disagree with some of the policy things that are out there, I do think a professional approach to the office — whoever I decide would have the more professional approach in the current situation … is the thing that I would weigh the most," Gates said, somewhat winkingly.
"I hope the more professional candidate is an electable candidate," he added.
"I think we can take away something from that," Sorkin said.