Politics
5 things to know if you missed Ed Markey debate Shannon Liss-Riordan on climate change
"There is a lot of lofty language here."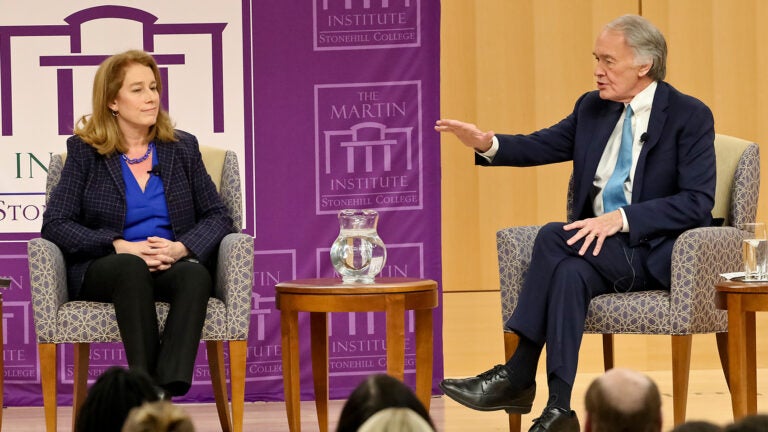 Two of the three candidates running for Sen. Ed Markey's seat — Markey and Brookline attorney Shannon Liss-Riordan — participated in a climate change forum Sunday night at Stonehill College.
And while the event lacked the Massachusetts senator's most well-known primary challenger, it did not lack for debate, even on an issue where the two Democrats largely agreed.
Markey, who has made his environmental record a core theme of his reelection campaign, called for a Senate debate focused on the single issue of climate change on the same day Rep. Joe Kennedy III, who did not attend the event, announced he was running against the 73-year-old senator.
The event at Stonehill was officially called a "forum," but had all the makings of a debate, with the candidates seated together and responding to each other, along with a moderator to guide the discussion.
Markey said he has been a "cutting edge" leader in the fight to address climate change. As a congressman (before he was elected to the Senate in 2013), the Malden native cowrote laws to increase efficiency standards for cars and appliances, as well as the only major piece of climate change legislation ever passed by the House, though the 2009 bill died in the Senate. Earlier this year, he also cowrote and introduced a Green New Deal resolution with New York Rep. Alexandria Ocasio-Cortez, which came amid a recent upswell in climate activism.
"That's why I'm running for reelection for United States Senate, so I can continue this fight," Markey said.
Liss-Riordan suggested that his advocacy hasn't been enough.
"Climate change is a problem that has been with us for a long time," she said. "This is nothing new. We have known for years. Scientists have been telling us for years about the threat that climate change is to our very humanity. And senator, you've been in Washington for a long time and we have not made the progress that we need to make. It is time to move beyond talking about these issues and actually getting things done."
Markey blamed Republican opposition for the lack of recent climate action, though Liss-Riordan's criticism fell in line with her larger argument that a fresh voice is needed to shake up the status quo in Washington, D.C.
However, the forum didn't merely revolve around who would get more done. The forum revealed some actual differences — and even shifts in opinion — among the two candidates.
1. Liss-Riordan's "concern" about the Green New Deal
Liss-Riordan said she supports the Green New Deal and thanked Markey for his work on the resolution, which sets ambitious national emissions reduction targets and calls for massive federal investment in a green jobs "revolution." But her "concern" was the lack of specifics in the resolution on how to achieve those goals — specifically with regards to carbon pricing.
"The objection that I have is that there is a lot of lofty language here," she said. "These are very important goals on which we both agree on. My concern is that the Green New Deal doesn't talk about how we are going to get there."
Liss-Riordan called for a "comprehensive carbon pricing structure" to charge companies for emitting greenhouse gases and raise revenue to fund investments in more sustainable infrastructure, such as the MBTA and a regional rail system.
Markey noted that his 2009 bill included a cap-and-trade system, which is a form of carbon pricing, but said the Green New Deal intentionally left out "individual prescriptions" for each industry. Rather, he said things like a "climate bank" offering low-interest loans for energy-efficient projects, increased fuel economy standards, and tax incentives for adopting more sustainable energy would spur private-sector innovation.
In certain areas, like the industrial sector, Markey acknowledged that a carbon pricing system might be necessary. But other sectors would be incentivized to change through new renewable energy standards, according to Markey, who pointed to the already-growing use of electric cars and solar and wind energy.
"In many of these sectors, just getting the regulatory structure correct, putting the tax incentives on the books permanently — that the oil and gas and coal and nuclear industry have had for a generation — we can have this revolution," he said.
2. Markey expresses support for abolishing the filibuster
During the debate, Markey voiced his strongest support for getting rid of the filibuster.
Given the fact that his 2009 bill failed with Democrats in control of the Oval Office and both legislative offices, moderator and MSNBC anchor Steve Kornacki pressed Markey on how he would pass the Green New Deal. Pointing to recent political victories by Virginia Democrats who campaigned on a Green New Deal, the Bay State senator argued that Republicans would feel pressure from the new wave of activism around climate action.
But if Republicans, who currently hold a slim 51-seat majority in the Senate, remained "obstinate" on the issue, Markey confirmed that he would support changing the 60-vote "filibuster rule" for passing most legislation.
"It would then be necessary to move to that as the option that we need in order to get the changes that we need on this issue so we can save the planet," he said.
Markey's shift comes after Kennedy called for abolishing the filibuster in September, arguing its increased partisan use had stalled progress and would specifically be a barrier to Green New Deal legislation. Prior to Sunday, Markey had declined to take a clear stance on getting rid of the filibuster, on which a number of high-profile Democrats, including Sen. Elizabeth Warren, have expressed openness (both Markey and Kennedy have endorsed Warren's presidential campaign).
Liss-Riordan also agreed.
"We're not going to get to 60 seats and there is so much that we're going to need to do as soon we do take back the Senate," she said Sunday.
3. Warren's call for a fracking ban creates a rift
Unlike his preferred presidential candidate, Markey declined to support an all-out ban on the use of hydraulic fracturing — also known as fracking — to extract natural gas and oil from the ground. Warren has said she would ban fracking "everywhere" on the first day of her presidency.
"We need to make sure that anything that we do doesn't have an immediate consumer impact," Markey said Sunday. "We don't want to see a dramatic increase in the price of gasoline for ordinary consumers in our country, especially poor people."
For that reason, Markey said the Green New Deal has a focus on protecting frontline communities in the midst of the move to lower emissions. And as the country increasingly shifts toward energy sources like wind and solar, which Markey said are already competitive with natural gas, the need for fracking would naturally go away.
Markey said he does support banning any "further" fracking on public lands, and that the renewable energy revolution would eliminate the need for it elsewhere.
"Fracking is going to go the way of the dodo bird," he said.
Liss-Riordan said she supports an outright fracking ban, citing the concerns about its environmental impact, such as contaminated water.
"I agree with Elizabeth Warren," she said. "We need an immediate ban on fracking. It is dangerous to our ecological system, and we don't need it."
4. Both were unconvinced by nuclear energy and carbon capture
Markey and Liss-Riordan did agree on some other controversial means of reducing greenhouse gas emissions. Most Republicans and some Democrats argue that nuclear energy should play an increased role in the country's future, given the factor that it is currently the largest source of carbon-free energy.
However, both candidates expressed support for phasing out nuclear power plants, citing safety and cost concerns. Markey said that alternatives like wind, solar, and battery storage technologies were more cost-effective than building new plants.
"I'm not saying it's impossible that, somehow or other, nuclear power can become competitive, but for the most part nuclear power has met its maker in the marketplace," he said.
Markey also said that nuclear waste remains a problem, and Liss-Riordan alluded to the concerns about catastrophic failures.
"It may be carbon free; it is not risk free," Liss-Riordan said.
The two Democrats also voiced skepticism about the potential of carbon capture technology, which would remove the greenhouse gas from the air. Markey said that the Green New Deal doesn't rule it out, but said the technology remains expensive compared to investing in renewable energy.
"Realistically, going forward, it's again, like nuclear power, a very expensive way to deal with the problem of carbon going up into the atmosphere," he said, adding that carbon capture shouldn't "distract" from the core agenda of adopting renewable energy.
Liss-Riordan also said she was "skeptical" of the technology and preferred "natural" carbon capture, like trees. She also worried that encouraging investment in carbon capture could come at the expense of investment in renewable sources of energy.
"To the extent that the technologies are already out there, sure they can be used," Liss-Riordan said. "But that is not going to be the bridge to the future."
5. Kennedy's team vouches for his climate credibility
During the debate, Markey made a point of repeatedly thanking Liss-Riordan for participating in the event. The subtext of that appreciation was the senator's disappointment in Kennedy for skipping the event, after the two campaigns clashed over its scheduling.
Environmental issues haven't been as central to the Massachusetts congressman's political identity as they have been for Markey. Still, Kennedy is an original co-sponsor of the Green New Deal and has received equivalently high grades from environmental groups for his votes on the subject. 
Earlier on Sunday, his campaign recirculated a letter by Boston City Councilor Matt O'Malley, who recently endorsed Kennedy, vouching for the Newton Democrat's environmental credentials. While it made no mention of the event Sunday, the letter — which O'Malley originally released last month — was shortened to solely focus on Kennedy's environmental record.
In addition to supporting the Green New Deal and the Obama administration's Clean Power Plan, O'Malley wrote that Kennedy "has championed offshore wind" in Massachusetts and maintains a focus on "the frontline communities most impacted by climate change and least equipped to shoulder that burden."
Markey told reporters after the debate that he was "disappointed that [Kennedy] decided not to be here," according to Politico.
"I think it was a very important debate," he said. "I wish he was here. I think that it would've been a better debate if he was here and it would've been a better discussion for the people of Massachusetts."