Politics
'Our generation was targeted': Kids, teens rally in support as Mass. bill to ban flavored tobacco, vapes goes before lawmakers
"A middle schooler had told me it was easier to get someone to lend him a JUUL than a pencil."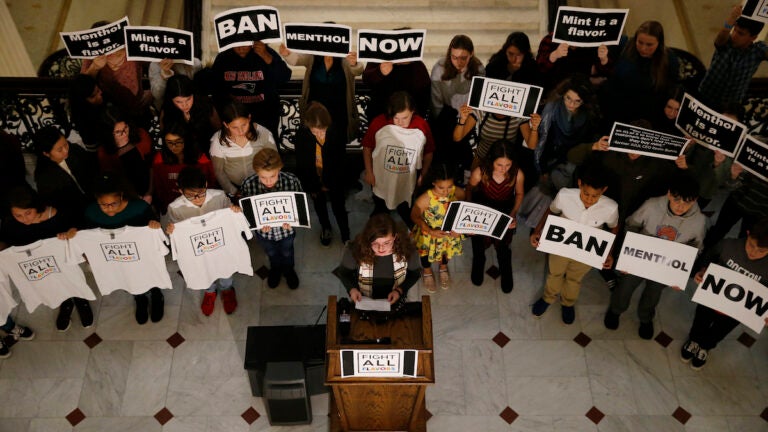 Bryan Moss noticed his friends had changed. They canceled plans instead of opting to go hang out like eighth grade kids typically would.
The shift happened just two, maybe three months after most of them had started using e-cigarettes, Moss, now a ninth grade student at Holbrook Middle-High School, told Boston.com.
The changes were particularly apparent in a close friend, who picked up the habit after getting a taste of the menthol flavor, Moss said.
"Seeing him play his instrument, he's coughing," he said, recalling time spent in their school's band together. "In sports, he's not doing as good.
"You see how it changes him, like his mood, and, when he's not vaping, he's always angry," Moss added. "You see signs of nicotine withdrawal when he doesn't have his pods anymore."
Although his friend is now clean, the story has stayed with Moss, one of dozens of young advocates who took to the Massachusetts State House Tuesday urging lawmakers to back a bill seeking to ban the sale of all flavored tobacco products.
They say they and their friends have been put in the crosshairs by industry executives, who use attractive e-cigarette flavors like banana cream and mango and traditional menthol cigarettes to hook adolescents for profit.
"Our generation was targeted by an industry that doesn't care about us," Sarah Ryan, a Boston College freshman and youth advocate for the Campaign for Tobacco Free-Kids, said at a press conference. "But we, standing here today, care about who's coming next. We know that their right to live full, happy lives should come first. We want to protect them."
The rally came as the state House of Representatives readied to debate over "An Act Modernizing Tobacco Control" Wednesday. The bill would ban the sale of flavored tobacco products while also imposing new regulations, including an e-cigarette excise tax on distributors at 75 percent of the product's wholesale price.
Other provisions include requiring licenses for electronic nicotine product manufacturers and retailers, and imposing a first time fine of $5,000 for anyone who "knowingly purchases or possesses" one of those products from a non-licensed seller or distributor. A fine of up to $25,000 could be imposed for subsequent offenses.
The proposal would not apply to marijuana products.
"Our hope is that you'll have an influence today convincing the people who represent you that you count, that your futures count, and that they will do the right thing and they will vote to ban all flavors," state Sen. John Keenan, a Quincy Democrat, told the activists Tuesday.
Keenan and state Rep. Danielle Gregoire have pushed for the flavor ban after working with young advocates to craft a bill now engrossed in the pending proposal.
The state Senate is poised to consider the bill next week, Keenan said.
Ryan started speaking up about the issue of teen vaping at the beginning of her high school years when she was 14 years old, she said. By the time she graduated, vaping had become engrained in the school's culture.
"The bathroom had become the JUUL room," Ryan said. "People were trading pods between classes, during classes, and a middle schooler had told me it was easier to get someone to lend him a JUUL than a pencil."
Moss, who became engaged in the issue when he was in sixth grade, said he is alarmed by watching his peers follow the same paths toward nicotine addiction as previous generations. In an interview, he said his grandfather, who smoked cigarettes, died of lung cancer.
Vaping happens virtually everywhere, from classrooms to local parks, he said.
"It makes vapes seem normal, which it isn't," Moss said at the rally. "It's plague-like and toxic among teens and young adults, and these products are relatively new so it's difficult to maintain an educated community of teachers and parents."
The bill, however, has garnered swift pushback from retailers, who say that such a ban would decimate their businesses and only send consumers to the black market.
Last week, hundreds of convenience store owners held their own rally at the State House, where they told lawmakers the proposal was an overreach that punishes the businesses that prevent underage sales.
"If (the state Legislature) bans menthol sales, they will also eliminate the only barrier that stands between minors accessing & using menthol tobacco in MA — retailers," the New England Convenience Store and Energy Marketers Association said in a tweet Tuesday. "Illicit sources and nearby states don't answer to MA."
On Tuesday, Keenan, echoing the remarks of Jannat Hasan, a student at the John D. O'Bryant School in Roxbury, implored company executives and store owners to consider how they would feel if one of their children became addicted.
Each passes the responsibility of the issue onto the other, he said.
"They'll tell you, each one of them, that it's not them. JUUL will say it's not us. The online retailers will say it's the vape shop owners; the vape shop owners will say it's the local convenience store," Keenan said. "They'll all point their fingers to each other — not one of them willing to accept responsibility for the fact that we now in this country have nearly 5.3 million young people addicted to nicotine."
He said lawmakers have an opportunity to send a clear message that they will not let the young generation down.
"They came to us," he said. "They came to us as legislators and asked for our help. And I say to my colleagues, how do we let them down?"